Different Approach in Community Engagement
The Community Watch Scheme (CWS) builds on the success of the Neighbourhood Watch Zone (NWZ), which was launched in 1997 to cultivate mutual assistance amongst residents in the community, work with the Police to prevent and detect crime, and jointly develop ground-up crime prevention initiatives to benefit the neighbourhood. Over the years, other watch groups were also created such as Vehicles On Watch and Riders on Watch, to garner community participation in preventing and detecting crime in the respective areas. We have seen individual successes in the initiatives that various precincts have championed. We have also seen strength in unity as people connect and share interests, knowledge and resources. Therefore, we are now introducing the Community Watch Scheme that harnesses the spirit of these watch groups while transcending traditional geographical boundaries to build a larger community where everyone can be vigilant everywhere and anywhere.
The CWS will take on a different approach towards SPF's community engagement effort by moving from the current geographical-based approach into an interest-based strategy, to engage and involve more citizens in the safety and security of their communities. It will be structured into five broad categories, namely Home, Work/Learning, Transport, Lifestyle and Cyber. It is envisaged that these categories can comprehensively cover all areas of interest, based on a person's daily activities. Different interest groups can be created under each category.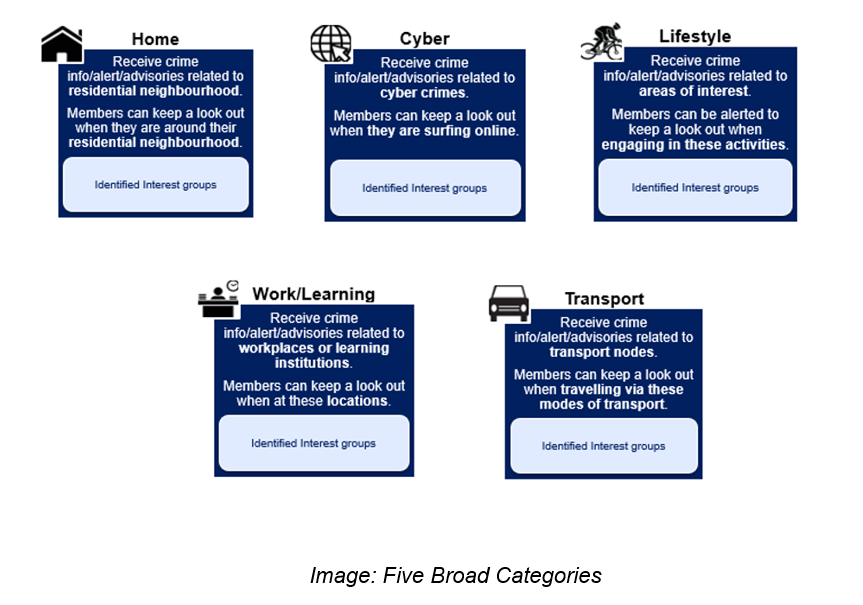 The CWS seeks to bring together various existing schemes, including the Neighbourhood Watch Zone (NWZ), Vehicles On Watch and Riders on Watch into one umbrella for more synergies and coherence. For instance, Vehicles On Watch and Riders on Watch which are existing watch groups that were formed with the same intent, will be subsumed under the Transport category of CWS. The CWS is expected to launch in December 2021 and the NWZ will be fully integrated under CWS thereafter.
Being Part of the Community Watch Scheme (CWS)
Developed in close collaboration with the National Crime Prevention Council (NCPC), the CWS aims to build an informed and vigilant community. Members of the public who sign up for the CWS will be updated on the latest crime information, alerts and advisories. This will help increase the general level of vigilance in the community and encourage active citizenry where members who come across suspicious persons or activities will actively report or submit information to the Police. They are expected to be vigilant, actively look out for and report suspicious characters, behaviours or items to the Police, be proactive in sharing crime information and advisories with their friends and family members to spread awareness, and be ready to work closely with or support the Police on community projects that promotes the safety and security of the community. They are also encouraged to be involved in other policing activities or functions by joining the other SPF volunteer schemes. In addition, CWS members will be given access to training materials and resources to level up their skill sets in various areas relating to crime prevention.
Sign up for the CWS to help us build an empowering community where everyone can partner the Singapore Police Force in ensuring a safe and secure Singapore. Registration will open to the public in December 2021.
FAQs on CWS (PDF)