Brimming with Youth and Passion
By: Syam Roslan (Photo: Aloysious Low)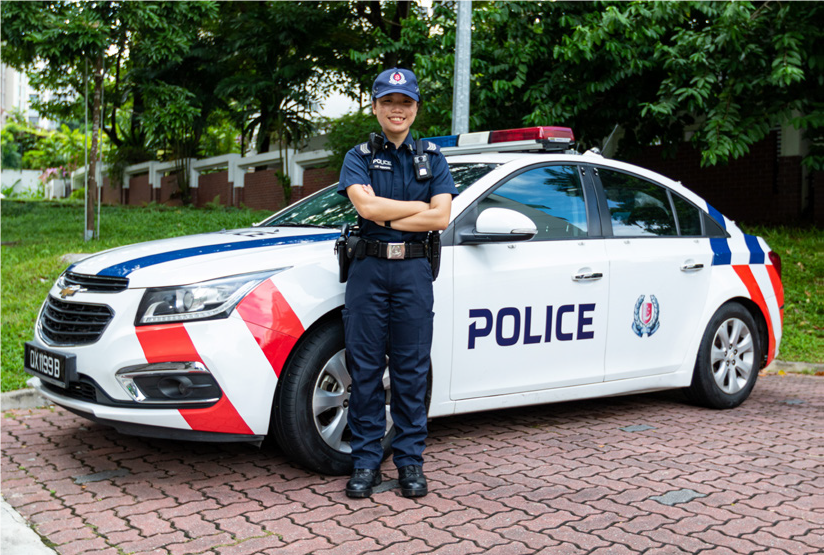 Ms Nicole Lee has always been interested in policing since childhood as her father used to share his fond memories of his National Service (NS) days with the Singapore Police Force (SPF) regularly. Now 21, the National University of Singapore undergraduate is living her policing dream as a Volunteer Special Constabulary (VSC) officer and hopes to take the next step in her crime-fighting journey!
Police Life: How did you learn about the VSC vocation?
Lee: I first heard about the VSC scheme back in 2016, through the hit police-themed television series 'C.L.I.F 4' which depicted the life of a VSC officer! I have been a huge fan of the 'C.L.I.F' series since 2011, which piqued my interest in the work of police officers in different vocations.
PL: What motivated you to sign up as a VSC officer?
Lee: My father served his NS with the Police K-9 Unit, and he would always share with us his exciting NS and policing life ever since I was a kid. He had a great influence on me and that piqued my interest to be a police officer. After my GCE 'A' Levels, I applied to be a VSC officer to experience the work of a police officer and work towards my long-term goal of becoming a regular police officer. I wanted to experience policing at a young age, as it would allow me to understand the crime situation in Singapore, think from multiple perspectives and hone my communication skills.
PL: Were your family members and friends supportive of your decision to join the SPF as a VSC officer?
Lee: Definitely! Coming from a family with a background in uniformed groups (my mother used to be an auxiliary police officer), they were extremely supportive and looked forward to seeing me don the blue uniform as a VSC officer. My friends also gave me their fullest support and encouragement to pursue my dreams even though it would be a challenging journey. They all know my interests in policing work and look forward to seeing me convert from a VSC officer to a full-fledged police officer upon graduation from university!
PL: What were some of the challenges you faced during the VSC training? Which training stood out for you?
Lee: I had to adapt quickly to different scenarios and pick up new skills. The training was physically challenging for my relatively small stature. Being the youngest officer in the squad, I was also worried that I could not bond well with my squad as we were from vastly different age groups. However, I was appointed as the Squad Leader and given multiple opportunities to lead and bond with the squad.
The firearms training stood out for me. As a female, I did not go through National Service and I had never handled a firearm. My first ever practice shoot was the most memorable, as it was my first time firing a real gun!
PL: How did you feel when you finally completed the training to be a VSC officer?
Lee: I felt immensely proud of myself and grateful to have the opportunity to graduate as a full-fledged VSC officer. As the Squad Leader, being able to graduate with the squad mates that I led and bonded with was a great honour! I was also chosen to give the Commencement speech and led the recitation of the Police pledge at my Graduation Ceremony. It was certainly an unforgettable moment, especially for someone my age.
PL: Which Division are you serving at now, and where do you often patrol?
Lee: I have been a Ground Response Force officer with Tanglin Division's Orchard Neighbourhood Police Centre (NPC) since March 2020. Together with my regular colleagues, we conduct patrols at areas with high footfall such as Orchard Road and Clarke Quay. I have also attended to a wide range of cases such as affray, shop theft and more.
PL: How do you juggle your time between studying and volunteering with the SPF?
Lee: After joining VSC, my time management skills have improved tremendously. Even though I might feel burnt out after the long and busy 12-hour shifts, and having to attend lectures or study for examinations right after, I have no regrets! What keeps me going in VSC is the strong support of my family, friends and SPF colleagues who believe in my abilities and passion for doing the work that I love.
PL: Tell us about your most memorable incident while on duty.
Lee: Recently, I was dispatched to a case involving a fight in Orchard area. It was my first time attending to such an incident. The subjects involved in the fight were very aggressive and agitated. As first responders, we had to stop the fight immediately to prevent any further injuries to either party. Thanks to great teamwork, we managed to contain the situation and eventually arrested a subject involved.
PL: Do you have any advice to share with your peers who may be interested in signing up as a VSC officer?
Lee: If you have a strong interest and passion for police work, but you have a job to commit to, joining the VSC could be the right option for you! Juggling between VSC duties and your commitments can be challenging, but the experience will be fulfilling and meaningful. The strong camaraderie between SPF officers makes you feel like home, as they will not hesitate to support you when you are in need.
If you are interested to learn more about the VSC vocation, click the link below to head over to the SPF website!
https://go.gov.sg/join-spf-vsc
PUBLIC AFFAIRS DEPARTMENT
SINGAPORE POLICE FORCE
17 August 2021 @ 2:00 PM