What's in My Neighbourhood? (2021 Issue 06)
By: Saiful Imran (Photos: Muhammad Iffat Arfan Bin Mahmod)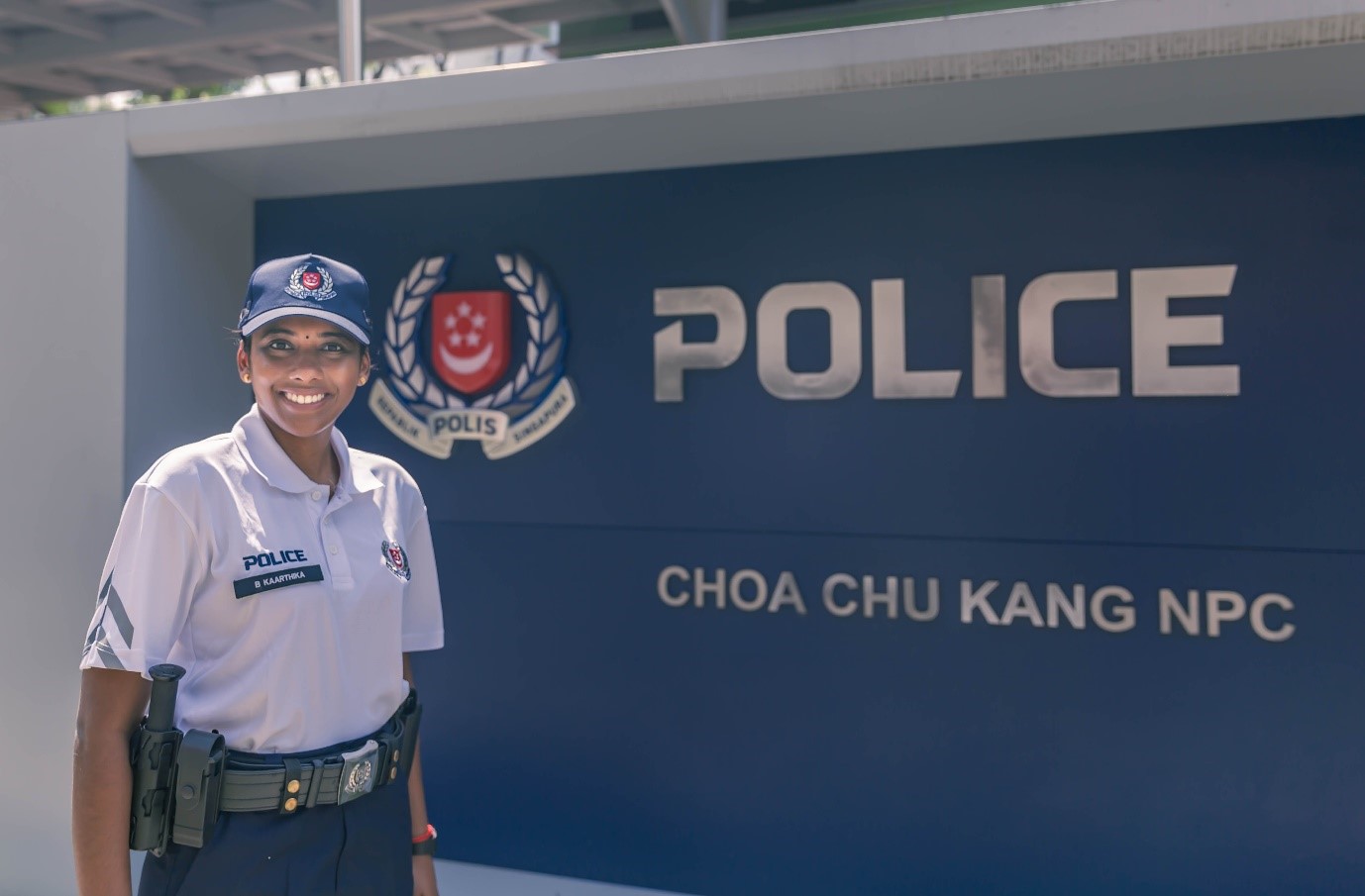 In this issue of Police Life (PL), we speak with Sergeant (Sgt) B. Kaarthika from Choa Chu Kang Neighbourhood Police Centre (NPC) to learn more about her role as a Community Policing Unit (CPU) officer and how her work helps the community stay safe and secure. In addition, find out how CPU's crime prevention efforts have evolved amidst the ongoing COVID-19 pandemic.
PL: Describe your job as a CPU officer.
Sgt Kaarthika: As CPU officers, we connect the Singapore Police Force (SPF) with the community to build a good rapport with relevant community stakeholders in order to strengthen our partnership to fight crime. We also conduct foot and bicycle patrols to project police presence to deter and detect crime. Prior to the COVID-19 pandemic, we used to conduct house visits to engage and share crime prevention advisories with the residents to raise their awareness on the latest crime trends and how to avoid becoming a victim.
PL: Which aspects of a CPU officer keeps you going?
Sgt Kaarthika: I like to interact with people, and I have always felt that every SPF officer can contribute to our mission to prevent, deter and detect crime in each and our own way. As a CPU officer, I get to engage and work closely with the community and build relationships with people. It is always a very warm feeling when we receive a greeting, a smile, or a nod from people in the neighbourhood that we patrol.
PL: How has the COVID-19 pandemic impacted your work?
Sgt Kaarthika: The pandemic has indeed presented new challenges and transformed the way we work. Physical meetings that we used to have with schools and other stakeholders, as well as house visits, have to be suspended. Regardless of these challenges, we remained steadfast in our mission and continued with our crime prevention efforts by reaching out to the community through virtual means through online platforms.
PL: Tell us more about the relationships you have built with the people living in your area of work.
Sgt Kaarthika: Choa Chu Kang is not only my workplace but also my home. As I tend to frequent certain food stalls, some of the food stall owners are so familiar with me that I do not even have to tell them my order when I patronise their stalls!
PL: What is your most memorable work-related incident as a CPU officer?
Sgt Kaarthika: There was an incident when a resident complained about people drinking at a void deck of an HDB block. My supervisor and I then worked closely with the Town Council to follow up on the incident. The resident was happy with the prompt actions taken to resolve the issue, and it was heartening for me to be able to do something for a resident living there.
PL: Are there any interesting places in the area under Choa Chu Kang NPC?
Sgt Kaarthika: There are several large-scale plant nurseries and farms in Choa Chu Kang. In cosmopolitan Singapore, this is probably one of the rare areas where you can enjoy the lush greenery and still get to see real farms.
PL: Are there any food gems in your area that you would recommend?
Sgt Kaarthika: For vegetarian food lovers, there are several vegetarian food options in Choa Chua Kang. My two favourite stalls are the Tanaka Vegetarian stall located at Block 252 Choa Chu Kang Ave 2 and the Red Apple Vegetarian stall at Block 16 Teck Whye Lane. Do check them out when you are around the area!
PUBLIC AFFAIRS DEPARTMENT
SINGAPORE POLICE FORCE
21 December 2021 @ 2:00 PM