A Collaborative Approach Against Scams
By: Domnic Dass (Photos: Singapore Police Force)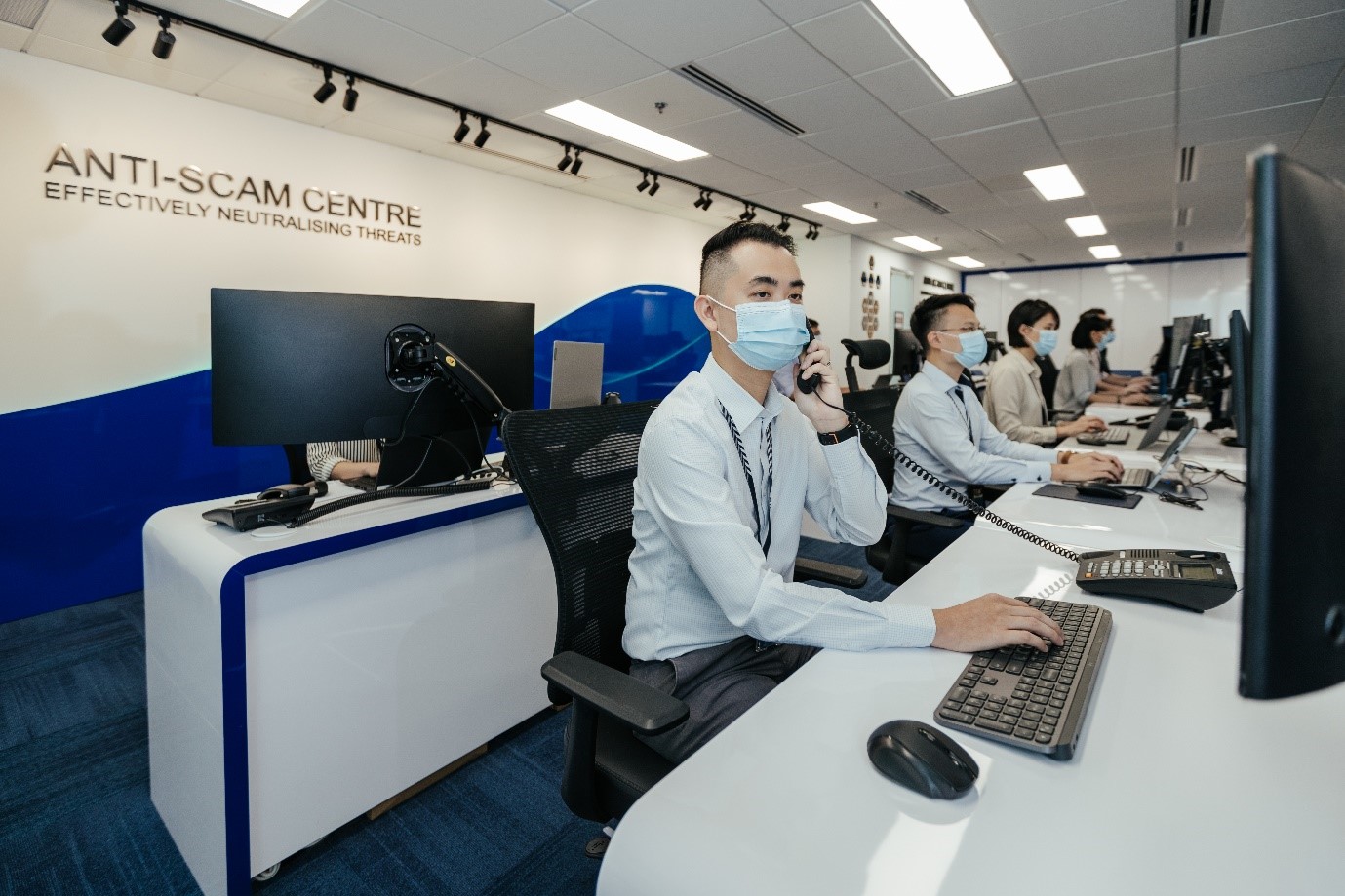 The Anti-Scam Centre (ASC) was set up by the Singapore Police Force (SPF) under the Commercial Affairs Department (CAD) on 18 June 2019 to serve as the Police's nerve centre for investigating scam-related crimes. The ASC aims to disrupt and prevent scam operations so as to mitigate victims' monetary losses through the swift recovery of proceeds of crime, amongst others. In this Issue, Police Life shares more about how the ASC achieves their mission and the efforts taken against scams.
Strategies to stop scams
Scam cases have been rising over the recent years, and the situation has worsened with the Covid-19 pandemic, with more people staying at home and engaging in online activities, which increased their risk of coming into contact with scammers. For the first half of 2021, scam cases increased by 16 per cent to 8,403 cases, from 7,247 cases in the same period last year.
To arrest the scam situation, ASC adopts six "I"s in their approach - Information-processing, Intervention, Investigations, Initiatives, Inculcation, and International Co-operation - to disrupt scammers' operations and mitigate victims' monetary losses. In the first year of ASC's operation, more than 8,600 reports were received, which led to the ASC successfully recovering more than S$21.2 million and freezing more than 6,100 bank accounts. ASC highlighted that the freezing of bank accounts upon receiving a scam report is an effective method of intercepting the flow of victims' monies to the scammers and disrupting their operations.
Two years into its formation, the ASC has, through its various initiatives, recovered more than S$127 million. One of such key initiatives involved collaborating with the seven land divisions to conduct bi-weekly joint operations, resulting in more than 9,000 scammers and money mules being called up for investigations in the past two years. ASC also worked closely with other SPF units, such as the Technology Crime Investigation Branch (TCIB) and Unlicensed Moneylending Strike Force (UMSF), to report more than 20,000 WhatsApp accounts for scam-related activities since February 2020.
One of the common scam tactics used by scammers to initiate contact with potential scam victims is through Short Message Services (SMSes) or phone calls. To prevent such SMSes and phone calls from reaching mobile phone users, ASC was involved in the development of the ScamShield application with the National Crime Prevention Council (NCPC) and the Government Technology Agency (GovTech). The application was developed with Artificial Intelligence (AI) technology to identify and filter out scam messages through the identification of keywords in such messages. Since the launch of ScamShield in November 2020, there have been more than 210,000 user downloads, 1.8 million scam SMSes, and 11,900 suspected phone numbers successfully blocked as of 30 September 2021.
Project FRONTIER
Since its formation, ASC has focused on building partnerships with banks and incorporating more external stakeholders into its initiatives against scams. Launched in May 2020, Project FRONTIER, which stands for Funds Recovery Operations and Networks Team, Inspiring Effective Resolutions, is one of the initiatives from such partnerships.
Project FRONTIER brings together banks, financial technology (Fintech) companies, telcos, online marketplaces and other agencies to disrupt scammers' operations through the quick freezing of bank accounts and mitigating victims' losses. As of 1 August 2021, ASC has expanded its partnerships to 54 stakeholders comprising 14 banks, 15 fintech companies, 13 card payment providers, four local telecommunication companies, five E-commerce marketplace platforms, the Association of Banks in Singapore (ABS) as well as international counterparts such as the Hong Kong Police Force Anti-Deception Coordination Centre and INTERPOL.
The teamwork between ASC and its partners had helped the ASC process 11,000 scam-related reports and froze more than 9,000 bank accounts in 2020. These actions translated to a recovery rate of 35 per cent, which was worth S$57.6 million in criminal proceeds, far higher than the previous recovery rate before Project FRONTIER. In fact, the effectiveness of Project FRONTIER was so significant that between January and June 2021, ASC had already recovered close to S$66 million, which was more than the amount recovered in the whole of 2020 (S$57.6 million).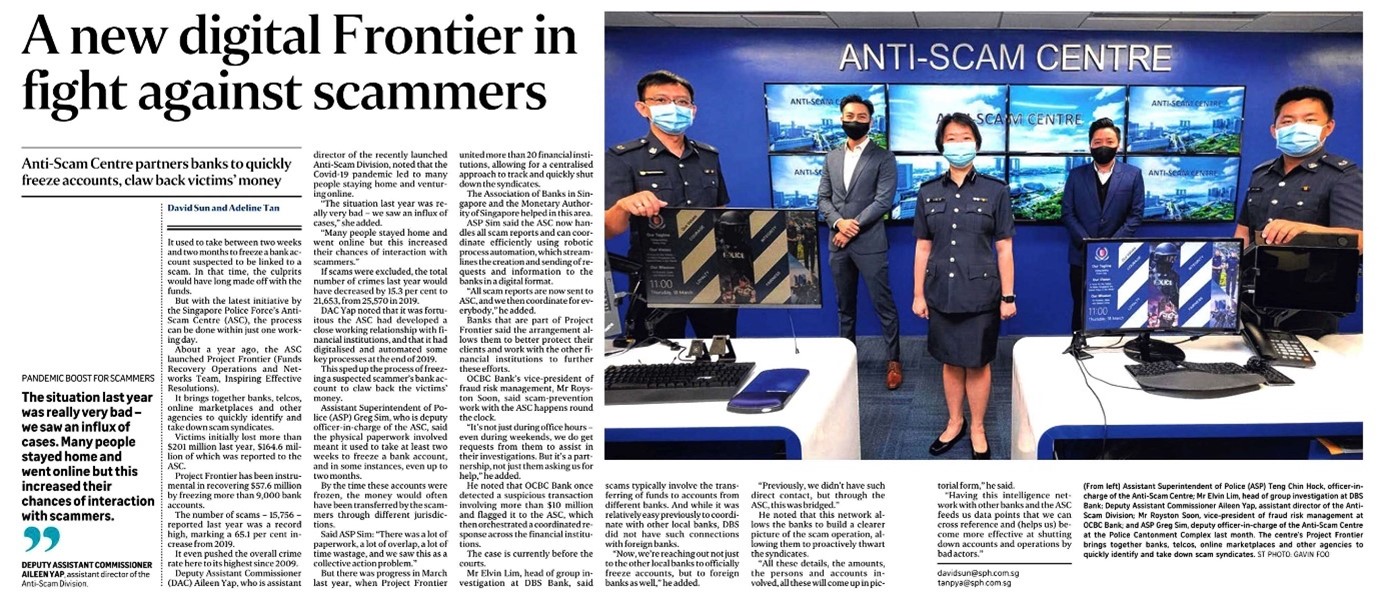 Source: The Straits Times SPH Media Limited. Reprinted with permission.
Project COMBAT
According to the National Crime Prevention Council (NCPC), more than S$6.5 million were lost to job scams in just the first half of 2021. To tackle job scams, the ASC formed Project COMBAT (Centralised Operational Messaging Bot, Addressing Threats) on 17 July 2021. Through sense-making, by collaborating with intel units, land division units and internal Anti-Scam Division units, ASC was able to detect several potential victims and immediately alerted them of the danger of falling prey to job scams. ASC then took a further step by using an in-house Robotic Process Automation (RPA) bot to send mass SMS advisories to a targeted pool of scam victims, freeing up more time and resources to take on other more important tasks. As a result, several reports were made after Project COMBAT's introduction. ASC reported that just between the short period of mid-May 2021 till early October 2021, they had successfully conducted more than 1,900 interventions.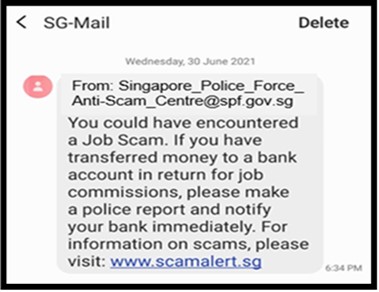 Image of an SMS sent to a potential scam victim through RPA.
Job scams that turn you into a money mule
Together with the banks' cooperation, ASC has been able to identify and terminate pre-identified devices used by suspected mules or victims, thereby disrupting scammers from using these devices to perpetuate their crimes. Further, ASC also conducted investigations against individuals who are suspected of having sold or rented out their bank accounts or SingPass credentials to criminal syndicates. Over a four-day operation in September 2021, ASC cooperated with officers from the land divisions and other SPF specialist staff units to round up 133 individuals for their suspected involvement in perpetrating job scams, where 71 individuals were arrested, and 29 individuals were charged for money mule activities as well as cheating and money-laundering offences.
Our part in the fight against scams!
The ASC will continue to enhance its capabilities through leveraging technology and building more partnerships in its fight against scams. While the ASC remains steadfast in its mission, all of us can play a part too in this fight against scams. So, here are ASC's three key tips to encourage scam-smart behaviour:
Do not become a money mule by relinquishing your bank accounts or engaging in money transfer activities to assist scammers.


Do inform platforms and authorities promptly when you encounter scam messages and attempted scams.



Fighting scams is a community effort. We need a discerning public and a whole-of-community effort to fight scams. Help spread anti-scam messages and build awareness!
Let's fight Scams!
Click the links below to learn about scams or play an active part against scam SMSes and calls by installing ScamShield (only for iOS devices)!
PUBLIC AFFAIRS DEPARTMENT
SINGAPORE POLICE FORCE
28 December 2021 @ 5:01 PM