A Force Fur the Nation
By: Rachel Ng (Photos: Singapore Police Force)
Recognised for their impressive agility, intelligence and sense of smell, dogs have been playing an important role in policing since the 1950s. However, not all dog breeds are suitable for police work. They must be carefully selected and trained for their specialised roles due to the unique temperaments and senses of smell of different dog breeds. K-9 handlers too, need to possess a flair for working with dogs to form strong bonds with their working companions.
Establishment of Police Dog Unit (PDU)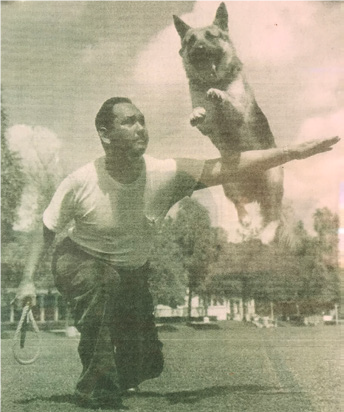 Chief Inspector Frank Pestana training with his German Shepard Rover, circa. 1955.
The Police first recognised the potential of dogs in law enforcement in the 1950s, following the successful use of police dogs in the United Kingdom (UK). In 1954, the Singapore Police Force (SPF) sent Chief Inspector Frank C. Pestana to the Metropolitan Police Dog Training School in Kent, UK, to attend a three-month long Dog Instructor Course. There, he was gifted a German Shephard named Rover, and they worked as a team in tasks like tracking targets and performing patrols.
In 1955, Chief Inspector Pestana brought Rover and four other dogs back to Singapore to form the nucleus of the SPF's Police Dog Unit (PDU), which is now known as the Police K-9 Unit today. Back then, the dogs were based at the Police Academy together with four trainee handlers. After five months of training, the handlers and their canine partners began their deployments to suppress secret society activities and disorderly crowds; perform anti-housebreaking patrols; and track criminals from crime scenes. Today, such duties continue to be conducted by Police Patrol Dogs (PPD) within the Police K-9 Unit.
The Early Years of the PDU
The PDU grew from strength to strength throughout the 1950s–70s despite setbacks. For a period, the unit housed more than 15 dogs at the Police Reserve Unit at Mount Vernon. However, in 1965, nearly all the dogs in the unit perished from a severe disease.
The unit was given a new lease of life in 1970 when it acquired Mowbray Camp, Ulu Pandan, and its guard dogs detachment from the departing British Armed Forces. This camp had a bigger training space and enabled the sharing of common dog training and kennelling facilities with the Singapore Armed Forces (SAF) Provost Unit Dog Wing. Under the command of Senior Inspector Michael Chan, the PDU grew in prominence and size. Partnerships with police counterparts in the UK and New Zealand also helped to bolster the unit. By 1973, the PDU had more than 30 dogs.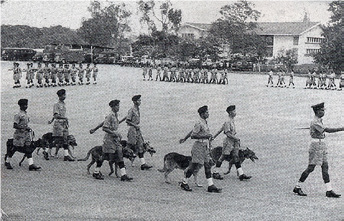 Police dogs marching in step with their handlers during a parade, circa. The 1960s.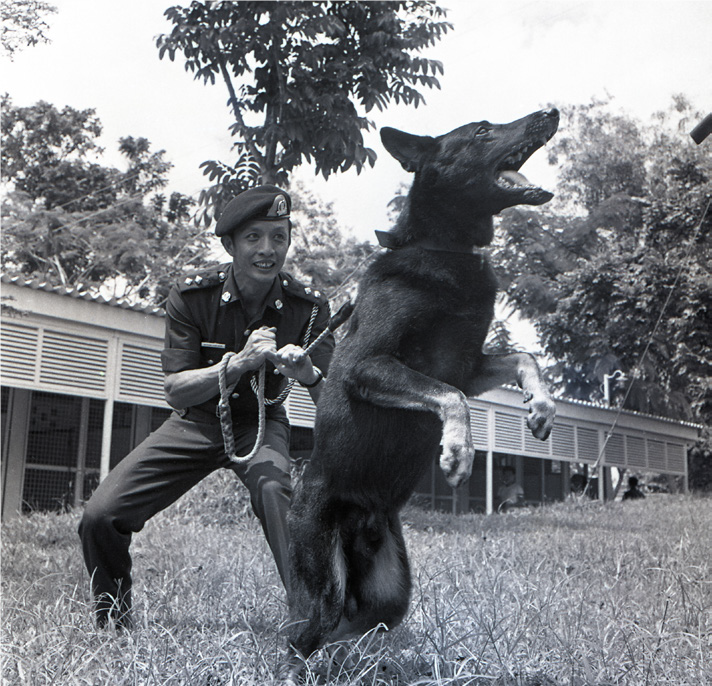 Senior Inspector Michael Chan and a PDU dog, 1972 (Source:New Nation © Singapore Press Holdings Limited. Permission required for reproduction.)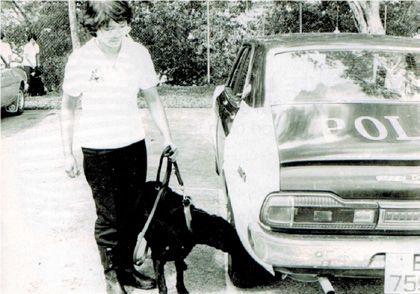 Corporal Siah Mei Lek with her "Narco" dog Dicky going through a vehicle search training, circa. 1970s. The first female dog handlers were recruited in 1977.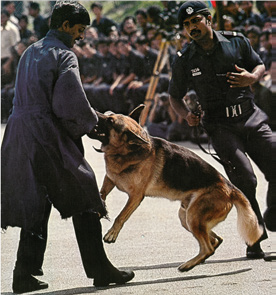 A police dog team demonstrating a non-lethal takedown of a target, 1978.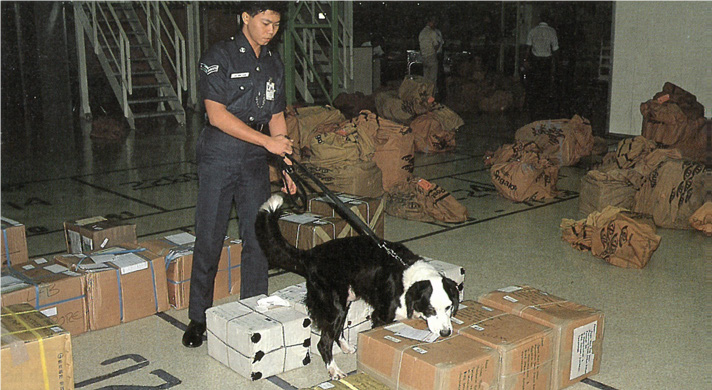 Narcotic Detector Dog examining packages at Chai Chee Mails and Parcels Centre, 1990.
Forging Inter-Agency Partnerships
The Police K-9 Unit conducts many functions to complement frontline police operations today, including crime scene pursuits; border security; and explosive and drug detections. It is also involved in many joint operations with Home Team departments such as the Immigration and Checkpoints Authority (ICA) and Singapore Prison Service (SPS).
These partnerships go back to as early as the 1970s, when the PDU helped establish the now-defunct Customs Dog Unit in 1977. In just over two years, and with the support of international partners like the United States Customs Service, the first 60 narcotics detecting dogs in Singapore were trained. In 1987, the PDU absorbed this unit in its Narcotics Detection Dog (NDD) teams. Today, NDD teams are deployed at all major entry points at Singapore's borders.
In 1995, the PDU also took over the assets and functions of the Prison Dog Unit. The Security Dog teams from SPF K-9 Unit continue to be deployed today for security coverage duties at Penal Institutions and Drug Rehabilitation Centres.
The Police K-9 Unit in the New Millennium
The turn of the century saw several changes in the PDU. In 2003, it was renamed the Police K-9 Unit and reorganised to be part of the newly established Special Operations Command (SOC). The unit was also re-homed in 2004 to its current base in Choa Chu Kang. This base is equipped with state-of-the-art training facilities and kennels, including a training block for Explosive Detection Dogs (EDD). The EDD capability was first introduced in 2002 in the wake of the 9/11 terror attacks in America. EDDs are specially trained to detect hidden explosives and are deployed today with the Public Transport Security Command and at checkpoints.
Today, the Police K-9 Unit continues to serve as a tactical supporting unit to a multitude of frontline operations. Dogs are often seen as lovable companions by many who keep them as pets. However, their loyalty and strength take on a different meaning for the police officers who work alongside them in the line of duty.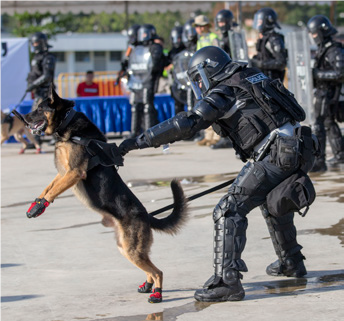 The Police K-9 Unit supports a multitude of frontline operations today, including the Police Tactical Unit.
PUBLIC AFFAIRS DEPARTMENT
SINGAPORE POLICE FORCE
24 August 2021 @ 1:00 PM