A Passion for Dizi
By: Saiful Imran (Photos: Iffat Arfan Mahmod)
In this edition of 'SPF Got Talent', Police Life shines the spotlight on Special Constable/Corporal (SC/Cpl) Ng Wei Xuan, who is currently serving his full-time National Service (NS) with the Singapore Police Force (SPF) Band. He is well-versed in both the Western and Chinese flute (Dizi). In addition, SC/Cpl Ng is also a trainer for music theory and aural skills. Read on to find out more about SC/Cpl Ng's musical journey!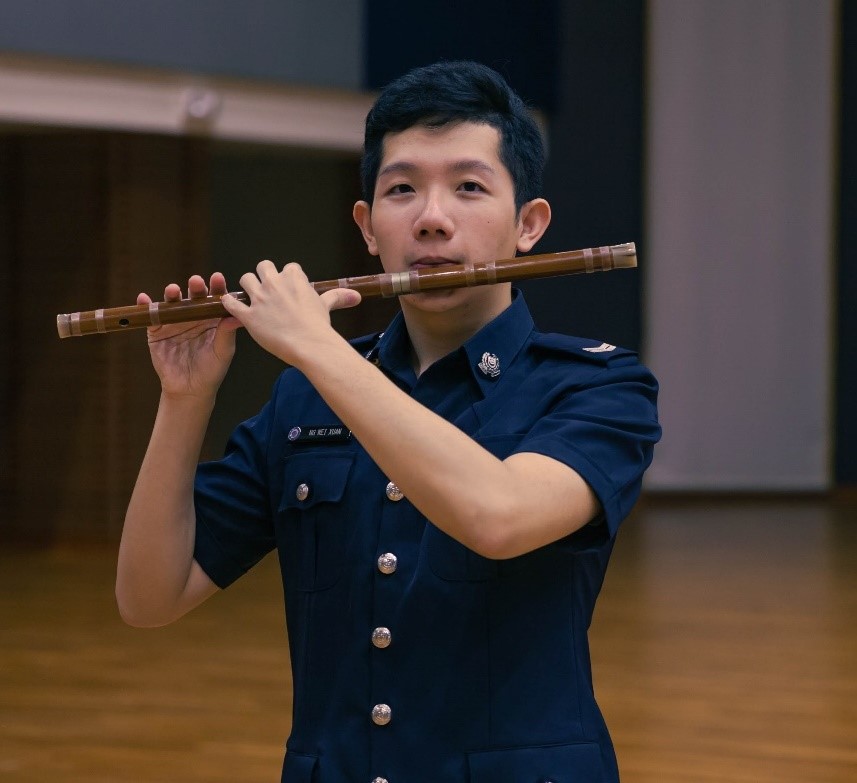 Interest in Dizi
SC/Cpl Ng has been musically inclined since young. The Dizi, a type of Chinese flute, has particularly caught his attention. "My mother once read to me a story about the Eight Immortals in Chinese mythology," he recalled. "One of them, Han Xiangzi, plays the Dizi and would sail down the stream, while serenading all the birds and animals. I thought it was pretty magical how he was able to become one with nature through playing music with his Dizi!" he said. His passion for Chinese classical music and the Dizi eventually led him to join the Chinese Orchestra at Maris Stella High School, where he became the Dizi section leader.
Being part of the Chinese Orchestra allowed SC/Cpl Ng the opportunity to meet like-minded musicians on the local scene. "Their burning passion motivated me to be a better musician," he said. A key turning point for SC/Cpl Ng came when he saw his private musical instructor working as a part-time professional musician. "Seeing that it is possible to have a career in music, I decided to pursue the path of becoming a professional musician," he said.
First Major Competition as a Soloist
SC/Cpl Ng's first major competition was the National Chinese Music Competition in 2014 for the Dizi, in the Youth Category. It was the first time SC/Cpl Ng participated in a competition as a soloist. "As I went up on stage, I felt the pressure of being under the scrutiny of several judges and the thousands in the audience who were watching," he recalled. Despite his competition jitters, SC/Cpl Ng took the competition as a learning experience and eventually managed to advance to the final round. "Unfortunately, I did not do well during the final round as I was inadequately prepared," he said. After this experience, SC/Cpl Ng learned to better manage his stage fright and to be better prepared for future performances.
SC/Cpl Ng is now a more confident musician, with a mature understanding of the Chinese classical music. Most people would think that technical skill is the key to perfection in music. However, SC/Cpl Ng prefers to focus on other aspects of music. As shared by SC/Cpl Ng, "Most Chinese music works have a story to tell. So, with my music, I try to capture the emotional essence of the narratives portrayed in the music, to bring to life the alluded Chinese folklores and legends!" - And this was what it took for SC/Cpl Ng to reach the next milestone in his musical journey.
Road to Success
While studying Dizi at the Nanyang Academy of Fine Arts (NAFA), SC/Cpl Ng also played with the Singapore National Youth Chinese Orchestra as its principal Dizi player. This helped to further refine his skills at the Dizi.
SC/Cpl Ng's highest achievement of his musical journey was being awarded the first runner-up for the Solo Dizi (Open Category) at the Singapore Chinese Music Competition in 2018. This accomplishment greatly motivated him to achieve more breakthroughs in his musical career.
Life in the SPF Band
These days, SC/Cpl Ng is still actively playing music, albeit not in the Chinese classical music scene. He is currently serving his NS, playing the Western flute with the SPF Band. When asked how he felt about joining the SPF Band, he shared, "Honestly, it feels surreal to be able to continue doing music while serving my NS. It is also an honour to be able to pursue my passion and serve with the SPF Band!".
Being part of the SPF Band also gave SC/Cpl Ng the opportunity to learn about different musical art forms from his mentors and fellow band members, and he has also been able to share his knowledge of Chinese music with them.
When he first joined the SPF Band, he was new to the Western flute. However, through the guidance of his fellow officers, SC/Cpl Ng has become competent in playing the Western flute. "Everyone here has been the most welcoming too, and it is heart-warming to be accepted into this big family of like-minded individuals," he shared.
Carrying on the Legacy
After completing his NS, SC/Cpl Ng plans to pursue his Bachelors of Music (Honours) degree at NAFA. "I hope to carry on the legacy of Chinese music in Singapore beyond the current generation through innovation, while keeping the simplicity of the traditional art form," he said.
PUBLIC AFFAIRS DEPARTMENT
SINGAPORE POLICE FORCE
03 August 2021 @ 1:30 PM