Being a Citizens On Patrol (COP) Volunteer
By: Syam Roslan (Photos: Singapore Police Force)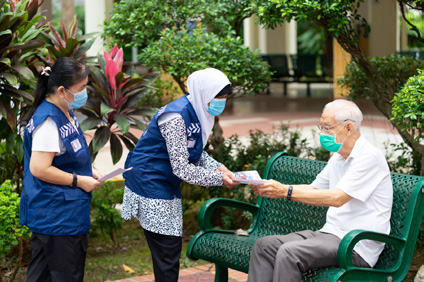 As a Citizens on Patrol (COP) volunteer, 71-year-old Mdm Hamida Binte Khalid shares crime prevention tips with residents and conducts routine patrols and house visits in her neighbourhood. At first glance, no one would have guessed that Mdm Hamida has done volunteering work for over five decades! Here is her remarkable story.
It all started in 1967, when Mdm Hamida, then a secondary four student, joined the first all-female Vigilante Corps (VC) squad. As a VC volunteer, she served at three police stations, namely Joo Chiat Police Station, Central Police Station and Toa Payoh Police Station, for over a period of almost 14 years from November 1967 to September 1981. She rose through the ranks, and became a VC Team Leader holding the rank of Staff Sergeant, with 15 volunteer officers under her leadership. Some of her tasks included scheduling duties for the full-time Police National Servicemen (PNSFs) as well as monitoring the PNSFs while they were on duty. For her outstanding performance and commitment to duty, Mdm Hamida received the Pingat Bakti Setia (Long Service Award) on 2 March 1980.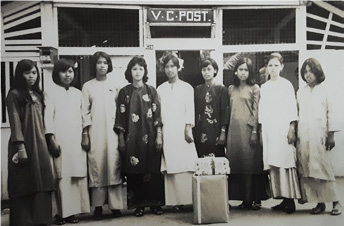 Mdm Hamida (fourth from right), with the first all-female Vigilante Corps squad in late 1960s. (Photo credit: Hamida Binte Khalid)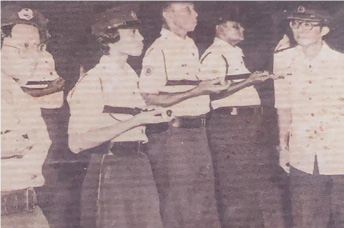 Mdm Hamida (second from left), at a parade inspection for a ceremony at Vigilante Corps Headquarters, circa 1970s (Photo credit: Hamida Binte Khalid)
The VC was reorganised in 1981, and Mdm Hamida was appointed to lead a team of 30 volunteers under the newly-formed Civil Defence Corps, where she continued her volunteer duties by sharing with residents fire safety-related advisories. In 1981, the SPF introduced the Neighbourhood Watch Scheme (NWS) to encourage mutual care and help among neighbours by having residents keep an eye on each other's premises, discuss initiatives to mitigate crime concerns as well as to share crime prevention messages. Owing to her strong passion in keeping the community safe from crime, Mdm Hamida eagerly joined the NWS, carrying on till the NWS became the Neighbourhood Watch Zone. In 2009, she became a COP member and is currently attached to Kampong Java Neighbourhood Police Centre, where she patrols the neighbourhood, disseminates crime prevention advisories and reports to the Police if she comes across suspicious persons or spots crimes in progress.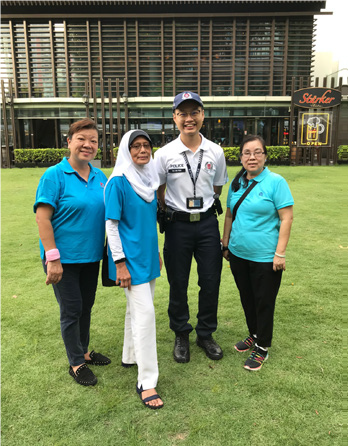 Photo taken before the COVID-19 outbreak. (Photo credit: Hamida Binte Khalid)
In addition to her volunteer roles, Mdm Hamida has also been serving as a Residents' Committee (RC) member of the Moulmein-Ah Hood RC since 1982. Her passion for volunteerism and public-spiritedness had led her to participate in many community engagement activities organised by Home Team agencies, such as crime prevention workshops, fire emergency exercises and fire safety workshops. To attract like-minded individuals to volunteer, she has also proactively promoted the SPF volunteer schemes such as the Volunteer Special Constabulary and COP schemes to her fellow residents and grassroots members.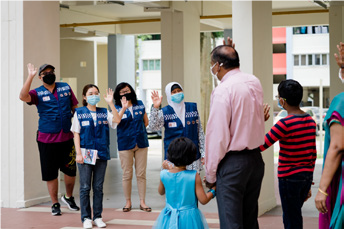 Even during the COVID-19 pandemic, Mdm Hamida and her team of COP members continued to patrol their neighbourhood to ensure their community stay safe and secure. When asked about her driving force to continue serving the community until today, she mentioned that she was touched by the gratitude shown to her by her fellow residents for her volunteering efforts. She said that the residents regard her almost like a 'mother', whom they can come to whenever they need any assistance. "The residents here, if anything happens, they will knock at my door and asked me for help. But instead of feeling burdened or annoyed, I am more than happy to help, as I felt a sense of duty to do so!" Mdm Hamida said.
In recognition of her outstanding dedication and contributions as a volunteer for the past five decades, Mdm Hamida was awarded the Minister for Home Affairs National Day Award (Home Team Volunteer) at this year's Ministry of Home Affairs National Day Observance Ceremony, which was conducted virtually due to the COVID-19 situation. When asked about her plans with regards to volunteerism, she said, "Volunteerism is a part of my life, and I will continue to serve as long as my body allows. But I am helping to groom some of the younger volunteers so that when I retire, they will continue the work that I have passionately done for the past 54 years."
Mdm Hamida's story on volunteerism is one of selflessness and sacrifice. Over five decades, Mdm Hamida has proved that there is no age limit when it comes to volunteering. Regardless of age, everyone can play a part in safeguarding their neighbourhoods, so long as one has the passion to serve the community!
PUBLIC AFFAIRS DEPARTMENT
SINGAPORE POLICE FORCE
26 October 2021 @ 4:20 PM