By: Irwan Shah
(Photos: Public Affairs Department & Bryan van der Beek)
Since late January this year, more than 3,000 Singapore Police Force (SPF) officers have been deployed to support the nation's battle against the COVID-19 virus. From contact tracing, securing the Government Quarantine Facilities (GQFs), assisting with dormitory operations and enforcing of circuit breaker measures, Police Life takes you through policing in unprecedented times!
Securing Quarantine and Isolation Facilities
Lodging facilities such as the GQFs are one of the measures to house Persons under Quarantine (PUQs) and those who are serving their Stay-home Notice (SHN) because of their assessed risk in contracting the virus. Since the activation of such facilities in late January this year, the SPF officers have been deployed to secure and maintain law and order at the various GQFs.
A typical day at a GQF involves a 12-hour shift that begins with a briefing on the occupancy rate of the facility. The officers will then be assigned to various points of the facility to commence their duties. Sometimes, these officers will also need to advise PUQs and their families on matters concerning their welfare. The GQF deployment, however, is not without its own set of challenges.
"The transition to this role was quite sudden. I had to quickly adapt and be ready to handle incidents that could happen at the facility. Since it is my first time doing this (GQF deployment), I must quickly familiarise myself with the work processes," explained Senior Staff Sergeant (SSSgt) Naufal.
The challenge that SSSgt Naufal cited is common among officers who have been deployed to the GQFs. Moreover, for these officers who are deployed on the frontlines, the operational and health risks are very real.
"I would be lying if I were to say that I am not worried, given that we are dealing with a new virus with a high infection rate," said SSSgt Norshidah, a deployed officer in one of the GQFs. "However, we are properly equipped and have robust safety protocols in place to perform our duties. The important thing is to keep ourselves safe through regular handwashing, maintaining good personal hygiene and practising safe distancing."
Aside from the GQFs, SPF officers are also deployed to similar facilities such as Stay-home Notice Dedicated Facilities, Community Care Facilities, Swab Isolation Facilities, Gazetted Isolation Areas, decant sites and other migrant worker dormitories.
Aiding Migrant Workers
The Forward Assurance and Support Team (FAST) comprises officers from the SPF and other government agencies who are roped in to tackle the sharp spike in COVID-19 cases in 43 migrant worker dormitories across Singapore. Their role is to maintain the welfare, health and safety of the migrant workers within the dormitories. These teams do so by working closely with the dorm operators to provide the dormitories with necessities such as food and medical care. The experiences of our SPF officers - planning and executing major deployments - proved useful to help kick-start several initiatives for the FAST operations.
"As police officers, most of us have been through major deployments. I also have some experience in planning for a major security event as well. So, all these come into play when we interact with the dorm operators," elaborated Superintendent of Police (Supt) James Tan, FAST Team Leader of Westlite Papan dormitory.
Together with the dorm operator, the FAST team from Westlite Papan came up with a system to ensure that the migrant workers follow the safe distancing measures while collecting their daily meals or while reporting sick at the assigned medical posts. Aside from monitoring their necessities, FAST officers are also responsible for monitoring the potential spread of COVID-19. For migrant workers who are symptomatic, they will be isolated and segregated from their peers until they receive their COVID-19 test results. These measures and systems are put in place to ensure that the migrant workers remain safe while still going about their daily lives within the dormitory. The cooperation between the FAST team and the dorm operator was not without its initial challenges, though.
"Things here develop fast. We were recalled, put together as a team from different Home Team agencies and the following day, I was deployed with a team of officers I had never met before," said Supt Tan. "The first question in my mind was how to connect with the stakeholders and understand the situation on the ground."
It certainly helped that the SPF has been actively reaching out to the migrant worker community years before the COVID-19 outbreak, through its Community Safety and Security Programme (CSSP). The CSSP was the catalyst to Project Alliance, which aims to engage community partners such as dormitory operators and the Singapore Contractors Association Limited, and organise outreach efforts to the migrant workers.
There were also migrant worker ambassadors who were appointed and trained to strengthen the Police's efforts in spreading awareness of crime prevention and improving safety and security within the dormitories. Through this existing bridge built with the migrant worker community, police officers were able to better communicate and understand the needs of these workers.
Another challenge that Supt Tan and his team faced included the decantation efforts, transferring healthy migrant workers from Westlite Papan to temporary lodging facilities. Although not daily, each round of the decantation process can take between 10 to 12 hours, involving hundreds of migrant workers. Communication might sometimes be marred since some of the migrant workers may be given conflicting information from their employers.
"When you have a large number of migrant workers wanting to leave, any confrontation or dispute, if not managed well, may escalate into a public order incident. As a police officer, this is the last thing that we want to see," quipped Supt Tan.
Ultimately, the FAST officers will need to ensure that all communication between the migrant workers and the various stakeholders are clear and that everyone is decanted in an orderly manner. Through the joint multi-agency operation, the FAST team can address and resolve queries by the migrant workers quickly by being the middleman between them and other relevant government agencies.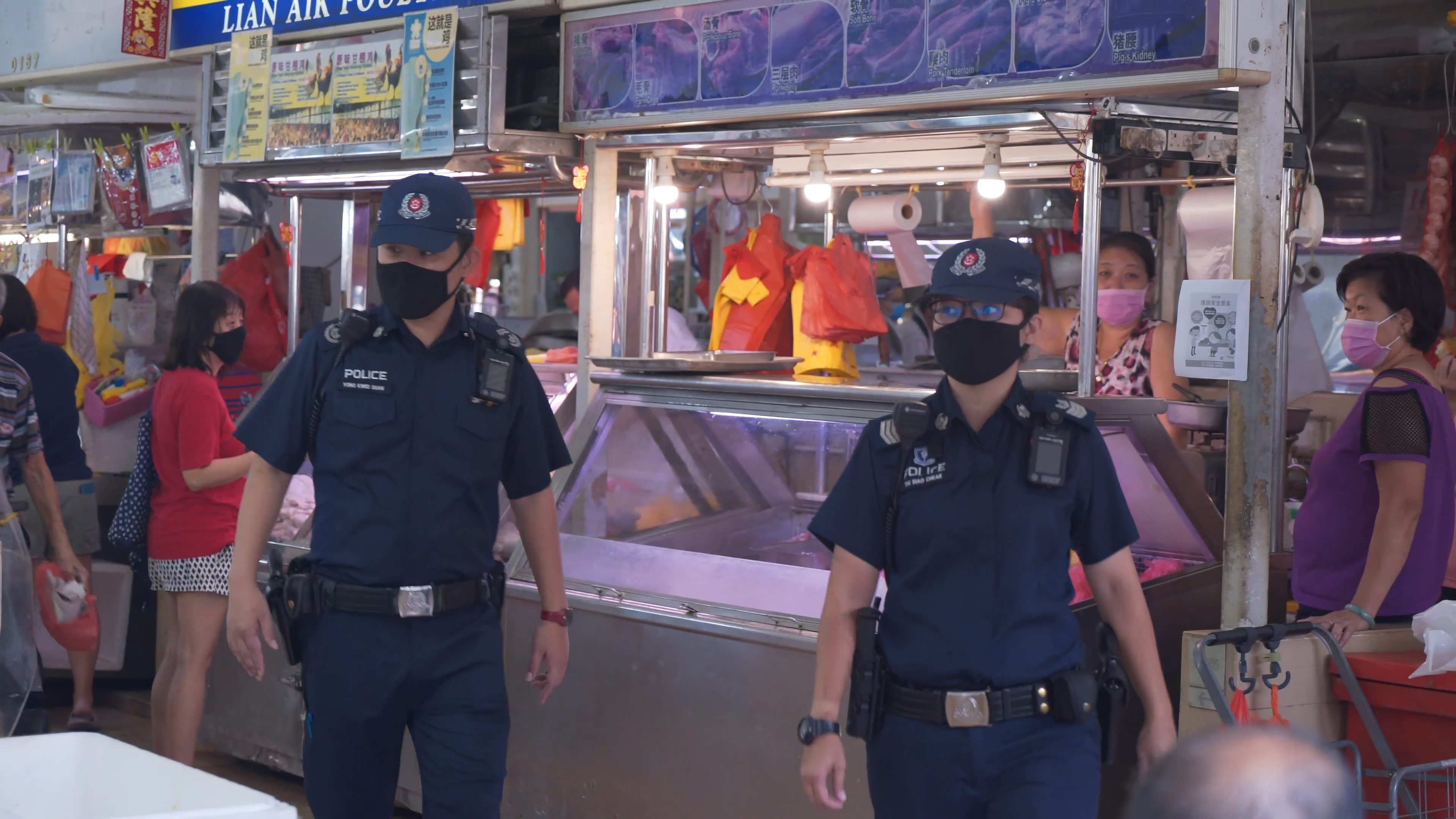 Policing in Unprecedented Times
During such trying times, the SPF officers continue with their day-to-day policing duties to maintain law and order. While police work on the ground remains largely the same, different policing challenges have emerged with the tightening of Circuit Breaker measures that were introduced to cope with the spike in COVID-19 cases. Police officers often encounter cases where they have been called in by Safe Distancing Ambassadors (SDA) to help mitigate situations when individuals are uncooperative.
"We will step in to intervene when SDAs from other agencies encounter difficulties during their enforcement of safe distancing measures. Despite the challenges faced during this period, police officers maintain our professionalism when dealing with situations on the ground. Our commitment in keeping Singapore safe and secure remains unchanged," said Staff Sergeant Noornazreen, a Ground Response Force officer from Toa Payoh Neighbourhood Police Centre.
While the situation on the ground remains highly dynamic, SPF officers remain dedicated and committed to overcoming any challenges in the face of adversity. Regardless of the risks that may come with their work, our officers will persevere and fight on as one SPF.
Let us salute all frontliners, those working in essential services, as well as each and every one of you who is doing your part in the fight against COVID-19. Together, we can overcome this!
SPF officers "Home" Tribute
https://m.facebook.com/story.php?story_fbid=10159758432914408&id=56706929407
Keeping Singapore Safe & Secure
https://m.facebook.com/story.php?story_fbid=10159768013509408&id=56706929407
Behind the scenes with the SPF And HT Fast
https://www.facebook.com/singaporepoliceforce/videos/630633490996139/
PUBLIC AFFAIRS DEPARTMENT
SINGAPORE POLICE FORCE
27 May 2020 @ 1:50 PM