Assistant Superintendent of Police (ASP) Haisroniezam: Dreams Do Come True
By: Domnic Dass (Photos: ASP Haisroniezam)
Hailing from a family of Police officers, ASP Haji Haisroniezam Bin Abd Rasid always had strong ties to the Singapore Police Force (SPF). ASP Haisroniezam's late maternal grandfather, Sergeant (Sgt) Muhammad Bin Mahmud, used to serve in the Police's Federal Reserve Unit, working together with the Gurkha Contingent, and lived in the Mount Vernon barracks. ASP Haisroniezam recalled stories his mother told him of valour and bravery involving his grandfather's policing days which spurred his ambition to join the SPF. ASP Haisroniezam's late father was also a police officer who served more than 30 years in various postings that included the former Sepoy Line Police Station; as a Traffic Police (TP) Investigations Officer and on-scene Photographer; in the Tanglin Division before retiring from service in Jurong Division.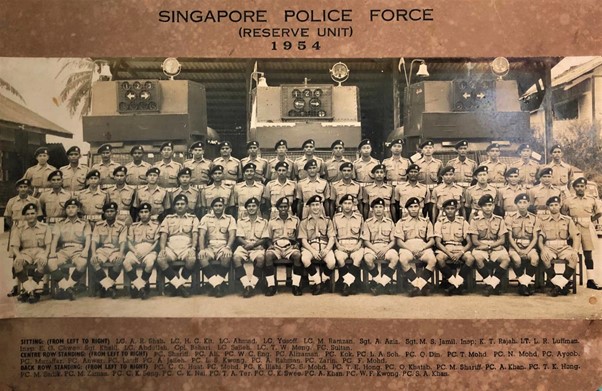 ASP Haisroniezam's grandfather, Mr Muhammad Bin Mahmud, retired from the SPF holding the rank of Sergeant. Here he is pictured above (seated at the bottom row, third from left) in the SPF Federal Reserve Unit's squad photo, where he served most of his career. The Federal Reserve Unit was a riot control force that was deployed during times of emergency or public unrest.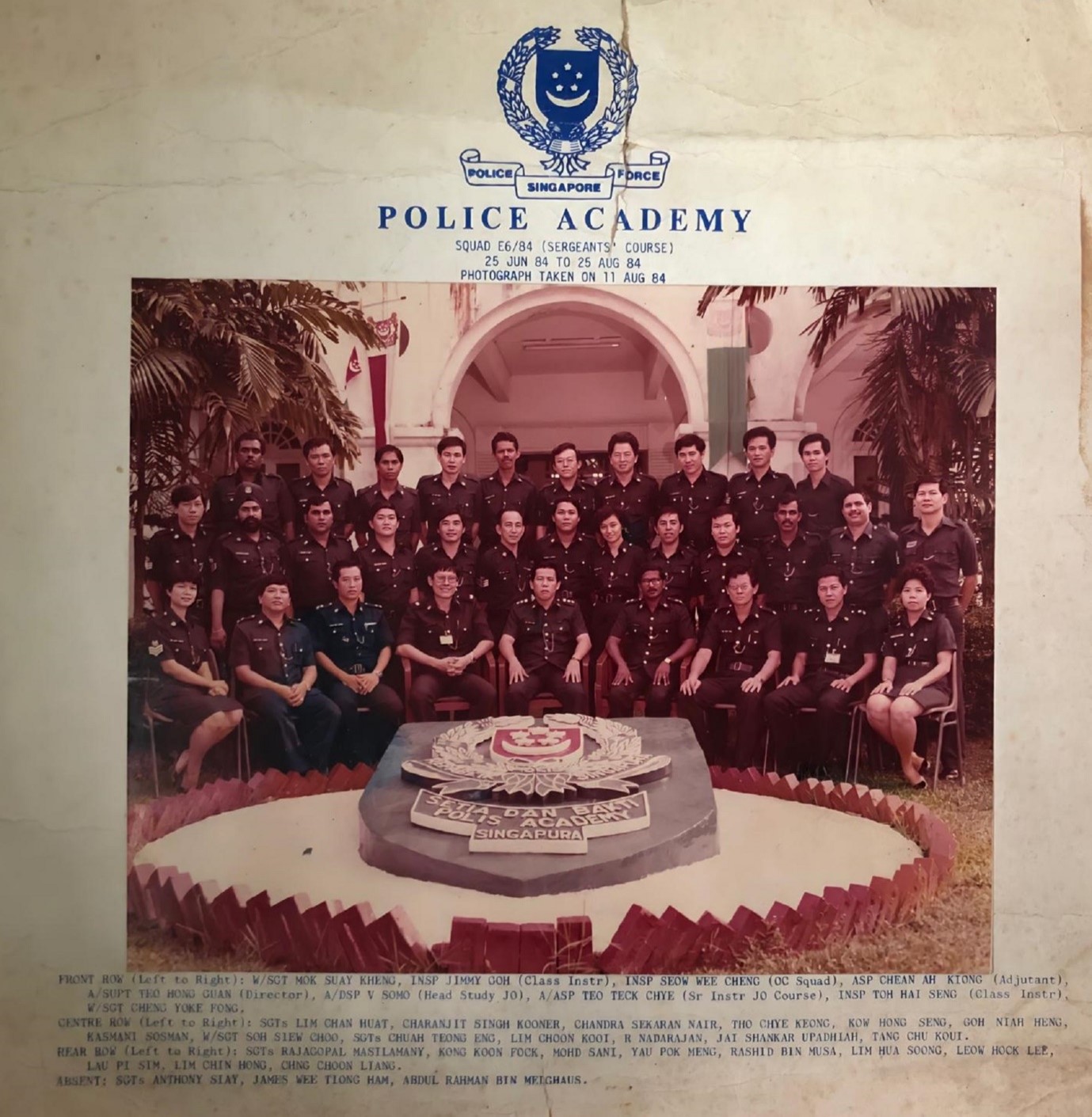 ASP Haisroniezam's father, Mr Abd Rasid Bin Musa (pictured at the rear row, fifth from the left) held the Senior Staff Sergeant (SSS) rank before retiring from the Force.
ASP Haisroniezam lived in the former Pearl's Hill Police Quarters alongside many other police families from different policing units during his childhood. "My playground was practically beside the Criminal Investigation Department Headquarters (CID HQ), where many Police Volkswagen Beetle Radio Cars and TP Yamaha XJ550 motorbikes were housed when they were not despatched on patrols. Arising from the time spent and bonds forged during his formative years living in the Quarters with his "extended families" from the force, it was no surprise that his life goal was to become an SPF officer.
ASP Haisroniezam joined the SPF in 1996 after serving his National Service as a Full-time Police National Service (PNSF) officer. "I was rejected by the SPF seven times in two years when I tried applying to become a regular police officer," he shared. Undeterred, ASP Haisroniezam worked on improving and pushing through to perform better in the next ones. "I took it upon myself to continue the 'legacy' that my grandfather and father have had in the SPF, which kept me going despite failing after seven attempts in 2 years. I knew that being a police officer was all I wanted, so I continued applying," stated ASP Haisroniezam.
He added that he remembered how his grandfather and father played a significant role in influencing him to become a police officer. He stressed that they never put pressure on him that he should continue the legacy or force him to apply to the SPF. "I wanted to be like them because they were always calm and collected in stressful situations and always thinking out of the box – something that rubbed off on me," said ASP Haisroniezam. He highlighted that, most importantly, he remembered the camaraderie they enjoyed amongst their fellowship of police officers with whom they had worked, seeing their friendship extending beyond their retirement years. He knew that the next thing he would do was to apply for the eight interview.
On the interview day, the first thing his interviewers asked was, "you again?". Although discouraged, he pushed through and explained that he would not give up, for this is what he wanted, and he was driven to continue his family's legacy. The interview was relatively short, and he went home fighting back tears, convinced that he had failed again. To his surprise, on 24 February 1997, his dream finally came true when he received a letter from the SPF's Manpower Department informing him of his successful application and inviting him to proceed to the Old Police Academy to sign his contract.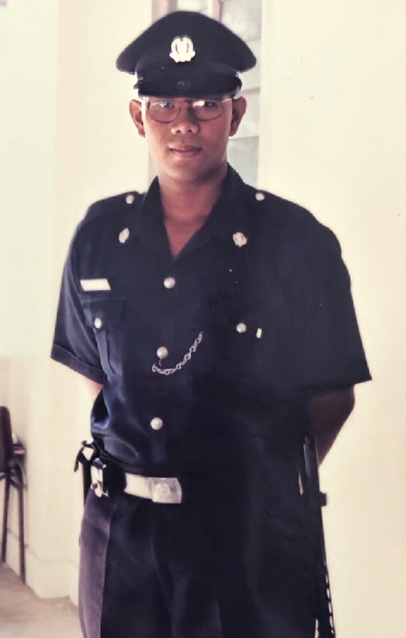 ASP Haisroniezam in uniform during his training days at the Old Police Academy.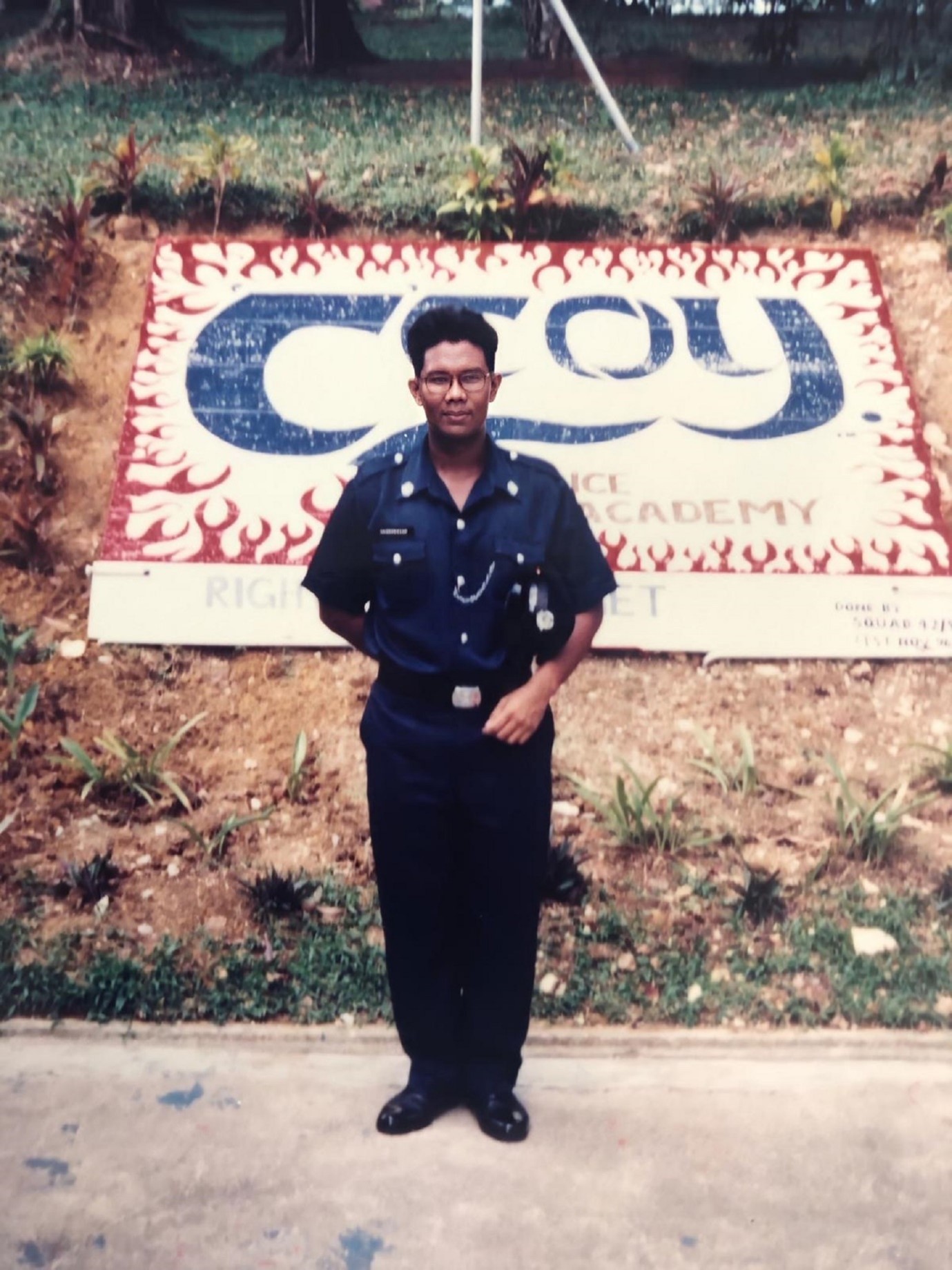 Having been posted to "Charlie" Coy, ASP Haisroniezam highlighted that he went through six months of training at the Academy, together with new regulars who signed on as well. He added that although training was tough, the drive and camaraderie kept everyone going – ensuring all passed out successfully from the Junior Officers' Basic Course.
Having joined as a Police Constable (PC), he was upgraded to the Corporal rank after the PC scheme was abolished in the following year. He went on to join Clementi Division's Watch Team before being posted to the Traffic Patrol Unit (TPU). The TPU was a unique feature back in those days, as its officers performed decentralised traffic patrol duties in their respective divisions while reporting to the TP HQ. When TPU was disbanded in 2001, he took on various roles in different units, such as Divisional Training Officer in the same division, Patrol Officer in Bukit Merah West NPC, Trainer in Training Command's (TraCom) Basic Training School, before serving in his current post as a Team Leader in Airport Police Division's Patrol Team.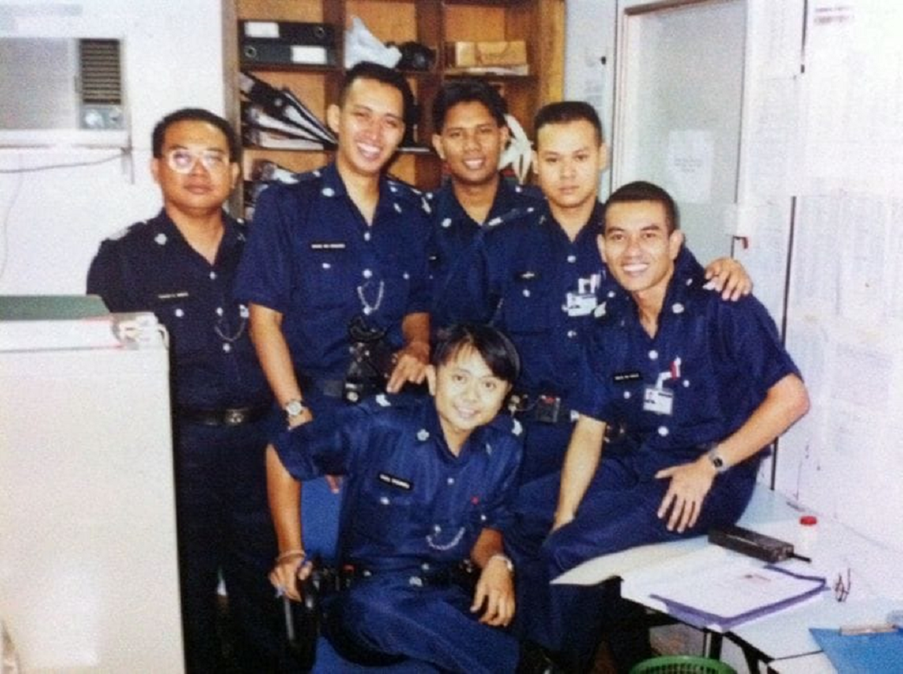 ASP Haisroniezam (middle) with his "Team Bravo" colleagues, during his early days in Clementi Division as a Patrol Officer, where he was part of the Division Watch Team.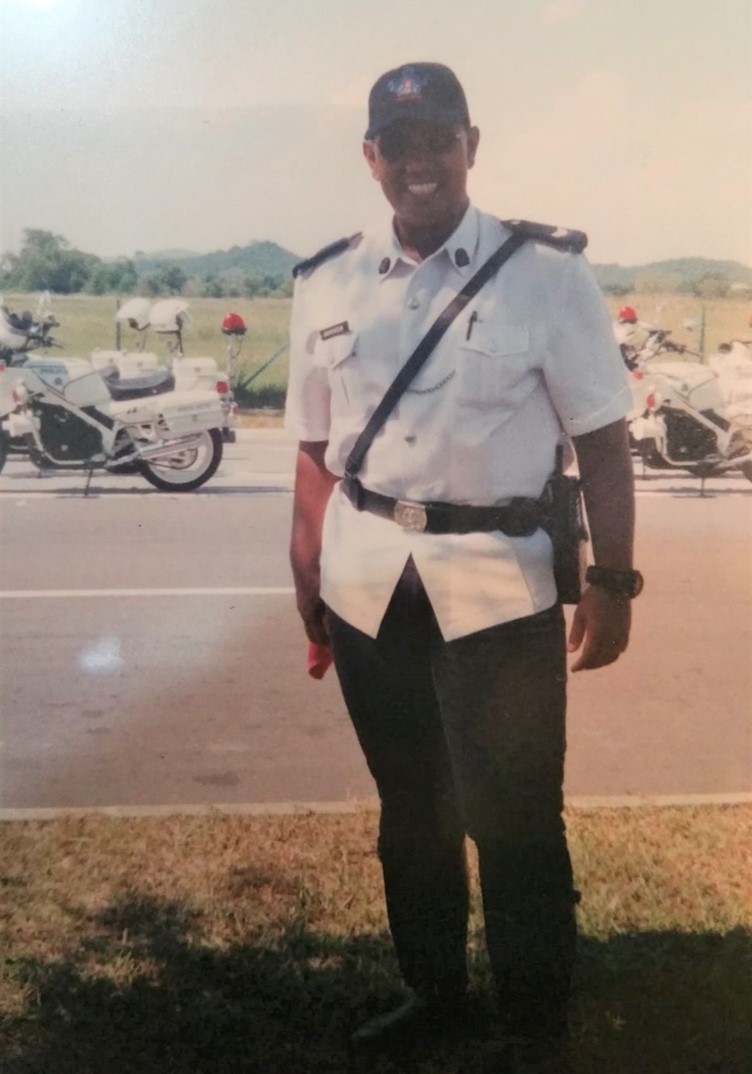 ASP Haisroniezam joined the Traffic Police Unit (TPU) subsequently, where he performed decentralised traffic patrol duties in Clementi Division while reporting to the TP HQ.
During his days in the Division's TPU, ASP Haisroniezam (third officer from left), had to also provide escort for VIPs or ride in formation for special events, besides his regular traffic patrolling duties.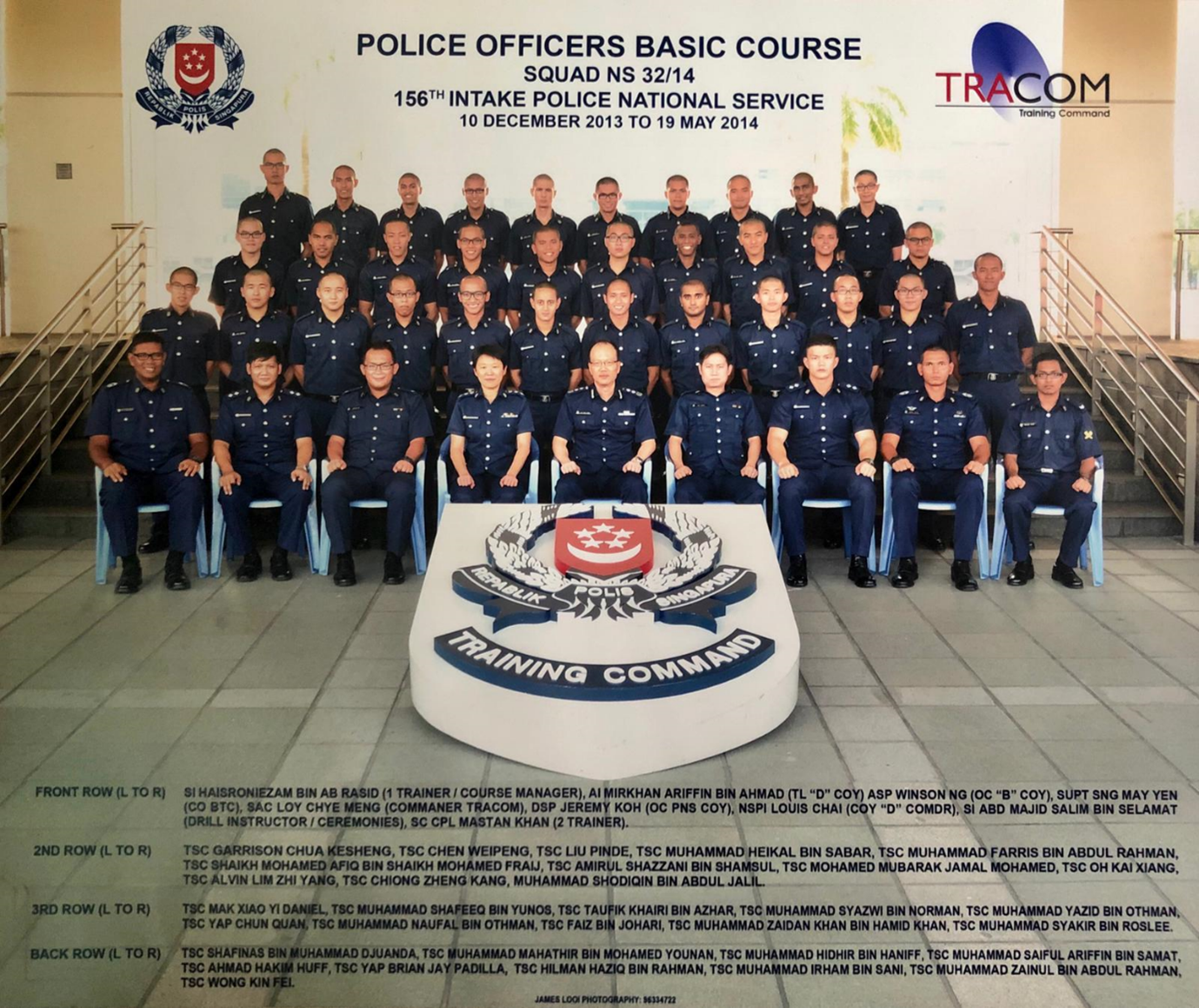 ASP Haisroniezam (bottom row, extreme left) during his days as a Trainer and Course Manager in the Home Team Academy.
During his time in TraCom, ASP Haisroniezam further upgraded himself by pursuing part-time studies through sponsorships from the SPF. Supported by his colleagues and supervisors, as well as driven by his desire to improve himself, ASP Haisroniezam obtained his Diploma in Police Studies and went on to not only complete a diploma in Training and Development but an advanced diploma in Police Studies and a bachelor's degree in International Policing – all within 10 years! He eventually attended the Graduate Police Officer Scheme's selection before completing the Senior Officer's Conversion Course in 2013 before he was promoted to Inspector in 2014.
ASP Haisroniezam shared that in all his years in the SPF, he enjoyed his time in the TPU, the most. He fondly remembered being a member of the escort team for foreign dignitaries, handling traffic-related matters, and riding various police motorbikes such as the Suzuki Katana 750 and the Yamaha Diversion XJ900P.
ASP Haisroniezam further shared that he had seen the SPF transform significantly over the years. From an organisation where officers had to wait for supervisors to give them permission or clearance to make any decision to one that entrusted and empowered officers to make decisions independently, even during times of crisis!
When asked about the significance of Police Day, ASP Haisroniezam said: "Police Day is an important event to commemorate the SPF's achievements, recognise the contributions of past and present officers, and bring officers together to renew our pledge to serve Singapore and to carry out our duties with courage, loyalty, integrity and fairness."
PUBLIC AFFAIRS DEPARTMENT
SINGAPORE POLICE FORCE
19 May 2022 @ 8:00 PM