Sharp Eye for Design
By: Syam Roslan (Photos: Muhammad Iffat Arfan Bin Mahmod)
Mention the term 'Ang Chia', and you will naturally conjure up images of police officers in red berets deployed with sub-machine guns from the Singapore Police Force's (SPF) Special Operations Command (SOC). Apart from being tasked to respond to public order and public security incidents, some of these specialist officers also possess other unique talents. In this issue of Police Life, we caught up with one of them, Sergeant (Sgt) Ahmad Aqil Bin Ahmad Aswat, a 29-year-old Trooper from the SOC's Rapid Deployment Troop (RDT), to learn more about his talent and passion for graphic designs.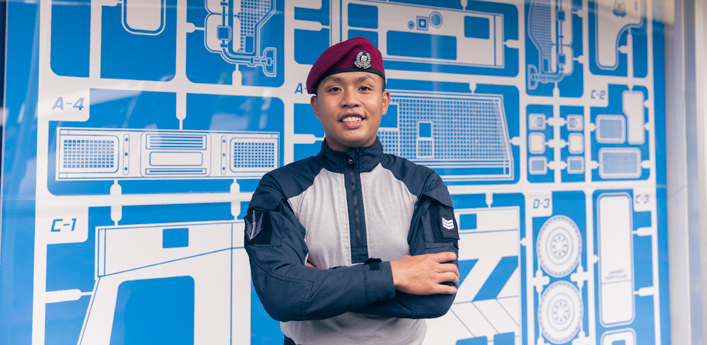 Looking for more than just a job
After graduating from Temasek Polytechnic with a Diploma in Environment Design in 2017, Sgt Aqil decided to join the SPF as he wanted a career that was more than just a job and allowed him to contribute back to society. He added that he was attracted to the SOC when he came across their recruitment posters and eventually joined the SPF through the SOC's Police Tactical Unit (PTU) Direct Recruitment Scheme. Currently, Sgt Aqil is an RDT Trooper under PTU, and his duties include supporting first responders from Land Divisions for public order and public security incidents.
Sgt Aqil in his RDT Trooper gear
Contributing as a Graphic Designer
The opportunity for Sgt Aqil to contribute his design expertise came in late 2018 when his unit made an open call for officers with design skills to join an initiative to recognise PTU troopers who had gone above and beyond their call of duty to render assistance to members of the public. "As this was a meaningful project and an opportunity for me to put my design skills to good use, I volunteered to be the designer and submitted my proposal called the "SOC Heroes Playcard", a design concept which was inspired by baseball trading cards. His proposal was well-received, and from then on, Sgt Aqil got involved in more design projects for the unit. Some of his other design projects included the unit's internal newsletter called "SOCiety" as well as SOC's event posters. Sgt Aqil was also quick to share that he could not have accomplished all the design works without the contributions from another five like-minded team members, which formed the PTU infographics team. Like Sgt Aqil, the other five team members all volunteered to take on this secondary portfolio as members of the SOC's Infographics team due to their passion for content design and creation. When asked about his proficiency with the various design software, Sgt Aqil shared that: "I self-taught by going through online tutorials and learning from my peers in the design scene. Currently, I am learning how to use Adobe After Effects!".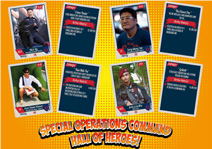 The 'SOC Heroes Playcard', inspired by the designs of baseball trading cards.

Poster design for an SOC event, created by Sgt Aqil and his team.
Design Troopers, Assemble!
In February 2020, Sgt Aqil was asked if he was interested in working on a mural design to celebrate the illustrious history of PTU, which would also instil a sense of pride and belonging among PTU troopers. Sgt Aqil knew that the scale of the project was too large and complex to handle by himself. "So, I recruited a team of eight officers from my PTU family to brainstorm on the design concepts for four mural panels, and we eventually arrived at the 'Tamiya' concept design, which displays PTU's operational gear and our prominent operational vehicles, including the Tactical Vehicle and the Tactical Response Motorcycle," said Sgt Aqil. He added that he wanted to portray the essence of the PTU in a subtle but insightful manner and revealed that he was inspired by the 'Tamiya' model kits. Sgt Aqil shared that he was intrigued by the idea of how each part, regardless of their size, played an important role in completing the entire model, which he related to how each SOC member played an important role as part of the unit.

The artwork for the PTU wall mural.
Sgt Aqil shared that the entire project took about eight months to complete, from conception to production, as the intricacy of the design required each piece of equipment to be photographed first and then translated into a digital design before exporting it out to the design software for rendering. It was a time-consuming and tedious process, as the team had to carry out their usual operational duties and worked on the project outside their working hours to complete the project on time.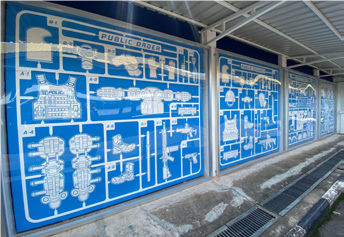 The actual mural done by Sgt Aqil and his team (Photos: Sgt Aqil)
When the mural was finally completed, Sgt Aqil shared that the feeling was surreal. "I have never done a mural before. This is by far my biggest and most memorable art piece. We could not have completed this project without the collective effort of my team members," Sgt Aqil claimed proudly.
PUBLIC AFFAIRS DEPARTMENT
SINGAPORE POLICE FORCE
02 November 2021 @ 5:00 PM