The Frontliners of The Police Operations Command Centre
By: Domnic Dass (Photos: Muhammad Iffat Arfan Bin Mahmod)
In this issue of Police Life, we speak with two officers from the Police Operations Command Centre (POCC) about their work and experiences at the nerve centre of the Singapore Police Force (SPF). Let's hear from Ms Nur Hafizah Binte Kamal, an Emergency Communications Officer (ECO) and Station Inspector (SI) Seow Tuan Hong, a Senior Watch Officer (SWO).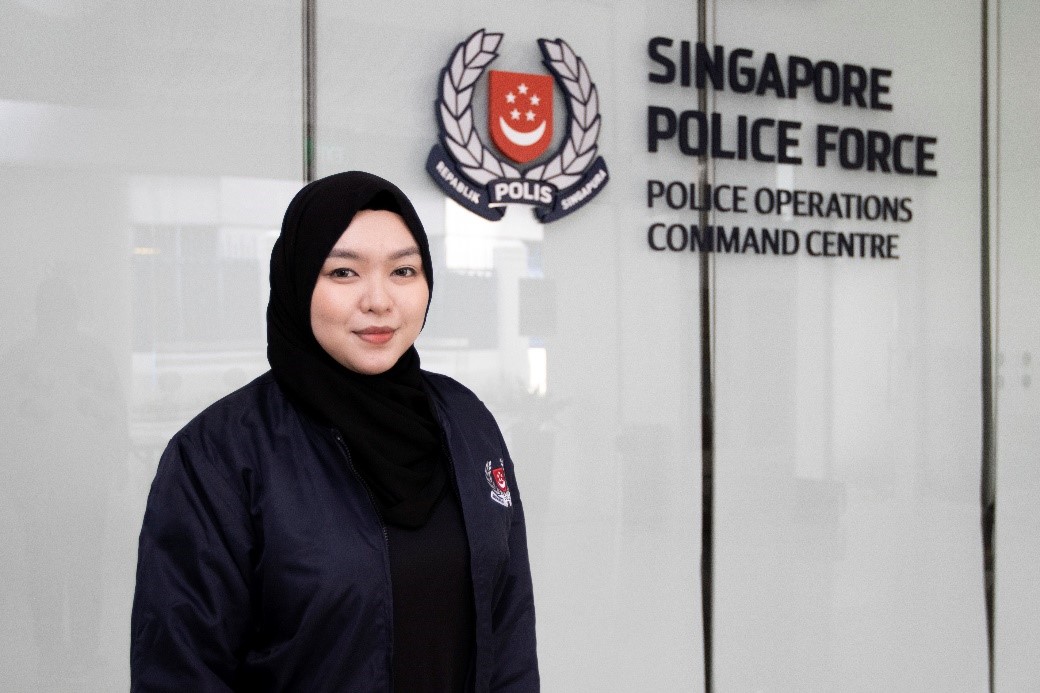 '999', what's your emergency?
ECO Hafizah has been with POCC since 2015. The civilian officer has had vast experience in frontline work before joining POCC, having previously been a Primary Screening Officer with the Immigration and Checkpoints Authority, as well as a Senior Service Executive at a bank. "I was constantly seeking out opportunities for professional growth. So, when I heard about this opportunity to work in POCC, I was inspired and excited to take on the challenge and experience working in the SPF operations centre", shared Hafizah.
Hafizah shared that "an ECO's raison d'etre is to answer '999' calls and generate First Incident Reports (FIR) quickly and accurately". Being an ECO or '999' Operator brings multitasking to a whole new level as they have to do a variety of tasks concurrently. Such actions include thinking on their feet, listening meticulously to critical information, creating incident folders and most importantly, talking to and advising the person in distress on what to do. One small lapse in concentration or a lack of it could result in the difference between someone getting injured, or worse, putting their lives in danger. She explained that before an ECO can start taking '999' calls, they have to undergo a rigorous training regime by a Field Training Officer (FTO), whom they are attached to before taking over the hot seat. This is to ensure that ECOs are ready and prepared for the role. "The anxiety at the start is like no other. Having to make quick decisions in unpredictable situations and assisting members of the public in distress, without any face-to-face interactions, were some of the challenges that I never had in my previous jobs", added Hafizah.
The calls that challenge you.
Hafizah stressed that the real challenge of being an ECO is the ability to swiftly assess the assistance that the caller requires and how to advise the caller accordingly. "This is crucial as what the ECO directs the caller to do next may significantly influence the outcome of the incident, and in some instances, be the difference between life and death", emphasised Hafizah.
On average, each ECO handles about 400 calls per day, which can be mentally and physically exhausting. Apart from crime-related calls, the ECOs also receive calls relating to traffic accidents, domestic disputes, as well as non-emergency related matters such as noise complaints and COVID-19 related issues in recent times. Hafizah shared that such non-emergency related calls could hinder those who are in more pressing need of Police assistance as the ECOs have to engage every caller. Some callers could even become abusive, and it is essential for the ECOs to maintain their composure and emotions. "When this happens, we fall back on our training to maintain professionalism. It is important in our line of work to keep calm during difficult situations, and we must always be professional as we represent the SPF.", explained Hafizah.
A person in distress who 'misdialled'.
Hafizah recalled an incident in early 2018 involving a distraught-sounding female caller telling her, "Mummy, I can't go back home." Hafizah then asked if the caller knew she had dialled the Police emergency line. When the caller replied 'yes', Hafizah realised that the caller was actually trying to seek police assistance discreetly. By carefully asking questions so as not to appear that the caller was speaking to the Police, Hafizah eventually found out that the caller was unwillingly detained. After obtaining the caller's location, she quickly despatched police responders to render assistance while remaining on the call until police officers reached the caller. Owing to her quick thinking, the caller was unharmed and brought to safety.
Where do First Information Reports (FIRs) go to?
After serving his full-time National Service with SPF, SI Seow joined the Force in 2003 upon completing his studies and was with the Central Division before being posted to the Divisional Operations Room (DOR) in 2014. With the co-location of all the seven land division DORs onto a single watch floor in POCC in 2018, SI Seow has been covering the roles of Watch Officer (WO) and Senior Watch Officer (SWO) ever since. "POCC is the nerve centre for all police operations. WOs and SWOs in POCC are responsible for incident management (e.g. despatch of ground resources to assist '999' callers) after the creation of FIRs by the ECOs. Additionally, we also triage information received through the 'I-witness' and 'SGSecure' mobile applications." shared SI Seow.
The incident managers behind the scenes
"The WOs have immense responsibilities as they are responsible for managing all FIRs and deciding how police resources can be effectively optimised," explained SI Seow. He further added that the WOs are also involved in the timely maintenance of all records of incidents on the ground while at the same time looking out for anomalies or links to other ongoing cases. "Our main priority during an ongoing incident is to help create a situational picture of what is happening on the ground, provide the updated situation picture to responding officers in advance so that they can manage, contain and de-escalate the situation, where necessary", SI Seow highlighted.
The critical ticking of the clock.
SI Seow revealed that one main challenge for WOs is when multiple high-priority incidents are received through the emergency line at around the same time. When such situations occur, WOs have to act quickly to triage information, monitor the situations closely and be ready to provide assistance to officers on the ground who are already engaged in urgent or sensitive cases. "With the help of Police Cameras (PolCams), we can better sense-make the situation and quickly despatch additional resources to assist our officers if necessary", shared SI Seow, exemplifying the importance of PolCams in POCC's daily work.
A distressed caller with a knife.
When asked about his most memorable experience, SI Seow recalled a case that occurred in January this year, when an ECO received a Police SMS from a mentally disturbed caller claiming that he was armed with a knife and wanted to kill himself. POCC immediately despatched resources to the scene and found out that the caller had left his home. SI Seow proceeded to alert all available SPF resources, and with the help of PolCams, the POCC officers were able to quickly identify the caller and relayed the PolCam images to ground officers and public transport services. Through close coordination with TransCom and ground officers, the person was eventually located and taken into custody. "We felt a great sense of achievement for this case as it was a collective effort by different SPF units", shared SI Seow.
PUBLIC AFFAIRS DEPARTMENT
SINGAPORE POLICE FORCE
14 December 2021 @ 2:15 PM