Volunteering at the Police Nerve Centre
By: Domnic Dass (Photos: Muhammad Iffat Irfan Bin Mahmod)
The Volunteer Special Constabulary (VSC) was established out of necessity during Singapore's turbulent times to augment the regular officers of the Singapore Police Force (SPF) in restoring law and order. 75 years on, the VSC has grown to be an integral part of the SPF, supporting its mission and establishing a significant link to the community today. To further enhance the VSC's contribution to the SPF's operations, from 1 September 2021 onwards, VSC officers who have completed their posting to the land divisions and specialist units, will be able to take on a newly established vocation in the Police Operations Command Centre (POCC) - to handle emergency '999' calls and manage live incidents at the SPF's nerve centre. VSC Sergeant (V/Sgt) Chew Zi Xiang shares with us his experience volunteering as a Watch Officer (WO) at POCC and what drives him to help keep Singapore safe and secure!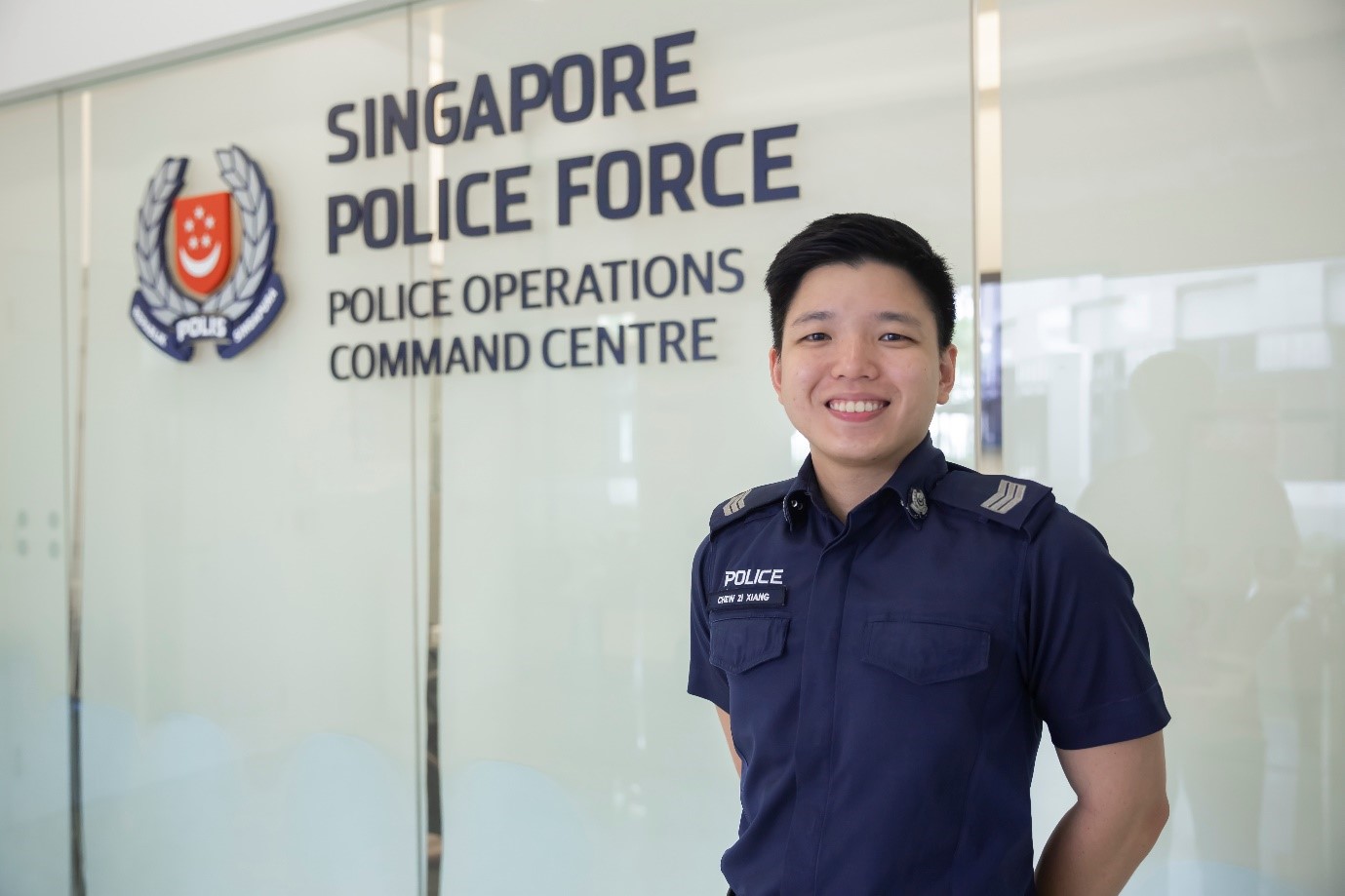 Police Life (PL): How did you learn about the VSC vocation?
V/Sgt Chew: I served my National Service (NS) in SPF as a Neighbourhood Police Centre Officer in Ang Mo Kio Division 10 years ago. During one of my night shifts, I met a VSC officer who joined us for patrol duty, and he shared with me his passion to serve and volunteer even though he had a full-time job. I was very inspired by his dedication and started to find out more about the VSC scheme.
PL: What motivated you to sign up as a VSC officer?
V/Sgt Chew: Through my research and speaking with other volunteers, I was really amazed that VSC officers have been around since 1946 and how a member of the public like myself can contribute to the safety and security of our home through the VSC scheme. That is when I decided that being a VSC officer will fulfil my passion and motivation to give back to society, while providing me with a sense of accomplishment and learning life skills that helps increase my self-confidence.
PL: Were your family members supportive of you joining the SPF as a VSC officer?
V/Sgt Chew: Absolutely! In fact, they are very proud that I am a part of the SPF and that I am helping to safeguard our community.
PL: How did you learn about the VSC POCC vocation? What is your current role?
V/Sgt Chew: Back in 2017, I was serving my reservist duty in Ang Mo Kio Division when I learnt that the Division Operations Rooms of the various land divisions have been consolidated at POCC to enhance operational effectiveness. I further learned about POCC's collective frontline and sense-making capabilities, as well as the critical role they play in incident management. I was very intrigued and felt challenged to learn more about incident management, and that led me to volunteering in POCC as a WO.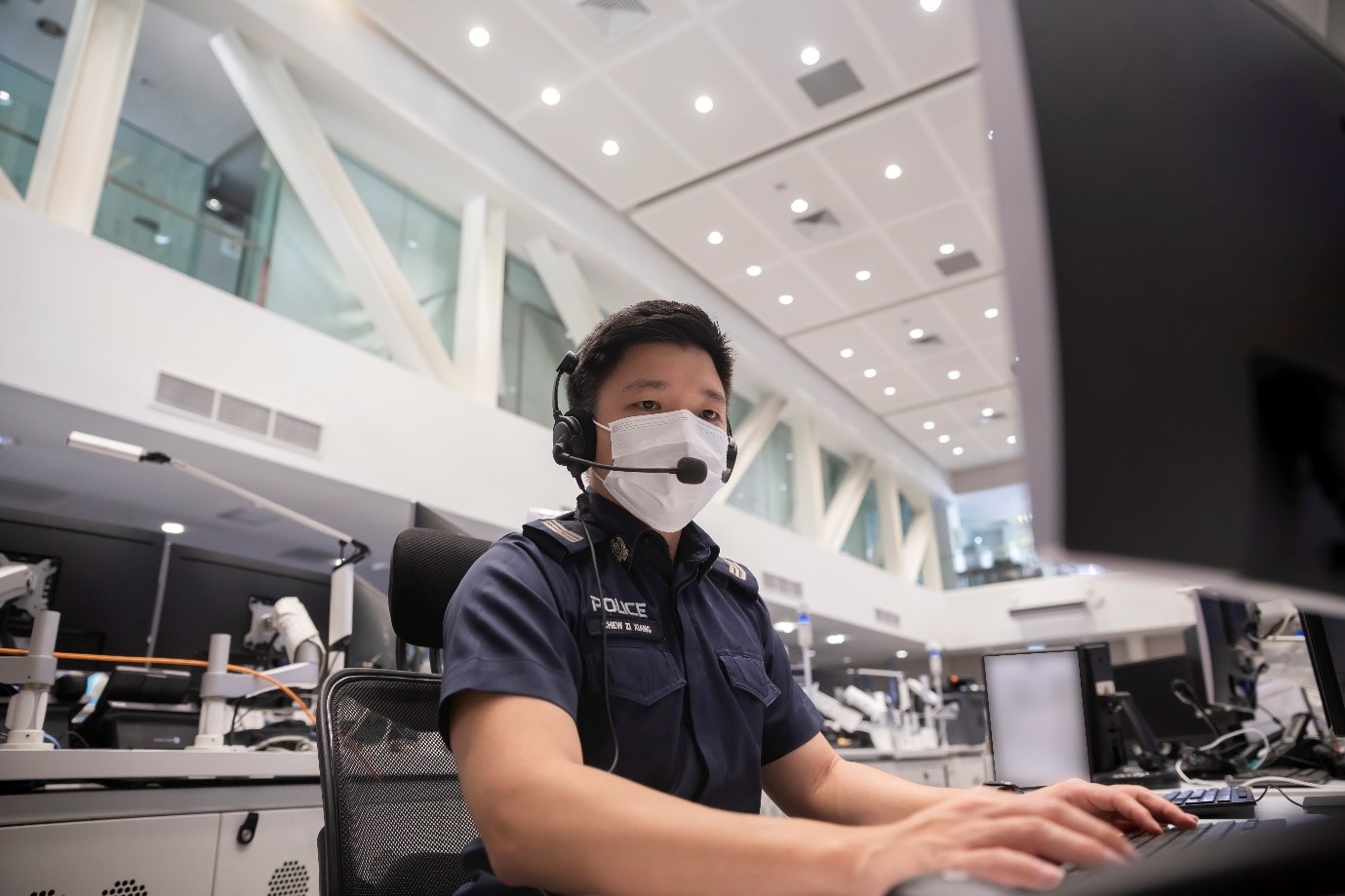 PL: How long did it take for you to complete your training and what were the challenges of your new role as a WO?
V/Sgt Chew: It took me close to four months to complete my WO training. As a WO, you need to maintain alertness at all times to look out for incidents of interest and manage my resources effectively, such as knowing which Fast Response Car to assign to an incident. The role also requires me to develop my radio command skills so as to communicate with ground resources effectively. Every WO's alertness, actions and response time can make a difference between life and death.
PL: Is your employer supportive of you being a volunteer in the SPF?
V/Sgt Chew: Yes. I am very fortunate and grateful to have an understanding and supportive employer. Whenever I request for time to tend to my volunteering responsibilities, they are always willing to support my request.
PL: How do you manage between your work and volunteering commitments?
V/Sgt Chew: Ever since I joined the VSC, my time management skills have improved! I will always plan my week in advance and discuss with my employer and my POCC team in order to determine the days I can perform WO duty for the week.
PL: Tell us about your most memorable incident while on duty.
V/Sgt Chew: I remember handling this incident where a lady was threatening to jump off an overhead bridge over a busy road. As a WO, my POCC colleagues and I had to liaise with several departments and agencies, such as the Singapore Civil Defence Force, in order to collectively plan the rescue and determine which emergency vehicles to activate to the site. I also had to liaise with Traffic Police for traffic control, and Land Transport Authority on affected bus services. Eventually, the woman was rescued. I felt a great sense of achievement once the incident was resolved, especially seeing how all the agencies came together effectively. Being a WO in POCC really helped me to learn how to manage unexpected situations and maintain composure during crisis situations.
PL: What words of encouragement do you have for members of the public who are interested to join the VSC?
V/Sgt Chew: I would say "Just go for it!". As a VSC officer, we get to play an active part in keeping our communities safe. Within the VSC, there are also other interesting vocations where you can learn many life skills. Do not be dissuaded by the training and commitment. You will never know till you try!
PUBLIC AFFAIRS DEPARTMENT
SINGAPORE POLICE FORCE
22 March 2022 @ 2:30 PM