What's In My Neighbourhood? (2021 Issue 04)
By: Syam Roslan (Photos: Naveen Raj Kunaseelan)
In this issue of 'What's in my Neighbourhood?', we caught up with Sergeant Ruby Tan from Sembawang Neighbourhood Police Centre (NPC). The Ground Response Force (GRF) officer shared her affinity for the neighbourhood that she has served and protected for the past five years, as well as her pride as a police officer.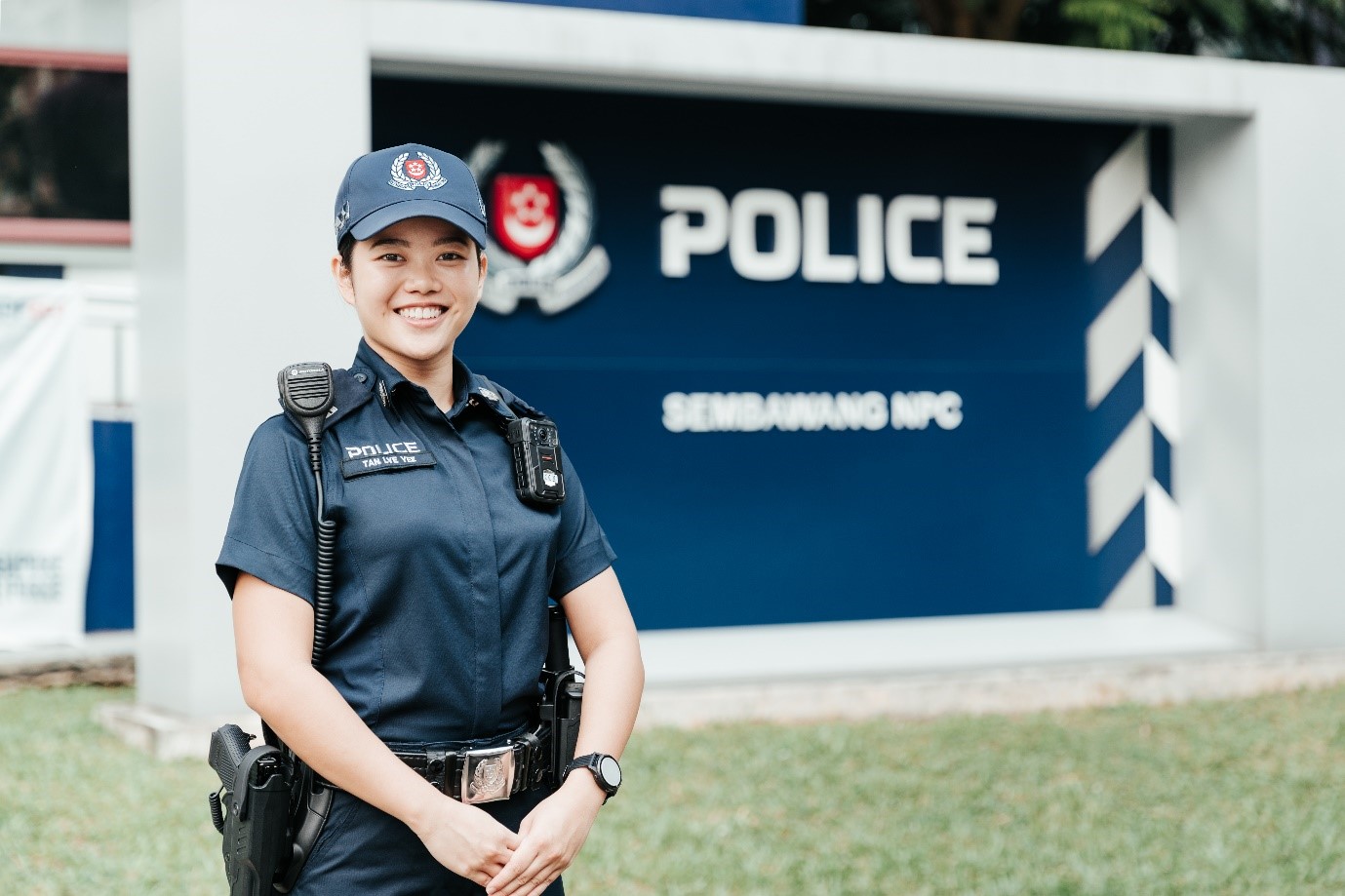 Police Life (PL): What do you like about your current job as a police officer?
Sgt Tan: As a police officer, I get to see and engage with people from all walks of life. There is never a dull day as the ever-changing operational environment brings about many challenges, which require us to be always vigilant and agile to manage them effectively. I also enjoyed the strong camaraderie amongst my colleagues. Apart from learning on the job as well as from the guidance from my colleagues and management team, I have many opportunities to upgrade my skills through relevant training courses.
PL: What is your most memorable work-related incident as a GRF officer in Sembawang NPC?
Sgt Tan: There was this incident where we responded to multiple calls about a female subject standing on a window ledge of a HDB flat, at least ten storey up. However, there were no signs of the subject when we arrived at the scene. Together with officers from the Singapore Civil Defence Force, we combed the area and conducted ground enquiries with the residents nearby. Finally, after interviewing the callers and watching the various video footages, we managed to locate the unit of the subject's residence.
We eventually found the subject in the unit, who informed us that she was stressed out after a dispute with her partner. While I was relieved that the subject was unharmed, we observed that her emotions were unstable. Hence, my colleagues and I stayed on to help her 'settle down' and prevent her from harming herself. As this was one of the first incidents I attended as a first responder, it left a lasting memory. Seeing how my colleagues applied empathy for someone going through a tough time presented the 'Heartware' side of a police officer, which really touched me.
PL: What is the greatest satisfaction you derived from your work?
Sgt Tan: Helping others. It could be as simple as helping someone who was lost or providing crime prevention advice to members of the public. Knowing that what I do helps the community I serve, gives me a great deal of satisfaction.
PL: What is the biggest misconception of a GRF officer?
Sgt Tan: The public sometimes shuns police officers as they believe that offering information to the Police would be troublesome and might lead to investigations back to them. Arising from these misconceptions, we would encounter uncooperative people on occasions which made information gathering a challenge for officers attending to incidents. The public can play a crucial role in helping the police to apprehend criminals and bring them to justice. So please do not be afraid to step forward and share information with us so that we can help solve or prevent crime.
PL: Describe your relationship with the people of Sembawang.
Sgt Tan: Open, gracious and helpful. When I am on patrol, some residents will come up to me to extend their greetings and if we are coping well with the COVID-19 pandemic. There are also other residents who would alert us if they come across something unusual or suspicious in their neighbourhood. Some even offered to help!
PL: What is your comfort food in Sembawang?
Sgt Tan: My favourite would be the 'Bak Kut Teh' from Admiralty Street, especially on rainy days or when I miss home-cooked food.
PL: Any hidden gems or spots around this neighbourhood?
Sgt Tan: When we mentioned Sembawang, people would talk about the Sembawang Hot Spring Park. I have many memories of the place as I frequented it with my family when I was younger. It has since been upgraded beautifully with more facilities. Another spot would be the beach view from the entrance at Jalan Selimang. It is serene and clean, thanks to the volunteers who clean up the beach frequently.
PL: Give a shoutout to the residents of Sembawang.
Sgt Tan: Stay strong, stay united, and we will overcome this COVID-19 pandemic and emerge stronger!
PUBLIC AFFAIRS DEPARTMENT
SINGAPORE POLICE FORCE
10 August 2021 @ 3:30 PM