What's In My Neighbourhood? (2021 Issue 05)
By: Saiful Imran (Photos: Aloysious Low)
In response to the rising terror threats around the world, the Singapore Police Force (SPF) started deploying the Emergency Response Team (ERT) in 2016 to strengthen its counter-terrorism capabilities. ERT officers are handpicked from the Land Divisions and specially trained in tactical as well as counter-assault skills to respond to terror-related incidents in Singapore. In this issue, Police Life (PL) speaks with Sergeant (Sgt) Aelma Sheiqa, an ERT officer from Tanglin Division. Read on to find out more!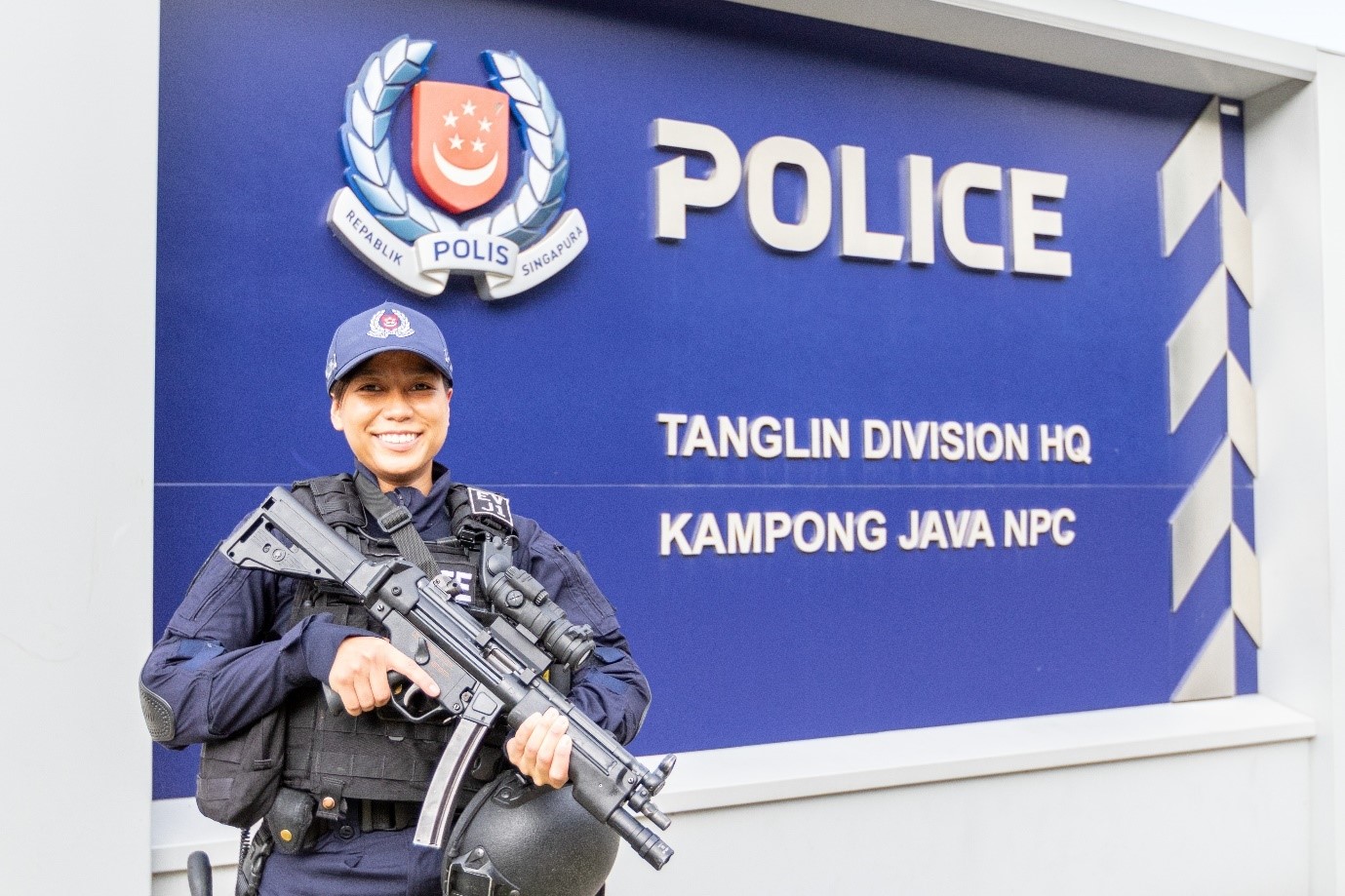 Police Life (PL): What are your responsibilities as an ERT officer?
Sgt Aelma: As ERT officers, we are the first responders to a terror-related incident. On a daily basis, ERT officers will patrol locations with high footfall such as shopping malls to project presence, detect suspicious activity, and link up with relevant stakeholders to develop joint response plans.
PL: What motivated you to become an ERT officer?
Sgt Aelma: Before becoming an ERT officer, I was a Ground Response Force (GRF) officer. As a GRF officer, I underwent tactical training on how to manage unexpected situations that we may face during our patrols. I enjoyed the tactical training very much, and that was what drew me to join the ERT.
PL: What is it like to be part of the ERT?
Sgt Aelma: It is physically and mentally demanding to be an ERT officer. We need to be in tip-top condition all the time. We take part in physical training routines regularly, which include weight training and running to enhance our muscle endurance, strength and stamina. Apart from that, we perform scenario-based exercises to simulate how we repel terror attacks as a team to upkeep our tactical preparedness. With every exercise that we go through as a team, it improves our team's synergy and enables us to develop effective communication within the team.
Whenever I found it challenging to keep up with the gruelling training, my teammates would spur me on. This bond that we have established as a team during training and deployments brought us closer and made us more effective when responding to incidents.
PL: What kind of equipment do you use as part of your job?
Sgt Aelma: Our gear consists of a bullet-resistant vest, a "HK MP5" submachine gun and our sidearm.
PL: What keeps you going in your line of work?
Sgt Aelma: It is not a matter of "if" but a matter of "when" a terror attack may take place in Singapore. Like every Singaporean, I am very concerned about the threat of an attack on our soil which could lead to the loss of lives and and significantly impact the safety of our nation. This is exactly why we are always prepared to handle these incidents if we are ever called upon to do so.
PL: Are there any hidden gems in the areas that you patrol?
Sgt Aelma: We have several culinary gems within my patrol areas. Some of the places that my team and I love are the Chicken Ban Mian stall at Fork & Spoon Food Court at Toa Payoh Central, Mat Noh Chicken Rice at Whampoa Drive Hawker Centre as well as the delicious Salted Egg Chicken from GLC Restaurant along Upper Paya Lebar Road!
PUBLIC AFFAIRS DEPARTMENT
SINGAPORE POLICE FORCE
12 October 2021 @ 11:00 AM