The Police have arrested two foreigners, a 30-year-old man and a 26-year-old woman, for their suspected involvement in several cases of loanshark harassment.
Between 22 and 24 August 2018, the Police received several reports of loanshark harassment islandwide, where loanshark graffiti were sprayed across the walls of the corridor, outside residential units.
Officers from the Criminal Investigation Department and various Police Land Divisions mounted a joint operation and arrested the suspects in the vicinity of Sims Ave and Kim Keat Ave on 24 August 2018. During the operation, loanshark-related paraphernalia including two cans of spray paint and a mobile phone containing pictures of loanshark graffiti were seized as case exhibits. Preliminary investigations revealed that the suspects were believed to be involved in at least five cases of loanshark harassment. The man is believed to have assisted the loansharks in carrying out harassment acts by spraying loanshark-related graffiti on the walls outside debtors' units.
The man will be charged in court on 25 August 2018 under the Moneylenders Act (Revised Edition 2010). Investigations against the woman are ongoing.
Under the Moneylenders Act (Revised Edition 2010), offenders found guilty of acting on behalf of an unlicensed moneylender, committing or attempting to commit any acts of harassment shall be punished with imprisonment for a term not exceeding five years, a fine of not less than $5,000 and not more than $50,000, and shall also be liable to caning of not less than three and not more than six strokes.
The Police have zero tolerance against loanshark harassment. Those who deliberately vandalise properties, or cause annoyance and disruption to public peace and security will be arrested and dealt with severely in accordance with the law.
Members of the public are advised to stay away from loansharks and not to work with or assist them in any way. The public can call the Police at '999' or the X-Ah Long hotline at 1800-924-5664 if they suspect or know of anyone who could be involved in illegal loansharking activities.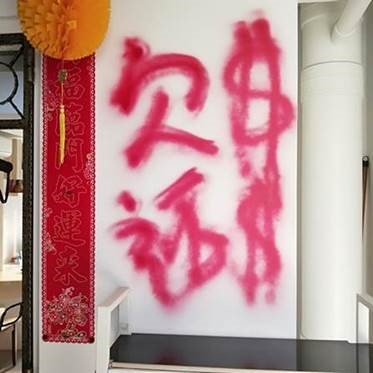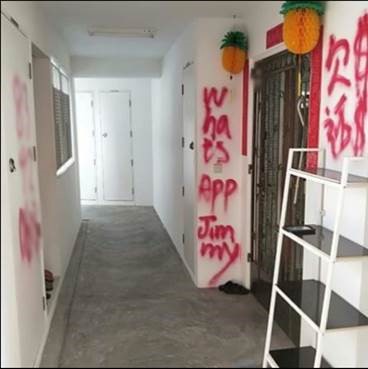 PUBLIC AFFAIRS DEPARTMENT
SINGAPORE POLICE FORCE
24 August 2018 @ 10:00 PM