The Police have observed an increasing trend of phishing scams where scammers would impersonate bank staff and target victims through phone calls or SMSes. Since May 2022, at least 28 victims have fallen prey to banking-related phishing scams, with total losses amounting to at least $114,000.
In the first variant, victims would receive phone calls from callers impersonating bank staff. The caller would request for the victims' personal details, such as their internet banking username and password, under the pretext that the bank required their personal information to verify transactions performed in the victims' account, or that the victim was under investigation for transferring large sums of money to another bank. After the victims have provided their personal details, they would receive One-Time Passwords (OTPs) on their mobile phones. The caller would then ask the victims for the OTPs.
In the second variant, members of the public would receive unsolicited SMSes claiming that their debit or credit card had been blocked due to unusual activities, or that their bank account had been frozen because the "bank account was unusual". The SMS would direct victims to sign in via an embedded link to verify their identity. Upon clicking on the link in the SMS, the victim would be sent to a spoofed internet banking log-in page, where the victim would keys in his online banking username and password. After entering the spoofed website, the victims would be redirected to another spoofed webpage requesting them to key in the OTPs received on their mobile phones.
Victims of both variants will only discover that they had been scammed when they were notified of unauthorised transactions made from their bank accounts.
The Police would like to remind members of the public to follow these crime prevention measures:
Bank officers will never ask for your banking details or OTPs over the phone or by SMS;


Do not click on dubious URL links provided in unsolicited text messages. Banks do not send SMSes containing links;


Always verify the authenticity of claims of problems with your bank account or cards issued by the bank with the official bank website or sources;


Never disclose your personal or Internet banking details and OTP to anyone; and


Report any fraudulent transactions to your bank immediately.
If you have any information relating to such crimes, please call the Police Hotline at 1800-255-0000, or submit it online at www.police.gov.sg/iwitness. If you require urgent Police assistance, please dial '999'.
For more information on scams, members of the public can visit www.scamalert.sg or call the Anti-Scam Hotline at 1800-722-6688. Join the 'Spot the Signs. Stop the Crimes' campaign at www.scamalert.sg/fight by signing up as an advocate to receive up-to-date messages and share them with your family and friends. Together, we can help stop scams and prevent our loved ones from becoming the next victim.
Annex A
Image of a sample phishing SMS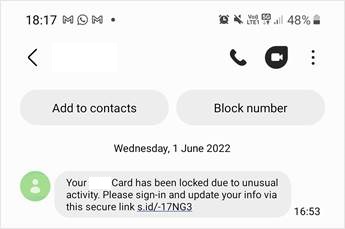 Image of spoofed internet banking log in page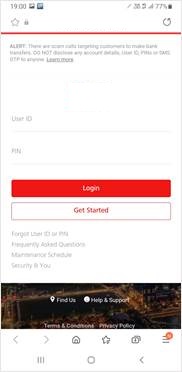 PUBLIC AFFAIRS DEPARTMENT
SINGAPORE POLICE FORCE
05 June 2022 @ 11:45 AM