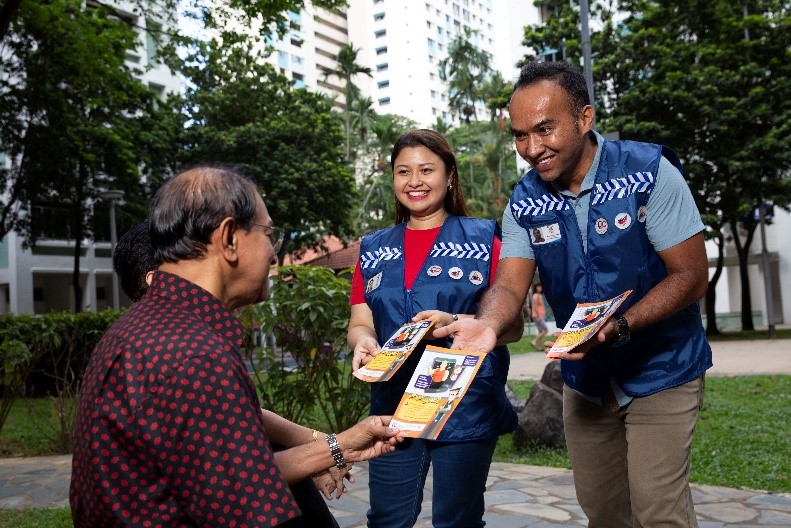 The Citizens On Patrol (COP) scheme was started in 1999 and has grown to be a sizable force. It was launched to enable patrols by the community to alert the Police when they observe suspicious activities or persons and engage the community on crime prevention measures.
ROLES AND RESPONSIBILITIES
COP members will be attached to one of the Neighbourhood Police Centres (NPCs) and be required to serve a minimum of 2 hours of patrol per month. They patrol the neighbourhood, disseminate crime prevention advisories and report to the Police on suspicious persons or crime in progress.
ENTRY REQUIREMENTS
Nationality: Singapore Citizen or Permanent Resident
Age: 17-79 years old
TRAINING REQUIREMENTS
COP members undergo 1.5 days of modular training on basic crime prevention, SGSecure and Community Emergency Preparedness.
Click here to apply.
1. What is the role of Citizens on Patrol (COP)?
Answer: COP members patrol their neighbourhoods in groups of at least 4 members to prevent and deter crime. COP members also engage the community on safety and security advice during their patrols to raise the community's awareness so as to jointly create a safer and secure living environment for all.

2. What are the entry requirements for COP?
Answer: SPF is looking for volunteers who are passionate and keen to contribute to the safety and security of their community. We welcome Singaporeans and Permanent Residents, between the ages of 17 to 80 years, to apply for the COP scheme. You will be expected to contribute at least 2 hours a month to perform the patrol duty.

3. If I am currently volunteering with the grassroots, can I still apply for COP?
Answer: Yes. However, you may wish to review your commitment to ensure that you are able to manage and commit to the duty and training requirements for COP.

4. Is it necessary for me to submit a passport sized photo of myself upon successful appointment as a COP?
Answer: Yes. SPF will be issuing a COP identification card with the photo you submitted. You are required to carry their ID card with you at all times for identification when performing patrol duties in your neighbourhood.

5. What training will COP members be given?
Answer: To keep abreast of today's operational environment, SPF will be providing the COP members with basic training on Crime Prevention to prepare you to carry out your duties independently. The training will take half a day and will include engagement techniques and crime prevention surveys. As part of the training curriculum, COP members will also receive training in SGSecure and Community Emergency Preparedness.

6. What will COP members be equipped with?
Answer: COP members are equipped with a standardised vest to project a strong, unified presence and an identification card for purpose of identification during your patrol.

7. Where will COP members patrol?
Answer: COP members will patrol within the boundaries of the NPC where they volunteer so that they will have opportunities to serve a larger community and experience a diverse terrain.