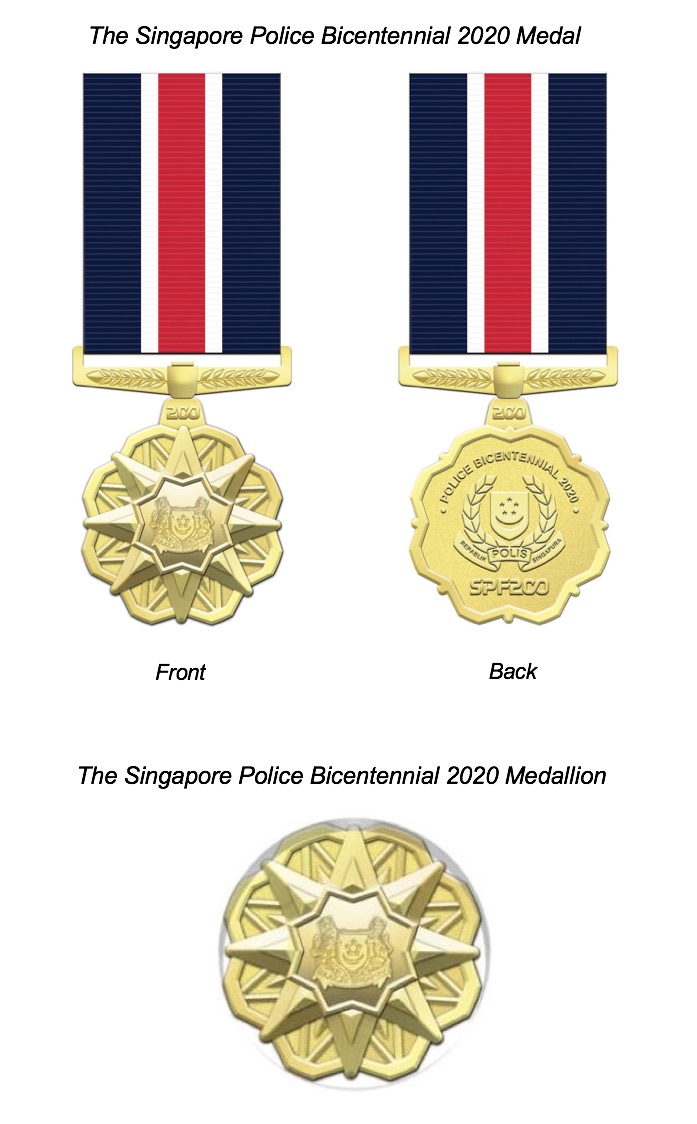 Singapore Police Force (SPF) officers will be awarded the Singapore Police Bicentennial 2020 Medal, to commemorate 200 years of the SPF.
SPF marked 200 years of policing in Singapore in 2020. SPF's origins can be traced to a police department set up in May 1820, and is one of the oldest government organisations in Singapore. From a 12-man team led by Francis James Bernard, SPF has grown into a force of 45,000 regular Police officers, civilian staff, Full-time Police National Servicemen, Volunteer Special Constabulary officers and Operationally Ready National Servicemen. Today, Singapore is widely regarded as one of the safest countries in the world. Singapore was ranked first in the Gallup's Global Law and Order Report 2020 for the seventh consecutive year, with over 97% of residents feeling safe walking alone at night in their neighbourhood, compared to the global average of 69%.
The Singapore Police Bicentennial 2020 Medal honours the important contributions of the SPF to Singapore over the last 200 years, and accords recognition to SPF officers for their service to the nation. It is a strong message of support to the men and women of the Force, past and present.
The Medal will be awarded to SPF officers who were in service for any period between 1st January 2020 and 31st December 2020. This includes regular Police officers, Full-time National Servicemen, Operationally Ready National Servicemen, and Volunteer Special Constabulary officers. As for former Police officers who had retired or completed their National Service liabilities before 1st January 2020, they will be awarded a Medallion to recognise their contributions. This Medallion will also be given to civilian officers who were in service with the SPF in 2020, as well as the families of officers who had died in the line of duty.
To face the new challenges in a changing operating environment, SPF will enhance our capabilities and forge closer partnerships with the community, to keep Singapore one of the safest places in the world.
Commissioner of Police Hoong Wee Teck said, "The Singapore Police Bicentennial 2020 Medal is a testament to and recognition of the SPF's significant contributions to Singapore's safety and security over the past 200 years. We have made tremendous progress, to become one of the finest police forces in the world. Even as we salute the past and honour the many generations of officers who served before us, we will work hard to make sure that Singapore remains a safe home for all Singaporeans."