The Police would like to alert the public on credit-for-sex scams. In 2019, the Police received at least 1065 reports of credit-for-sex scams, with total losses amounting to at least $2.8 million. In March 2020 alone, the Police received at least 112 reports of such scams, with total losses amounting to at least $295,000.
Victims typically befriended the scammers or searched for sexual services through online applications such as WeChat, Tinder and Michat, or websites such as Locanto and Skokka. In some cases, scammers would proactively approach the victims through these online applications or websites to offer sexual services.
The victims were then instructed to either make advance payment via AliPay credits at AXS machines or purchase iTunes or Google Play gift cards, in exchange for the sexual services. The scammers became uncontactable after the advance payments were made. In most cases, the victims only realised that they have been scammed when no one showed up at the meeting point.
Members of the public are advised to adopt the following crime prevention measures:
· Be wary of friend requests or online listings offering escort, massage or sexual services as they may be fraudulent in nature.
· Scammers may employ scare tactics to threaten victims into making more payments. Remain calm and do not accede to their requests.
· Do not give out your personal details such as your credit card information freely.
The Police would also like to remind members of the public to stay home and avoid going out during the circuit breaker period.
If you wish to provide any information relating to such cases, please call the Police hotline at 1800-255-0000, or submit it online at www.police.gov.sg/iwitness. If you require urgent Police assistance, please dial '999'.
You may also call the anti-scam helpline at 1800-722-6688 or visit www.scamalert.sg to seek scam-related advice. Join the 'let's fight scams' campaign at www.scamalert.sg/fight by signing up as an advocate to receive up-to-date messages and share them with your family and friends. Together, we can help stop scams and prevent our loved ones from becoming the next scam victim.
Figure 1: Illustration of how a conversation with a potential credit-for-sex scammer would look like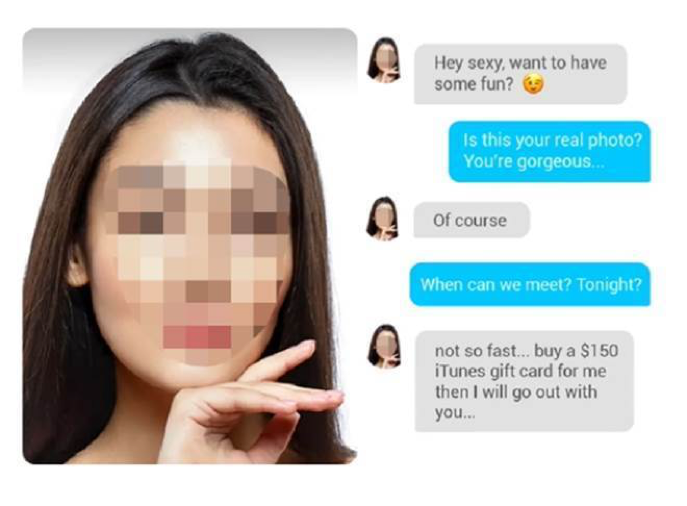 PUBLIC AFFAIRS DEPARTMENT
SINGAPORE POLICE FORCE
17 April 2020 @ 11:40 AM