The Police would like to alert the public of a scam on Telegram, where the scammer impersonates as the former Commissioner of Police Mr Ng Joo Hee.
Telegram users would receive text messages from a Telegram account which uses the profile picture and name of Mr Ng. The text message states that the Singapore Police Force (SPF) is recruiting 50 people to join the organisation and those who are interested can indicate their interest by leaving a message to a number provided as part of the message, via the WhatsApp platform.
The Police would like to emphasise that these text messages are not from the SPF or sent by Police officers. Members of the public who receive such text messages are advised to take the following crime prevention measures:
Ignore the instructions. Do not engage with the scammers; and
Never disclose your personal or banking details and One-Time Password (OTP) to anyone.
If you have information related to such scams, please call the Police hotline at 1800-255-0000, or submit it online at www.police.gov.sg/iwitness.
For more information on scams, members of the public can visit www.scamalert.sg or call the anti-scam hotline at 1800-722-6688. Join the 'Spot the Signs. Stop the Crimes' campaign at www.scamalert.sg/fight by signing up as an advocate to receive up-to-date messages and share them with your family and friends. Together, we can help stop scams and prevent our loved ones from becoming the next victim.
Example of a text message on Telegram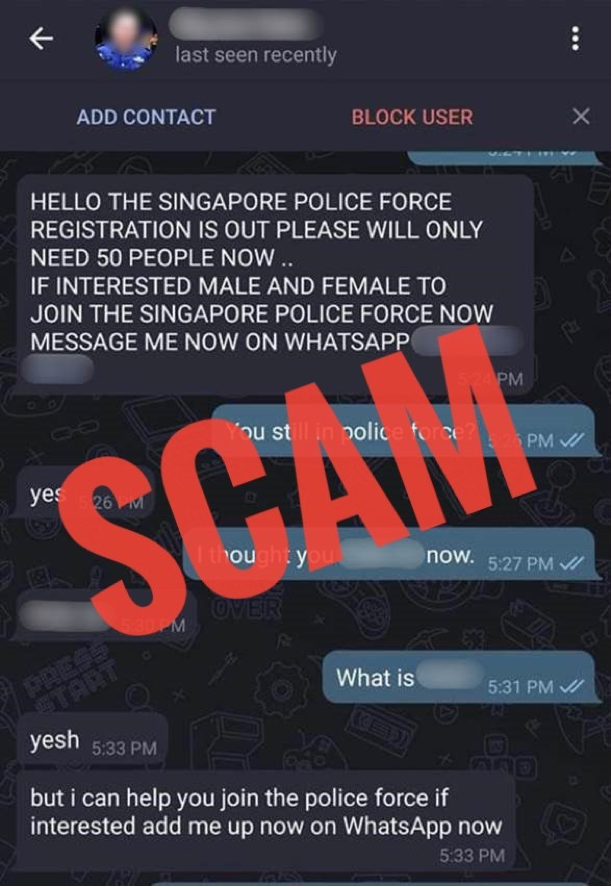 PUBLIC AFFAIRS DEPARTMENT
SINGAPORE POLICE FORCE
19 February 2021 @ 9:30 AM