The Police would like to alert members of the public to a new variant of phishing scams, where scammers would send fake SMSes to victims, claiming that they had made an online purchase with their credit or debit card.
The victims would first receive fake SMSes from an unknown number. The SMSes would indicate that the victims had paid for an online purchase with their credit or debit card. Victims who fell prey would contact the phone number included in the SMS. Upon contacting the number indicated, the scammer would inform the victims that their e-commerce platform account had been hacked and would request for them to download a "TeamViewer QuickSupport" application to facilitate the refund process. Thereafter, the victims would download and register an account on a mobile application that facilitated monetary transfers in order to receive the refund. As part of the registration process for the mobile application, the victims would be required to link their bank account or credit/debit card in the mobile application. Victims would then be informed that the refund would be completed in a few days. However, the victims would later realise that they had been scammed when they discover unknown transactions made to their bank account or credit/debit card.
Members of the public are advised to adopt the following crime measures:
Ignore such messages and do not reply to them. Instead, block

and

report the number as spam;


Call the bank's hotline published on its website to verify the authenticity of the request. Do not call the number shown in the message;


Do not follow instructions to install applications or log into your online banking account;


Always confirm the transactions you are making before keying in your one-time password (OTP); and



Do not provide your personal or bank account details to anyone. No e-commerce platform will request for personal details, request access to your online banking account, or perform monetary transfers, over the phone.
If you wish to provide any information related to such scams, please call the Police hotline at 1800-255-0000, or submit it online at www.police.gov.sg/iwitness. If you require urgent Police assistance, please dial '999'.
For scam-related advice, please call the National Crime Prevention Council's Anti-Scam Hotline at 1800-722-6688 or visit www.scamalert.sg. Join the 'Let's Fight Scams' campaign at www.scamalert.sg/fight by signing up as an advocate to receive up-to-date messages and share them with your family and friends. Together, we can help stop scams and prevent our loved ones from becoming the next scam victim.
Screenshot of SMS from Fake E-Commerce Platform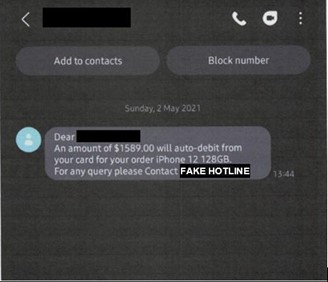 Members of the public are reminded to contact the official e-commerce platform or bank's hotline to verify the purchase and transaction. Do not contact unknown numbers indicated in the messages received.
PUBLIC AFFAIRS DEPARTMENT
SINGAPORE POLICE FORCE
06 May 2021 @ 4:30 PM