The Police are aware that a photo of a Notice of Traffic Offence (NTO) from the Traffic Police has been circulating online and on messaging platforms with the accompanying text: "Scam tricking you to pay fine via a QR code.. there is no mention on the date/time and location of the offence. Please don't blur blur and scan the QR code to pay..."
The Police would like to clarify that the NTO in the photo is genuine.
Road users who commit compoundable traffic offence(s) would receive such notices to inform them of the offence details, demerit points and the fine amount. Further details of the traffic offence committed may be found on subsequent pages of the NTO, which was not circulated in the post.
To verify the details of traffic offences and fines, members of the public may click on the following link: https://eservices.police.gov.sg/content/policehubhome/homepage/enquiry.html and go to "Status of Outstanding Traffic Offence and Payment of Fines" under the "Traffic Matters" tab.
The Police would like to advise the public not to spread unverified information, and to check with official sources if in doubt over the authenticity of information received.
ANNEX A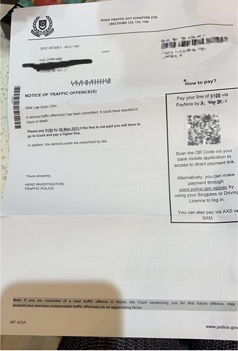 PUBLIC AFFAIRS DEPARTMENT
SINGAPORE POLICE FORCE
08 May 2021 @ 11:30 AM