By using the ScamShield application (app), members of the public can help the Anti-Scam Centre in scam prevention efforts and prevent others from falling victim to scams.
Scammers often initiate contact with potential scam victims through Short Message Services (SMSes) or phone calls, such as in loan, phishing, and China officials impersonation scams. In 2020, these three scam types were part of the top 10 scams reported in Singapore, with over 4,400 reports lodged and over $60 million lost to scammers.
Designed specifically to prevent such SMSes and phone calls from reaching handphone users, the app was jointly developed by the National Crime Prevention Council (NCPC) and the Open Government Products team from the Government Technology Agency. The app identifies and filters out scam messages using artificial intelligence, sending such messages to the phone's junk folder (refer to Annex A). It also blocks scam messages and calls from phone numbers that are used in other scam cases or reported by ScamShield users. These two functions reduce opportunities for scammers to reach out to intended victims. This database of blocked scam messages and phone numbers used in scam cases is jointly managed by NCPC and the Singapore Police Force's Anti-Scam Centre (ASC).
Through this information received, NCPC and ASC can detect and verify potential scams that are ongoing, and take proactive action by providing timely advisories to warn the public about the latest scam trends promptly. ASC also reviews and takes preventive actions on the information received through ScamShield, such as initiating the process of blocking websites used for scams, and reaching out to telecommunication companies swiftly to initiate blocking, suspension or termination of the phone numbers linked to scams.
In early April 2021, ASC detected a phishing scam disguised as a job listing, where potential victims were prompted in the form of SMSes to click on URL links leading to phishing sites (refer to Annex B). Blocking of these phishing websites was initiated and this prevented potential victims from falling for such scams.



In late April 2021, ASC detected a recurring trend where potential victims received spoofed SMSes masquerading as banks, claiming that victims' bank cards had been suspended and provided contact numbers to call for assistance (refer to Annex C). ASC swiftly reached out to the telecommunication companies to suspend the contact numbers involved and prevented potential victims from falling for such scams.
In the six months since its launch on 20 November 2020, the app has been downloaded by more than 119,000 users. A total of 722,865 SMSes have been reported and over 5,537 phone numbers believed to be used in scams have also been blocked on the app.
The ScamShield app is currently available on iOS devices and can be downloaded for free from the App Store. An Android version of the app will be announced once it is ready.
For more information on scams, members of the public can visit www.scamalert.sg or call the Anti-Scam Hotline at 1800-722-6688. Together, we can help stop scams and prevent others and our loved ones from becoming the next victim.
Annex A: SMSes filtered by the ScamShield application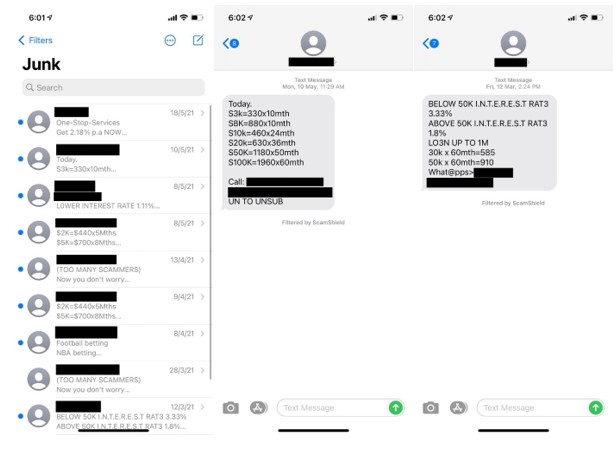 Annex B: A scam SMS directing users to a phishing website
Annex C: A spoofed SMS masquerading as a bank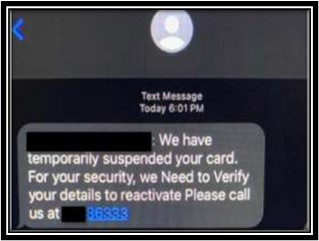 Annex D: An infographic on ScamShield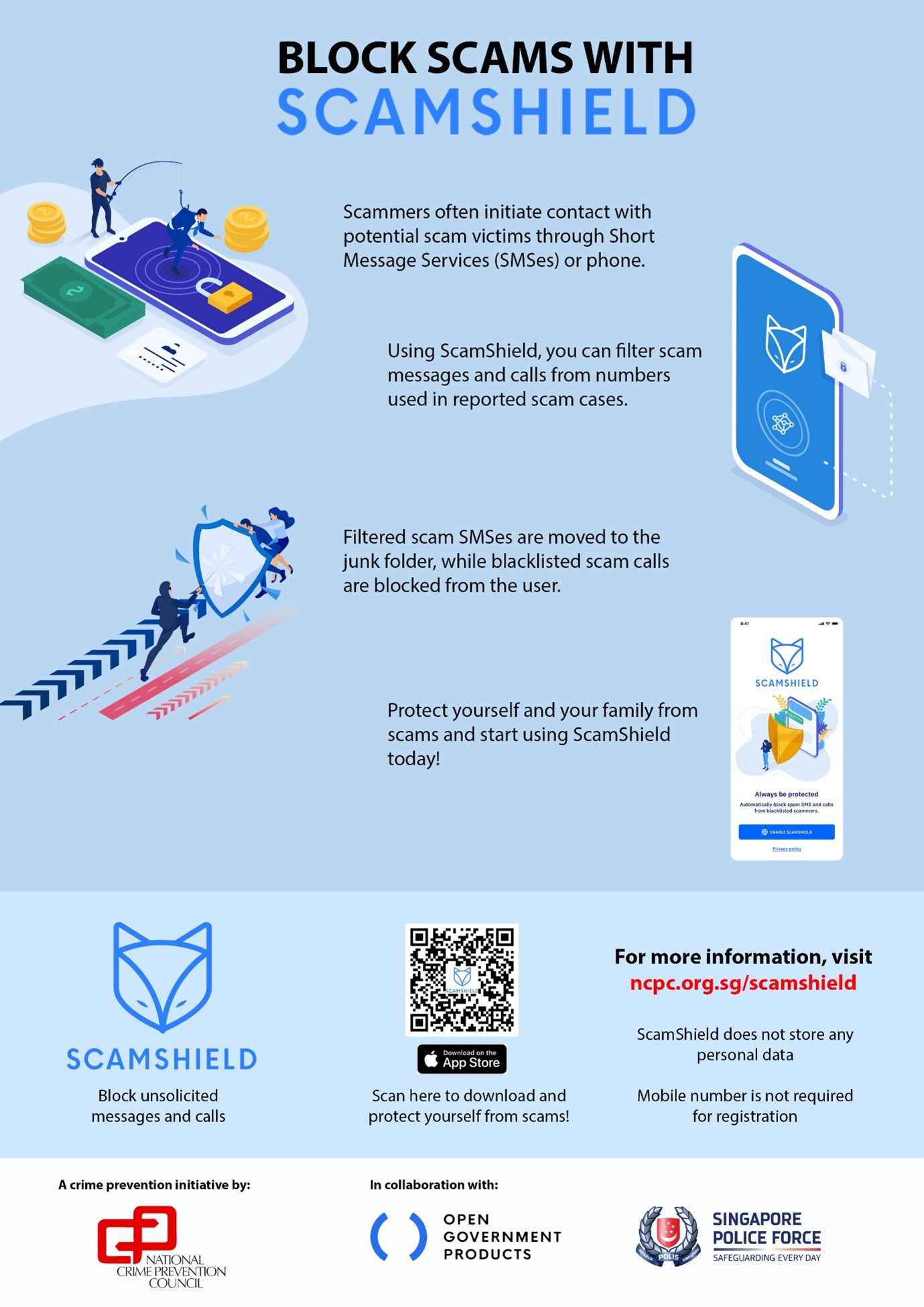 PUBLIC AFFAIRS DEPARTMENT
SINGAPORE POLICE FORCE
29 May 2021 @ 6:00 PM