The Police would like to remind members of the public to stay vigilant against phishing scams involving fake bank advertisements on mobile phone promotions. Between January and May 2021, there were 68 reports lodged with at least $217,000 lost to such scams.
In these cases, victims would come across fake advertisements on social media platforms such as Facebook and Instagram, claiming that banks are working with telecommunication service providers to offer attractive mobile phone promotions. After clicking on the URL link embedded in the fake advertisements, the victims would be directed to a fake bank website where they are required to provide their Internet banking login details and One-Time Passwords (OTPs). The victims will only realise that they have been scammed after discovering unauthorised transactions from their bank accounts. Scammers will modify such sites from time to time in order to target customers from different banks and e-commerce platforms. They will also make use of other social media platforms to perpetuate these scams.
Members of the public are advised to adopt these crime prevention measures:
Be wary of URL links provided in unsolicited advertisements and text messages, especially those related to deals that seem too good to be true;


Always verify the authenticity of the information with the official company websites or official sources;


Never disclose your personal or Internet banking details and OTP to anyone; and



Report any fraudulent transactions involving your bank accounts or any fraudulent credit/debit card charges to your bank and cancel the compromised card immediately.
For more information on scams, members of the public can visit www.scamalert.sg or call the anti-scam helpline at 1800-722-6688. Join the 'Spot the Signs. Stop the Crimes.' campaign at www.scamalert.sg/fight by signing up as an advocate to receive up-to-date messages and share them with your family and friends. Together, we can help stop scams and prevent our loved ones from becoming the next victims.
If you have information related to such crimes or if you are in doubt, please call the Police hotline at 1800-255-0000, or submit it online at www.police.gov.sg/iwitness. Please dial '999' if you require urgent Police assistance.
Annex A:
Screenshot of an advertisement posted on Facebook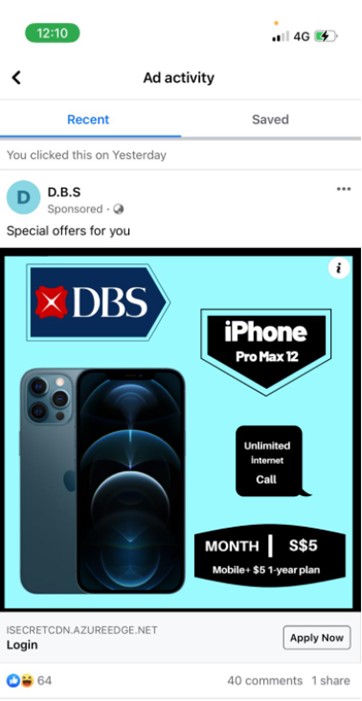 Screenshot of a phishing website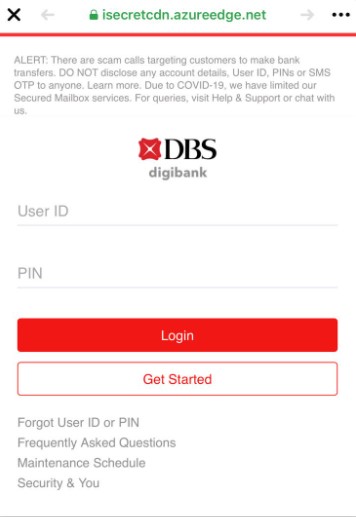 PUBLIC AFFAIRS DEPARTMENT
SINGAPORE POLICE FORCE
03 June 2021 @ 8:00 PM