The National Day Parade (NDP) 2022 will be held at The Float @ Marina Bay on 9 August 2022.
Safety Security Arrangements
To ensure safety and security at the event, members of public attending the NDP are advised to arrive early to allow ample time for security checks on persons and belongings. The public is advised to minimise the number of personal belongings brought into the venue to facilitate quick security clearance.
Any container with a 100ml capacity or larger, containing liquid, aerosol or gel, will be subjected to additional checks. Canned drinks and canned items will not be allowed into the venue. Each ticket holder will receive an NDP Pack which includes provisions such as water and light snacks. Action may be taken against anyone who attempts to bring in prohibited items, e.g. drones, listed in Annex A.
To prevent overcrowding, police officers and auxiliary police officers will be regulating the flow of crowd at areas in the Marina Bay, such as the Esplanade Waterfront, One Fullerton Waterfront, Merlion Park, The Promontory and Marina Bay Sands Waterfront. Members of the public are advised to follow the instructions of the marshals and police officers on duty.
This year, members of the public intending to visit Marina Bay can also check out the new Crowd@MarinaBay map found on https://go.gov.sg/crowdatmarinabay to view real-time crowd levels and closure areas at the various firework viewing spots.
With large crowds expected around the Marina Bay, the public is advised to be vigilant and to safeguard their belongings.
Traffic Arrangements
7 To facilitate NDP 2022 on 9 August 2022, the following roads and lanes will be closed to vehicular traffic during the stipulated periods: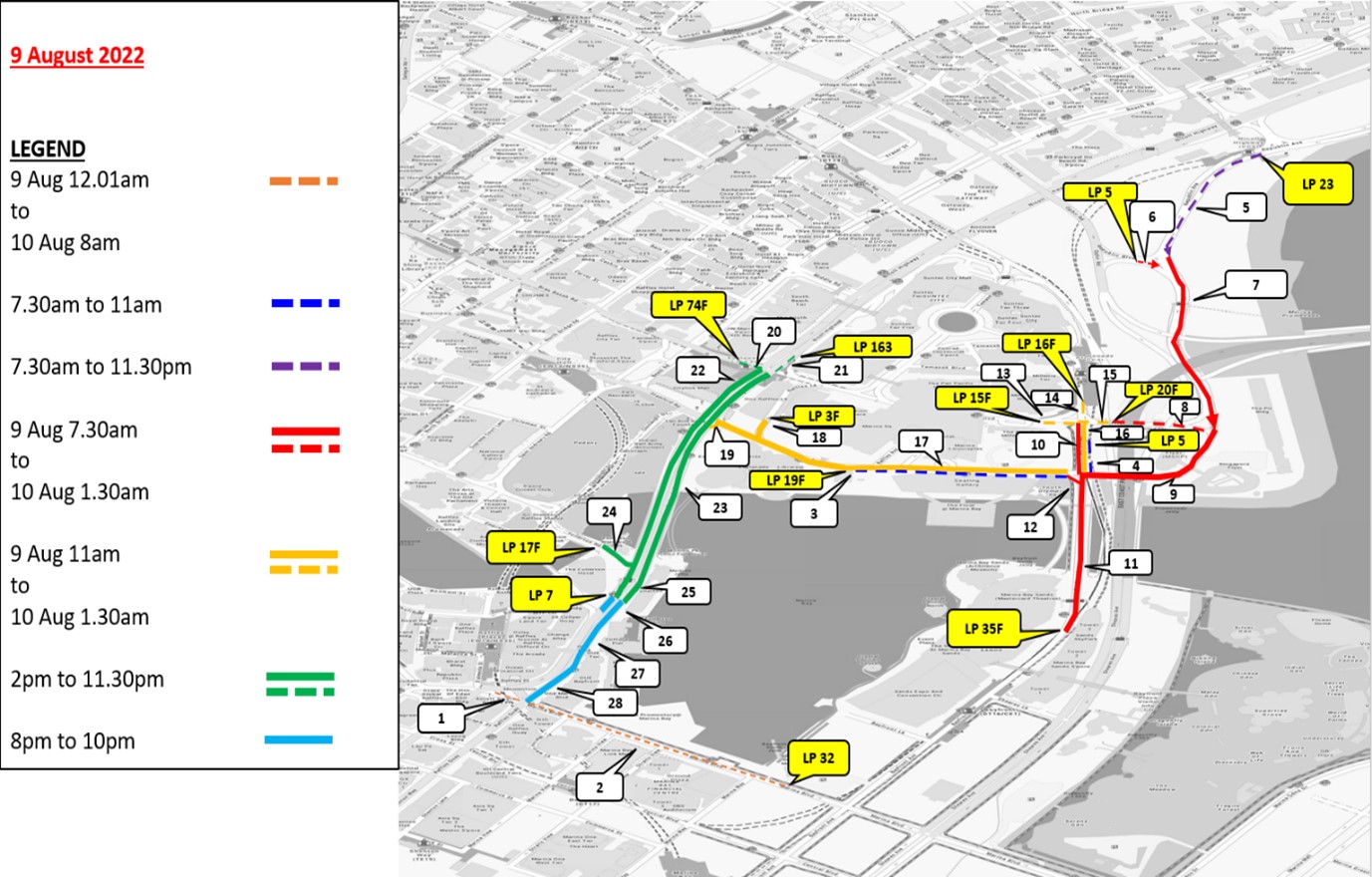 During the closures, access will only be granted to authorised vehicles, police vehicles and emergency vehicles. Auxiliary police officers and Singapore Armed Forces (SAF) marshals will be deployed at the affected junctions to assist and direct motorists.
Traffic delays are expected along Raffles Avenue, Temasek Avenue, Bayfront Avenue, Marina Boulevard, Raffles Boulevard, Republic Boulevard, Republic Avenue, Nicoll Highway, Robinson Road, Cecil Street, Collyer Quay, Bras Basah Road, Beach Road and Ophir Road. Motorists are to plan their routes early and avoid these roads. Members of the public travelling to these affected areas are strongly encouraged to use public transport.
Similarly, motorists proceeding to Suntec City and Marina Square from Raffles Avenue, Raffles Boulevard, and Bayfront Avenue are advised to use alternate routes via Nicoll Highway or Rochor Road leading to Temasek Boulevard.
Parking restrictions along the affected roads will be strictly enforced. Vehicles found parked illegally or causing obstruction will be towed.
Post-Event Dispersal
After the Parade has ended, dispersal is likely to be slow due to the large crowds expected in the Marina Bay area. The public is advised to be patient and to follow the direction of the SAF marshals as well as the Police.
As Esplanade MRT station, Promenade MRT station and Bayfront MRT station are expected to be very crowded during dispersal, commuters are advised to head towards alternative stations such as City Hall MRT station, Raffles Place MRT station and Marina Bay MRT station.
Members of the public may contact the organiser at 1800-637-2022 for further enquiries.
List of Prohibited Items
Any noxious or offensive substance.
A marine flare and signal, landing flare, highway fuse, smoke generator, distress signal or other pyrotechnic device intended for signalling, warning, rescue or similar purposes.
Any petroleum or flammable material within the meaning of the Fire Safety (Petroleum and Flammable Materials) Regulations 2020.
An explosive within the meaning of the Arms and Explosives Act 1913.
Any arms within the meaning of the Arms and Explosives Act 1913.
An item capable of attaching a person to an object or another person, or preventing removal of any locking or connecting device.
An aerosol paint container or other implement or substance that is capable of being used to mark graffiti.
Any sound amplification device, such as a loud hailer.
Any of the following things that contains or displays any message, picture or image, or any explicit or implicit reference or comment that can reasonably be regarded as intended to demonstrate support for or opposition to the views or actions of any person, group of persons or any government, to publicise a cause or campaign, or to mark or commemorate any event:
a.

a banner;
b.

a flag;
c.

a placard;
d.

a T-shirt or any other article of apparel;
e.

an umbrella;
f.

an inflatable object.


Any public address system, electronic equipment, broadcast equipment or similar device which may interfere with broadcast equipment or similar devices being used by
a.

the event organiser of the special event or police officers at or for the special event; or
b.

any other person, authorised by the event organiser or under the Act, to use broadcast equipment or similar devices at or for the special event.


A remotely piloted aircraft system for a remotely piloted aircraft, comprising –
a.

the remotely piloted aircraft;
b.

every remote pilot station associated with the remotely piloted aircraft containing the equipment used to pilot that aircraft;
c.

the command and control links between the remotely piloted aircraft and its remote pilot station or stations and other command; and
d.

any other components, as specified in the type design of the remotely piloted aircraft system, to fly that aircraft.



Any of the following items listed:






PUBLIC AFFAIRS DEPARTMENT
SINGAPORE POLICE FORCE
04 August 2022 @ 6:00 PM