The Police have arrested an 18-year-old man for his suspected involvement in a series of e-commerce scams involving the sale of Marquee Singapore tickets.
On 31 July 2022, the Police received information about a scam variant involving the sale of Marquee Singapore tickets on Telegram, where victims were purportedly deceived into making advance payments to scammers to secure tickets for entry to Marquee Singapore. The victims came across posts made on a Telegram groupchat known as "SG Clubbing". These posts advertised the sale of Marquee Singapore tickets, for various events that were sold out on the official website of Marquee Singapore.
Through extensive investigations, officers from the Commercial Affairs Department established the identity of the main perpetrator of the scam and arrested him on 10 August 2022. Preliminary investigations revealed that the man is believed to be involved in more than 30 counts of e-commerce scams involving about $8500.
The man will be charged in court on 12 August 2022 with the offence of cheating under Section 420 of the Penal Code 1871, which is punishable with an imprisonment term of up to 10 years and a fine.
The Police take a serious view of persons who may be involved in scams and frauds, and perpetrators will be dealt with in accordance with the law. The Police would like to advise members of the public to be careful when making online purchases and to adopt the following crime prevention measures:
Purchase only from authorised sellers or reputable sources. Buying cheap tickets from re-sellers is risky - If the price is too good to be true, it probably is;


When purchasing tickets online, use escrow payment options that protect buyers by releasing payment to the seller only upon delivery, where possible. Avoid making advance payments or direct bank transfers to the seller as this method does not offer any protection to buyers; and


Arrange for a physical meet-up with the seller to verify the authenticity of the tickets or items prior to making payment. Bear in mind that the party that you are dealing with online is a stranger.
For more information on scams, members of the public can visit scamalert.sg or call the Anti-Scam hotline at 1800-722-6688. Anyone with information on such scams may call the Police hotline at 1800-255 0000 or submit information online at www.police.gov.sg/iwitness.
Screenshot of the Telegram post made by accused advertising the sale of Marquee Singapore Tickets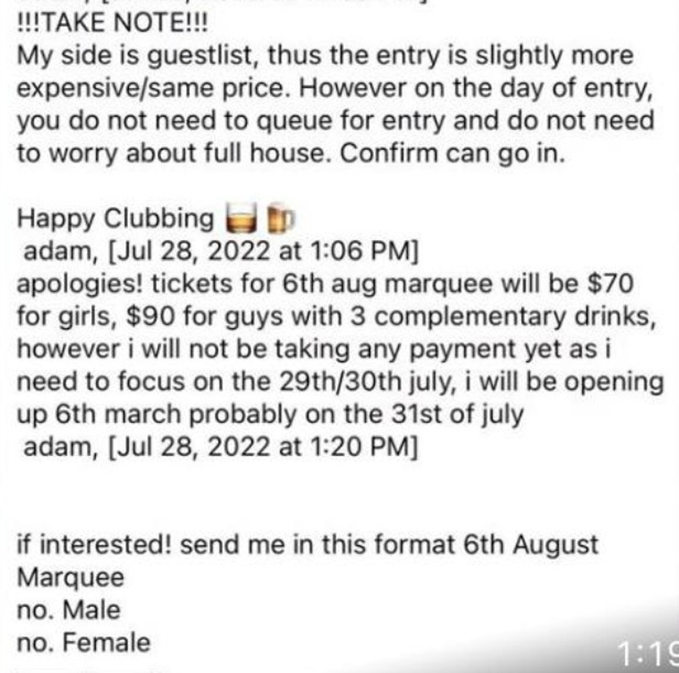 PUBLIC AFFAIRS DEPARTMENT
SINGAPORE POLICE FORCE
11 August 2022 @ 10:00 PM