ScamShield is now available to Android users following its launch at NCPC's 40th Anniversary Gala Dinner on 28 September 2022.
Shielding the Public from Scam SMSes and Calls
As part of their continued efforts to fight scams, the National Crime Prevention Council (NCPC) and Open Government Products (OGP) developed and launched the ScamShield iOS application (app) on 20 November 2020. The mobile app identifies and filters out scam SMSes and blocks calls from blacklisted numbers that have been verified as scam-related. These two features reduce the opportunities for scammers to reach out to intended victims. In addition, the app enables users to report scam messages and to receive alerts on trending scams.
Since its launch, the ScamShield iOS app has been downloaded by more than 315,000 iOS users. Since the app's inception, more than 5.8 million SMSes have been reported and over 29,000 phone numbers believed to be used for scam calls have been blocked[1].
[1]Figures updated as of 14 September 2022
ScamShield is now available on Android following its official launch on 28 September 2022 by Senior Minister and Coordinating Minister for National Security, Mr Teo Chee Hean and Minister of State, Ministry of Home Affairs & Ministry of Social and Family Development, Ms Sun Xueling at the NCPC's 40th Anniversary Gala Dinner.
The Android app has the same features as the iOS app, such as blocking and reporting scam SMSes and calls. The main difference between the two versions is that the iOS app diverts scam SMSes to a junk folder while the Android app only notifies users of scam SMSes due to specific limitations of the Android Operating System (OS).
Scam SMSes detected by ScamShield will be sent to NCPC and the Singapore Police Force (SPF) for collation. This keeps the app updated, to better protect users from scam calls and messages. The app will block calls from a database that is centrally-managed by NCPC and the Police.
Benefits of ScamShield
Before its official launch, the ScamShield (Android) was soft-launched on Google Play Store on 1 September 2022.
Mr Kai Yao, an app user, said: "ScamShield alerts me when I receive scam messages and I will ignore those that have been flagged. This saves me time from opening every single message and deciding what to do with it."
Ms Jennifer Liu, Product Manager at OGP, said: "Having already launched the iOS version of ScamShield, our team at Open Government Products is excited to be launching the Android version of ScamShield on the Play Store. Multiple rounds of user research, beta trials, and technical assessments were key to informing our approach on building ScamShield for Android. We designed the Android app to block scam calls and notify users of scam messages, which will enable users to better identify and avoid scams."
Mr Gerald Singham, Chairman of NCPC, said: "While unthinkable four decades ago, the majority of crimes today are taking place in cyberspace. NCPC must continue to innovate and remain relevant, as crimes, especially scams, are evolving all the time. We are glad to have strategic partners like OGP to develop ScamShield to help protect Singaporeans against scam SMSes and calls."
40 YEARS OF KEEPING SINGAPORE SAFE AND SECURE
The NCPC also celebrates its 40th anniversary at the event. More than $700,000 has been raised from generous corporate and individual donors. The Council is committed to playing its part to serving the community so that Singapore can continue to be a safe and secure place for all.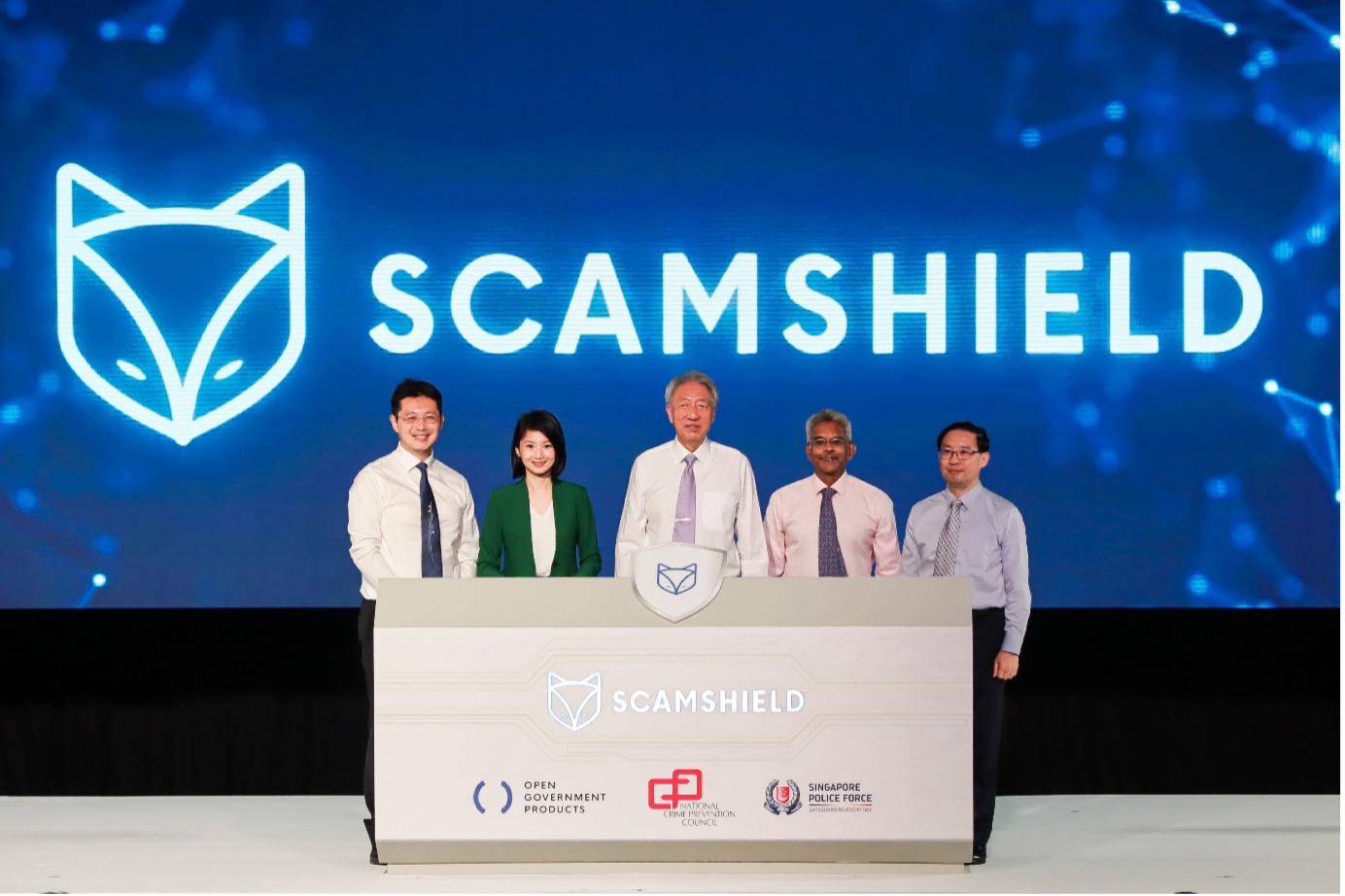 SM Teo Chee Hean, Chairman of NCPC, Mr Gerald Singham, Director of OGP, Mr Li Hongyi launching the ScamShield (Android) app.
PUBLIC AFFAIRS DEPARTMENT
SINGAPORE POLICE FORCE
28 September 2022 @ 9:10 PM