The Police have arrested a 35-year-old man for his suspected involvement in a series of housebreaking and theft cases.
On 1 September 2023 at about 8.55pm, the Police were alerted to a case of housebreaking at a residential unit along Pasir Ris Road. The man was allegedly spotted in the residential unit with a black haversack attempting to flee. Two foreign domestic workers, aged 27 and 56, and two men, aged 69 and 70, attempted to detain the man. They managed to pull off the black haversack that the man was carrying, before he fled. The black haversack was found to contain cash, foreign currencies, valuables, clothing, and housebreaking implements such as a bolt cutter, a hacksaw, and screwdrivers.
At about 11.10pm on the same day, the Police received another report on a case of housebreaking where a residential unit along Pasir Ris Terrace was allegedly broken into and S$1,500 in cash were reported missing. On 2 September 2023 at about 2.20pm, the Police received yet another report on a case of housebreaking where another residential unit along Pasir Ris Terrace was allegedly broken into, without any reported loss. All three reports are believed to be linked to the same suspect.
CCTV footage revealed that the man was involved in a fourth unreported case of housebreaking in the vicinity. As part of investigations, a shirt and a mask recovered from the black haversack were sent to the Health Sciences Authority for forensic DNA examination.
Through extensive ground enquiries and with the aid of CCTV images, officers from Bedok Police Division, supported by officers from the Police Operations Command Centre, Police Intelligence Department, Special Operations Command, Gurkha Contingent, Airport Police Division, and the Immigration & Checkpoints Authority, established the identity of the man and arrested him at the Departure area of Changi Airport Terminal 4 on 2 September 2023 at about 3.30pm, before he could leave Singapore. Cash amounting to more than S$1,600 in Singapore Dollars, and about S$1,900 worth in various foreign currencies, were recovered from the man.
The Police will be charging the 35-year-old man on 4 September 2023 for two counts of housebreaking and theft under Section 451 of the Penal Code 1871. The offence is punishable with imprisonment for up to 10 years and a fine.
Bedok Police Division also presented the Public Spiritedness Award to four members of the public, Mr Goh Kim Hock, Mr Gan Kok Beng, Ms Abaya Rizzalyn Estrella and Ms Chita Guzman Abaya for their courage and public spiritedness in attempting to detain the man before the arrival of police officers.
Commander of Bedok Police Division, Assistant Commissioner of Police Justin Wong said, "The suspect showed a blatant disregard for the law by committing housebreaking and theft while in Singapore. I would like to commend the bravery of the migrant domestic workers and members of the public who confronted the suspect. This case exemplifies how the Police work hand-in-hand with the community to keep Singapore safe and secure."
Members of the public are encouraged to stay vigilant and adopt the following crime prevention measures to avoid being a victim of housebreaking and theft:
Install a burglar alarm, motion sensor lights and/or CCTVs, to cover the access points into the premises. Ensure that they are tested periodically and are in good working condition;


Secure all doors, roller shutters, windows and other openings with good quality grilles and close-shackled padlocks before leaving the premises unattended, even for a short while;


Refrain from keeping large sums of cash and valuables in the premises; and


If you are going overseas and leaving your premises empty for long periods of time, let your neighbours know that you are going to be away, the duration of your absence and how you can be contacted if necessary.
Case exhibits ▼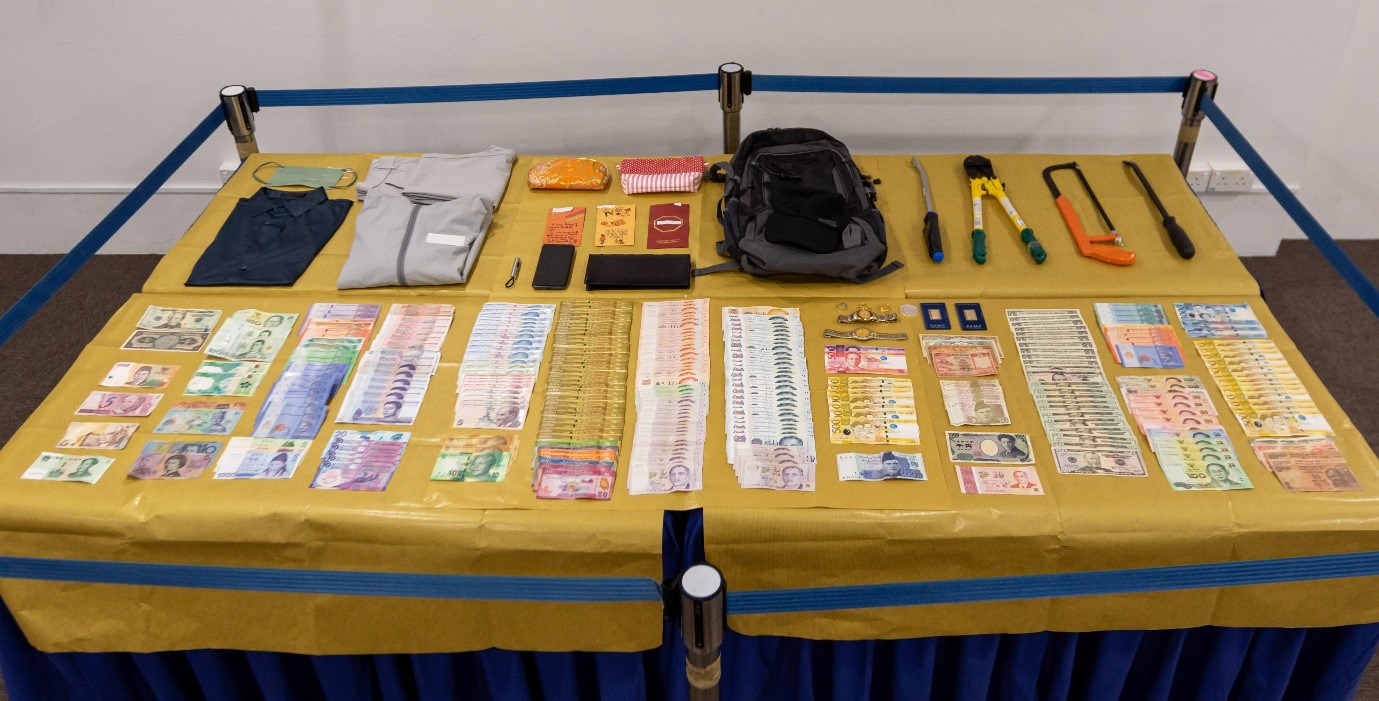 CCTV image of the man in one of the residences ▼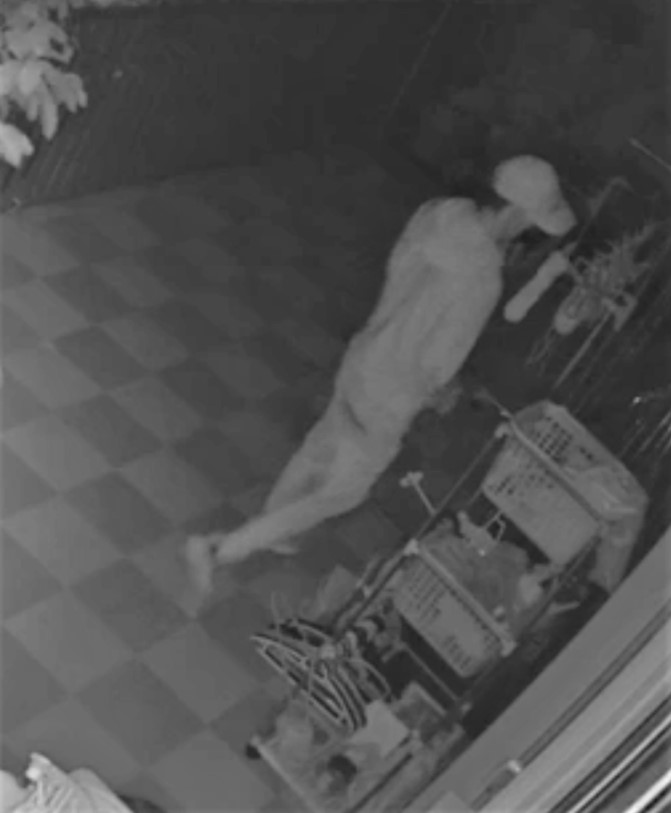 The man apprehended at Changi Airport Terminal 4 ▼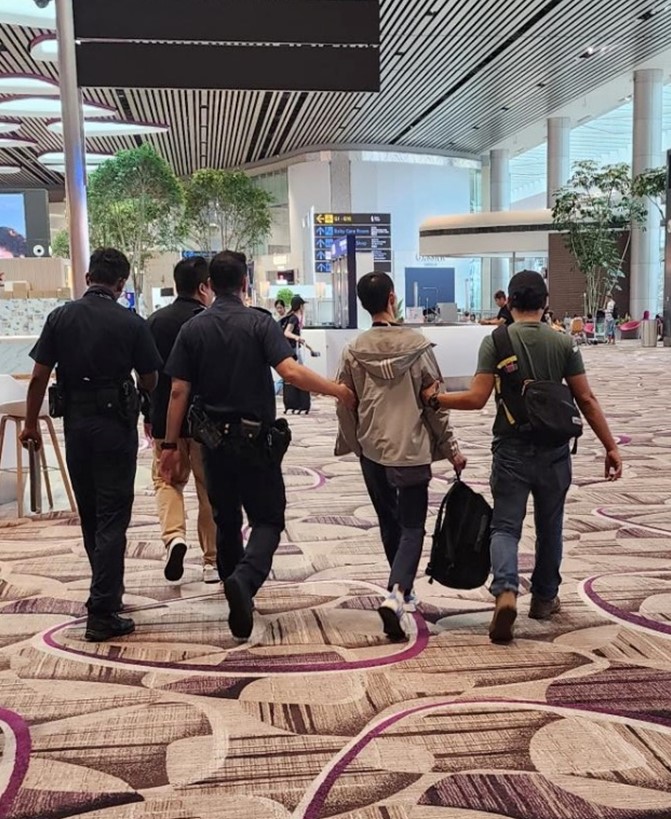 Group photo of two Public Spiritedness Award recipients
From left to right: AC Justin Wong, Mr Gan Kok Beng, Mr Goh Kim Hock and Commanding Officer Pasir Ris NPC, Supt Edwin Yong ▼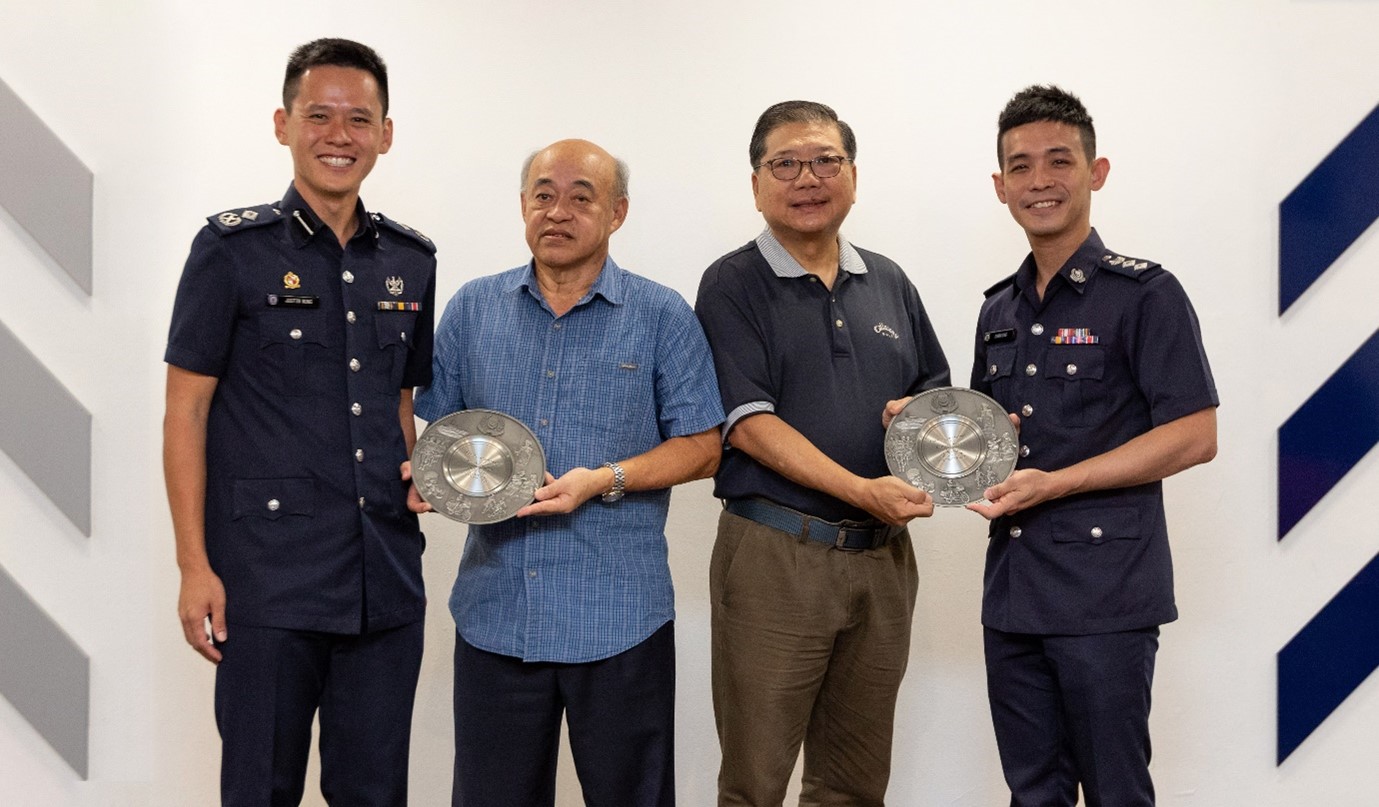 Group photo of two Public Spiritedness Award recipients
From left to right: AC Justin Wong, Ms Chita Guzman Abaya, Ms Abaya Rizzalyn Estrella, Supt Edwin Yong ▼
PUBLIC AFFAIRS DEPARTMENT
SINGAPORE POLICE FORCE
04 September 2023 @ 11:20 AM