The Police would like to provide more information on the variant of impersonation scam which involved scammers using compromised WhatsApp accounts obtained through the use of fake "Whatsapp Web" phishing website to impersonate WhatsApp users, and subsequently to scam the said users' family or friends. This is in pursuant to the advisory issued by Police on 27 October 2023. Since November 2023, at least 237 victims have fallen prey to social media impersonation scams in general, with total losses amounting to at least $606,000. Specific to this variant, at least 93 victims have fallen prey to this variant, with total losses amounting to at least $176,000.

In this scam variant, scammers would use compromised WhatsApp accounts belonging to the victims to reach out to their family or friends in the contact list. The scammers would impersonate the victims and give various reasons to get victims to loan them monies. Scammers typically claim that the monies are needed urgently for themselves or needed to pay for purchases or to help a friend/relative in need e.g. medical emergencies under the pretext that their bank accounts have been restricted in some form (e.g. exceeded transfer limits) and may request victims to provide a screenshot showing the transfer to request for more monies. Victims would then be asked to transfer money to unfamiliar bank accounts or PayNow numbers, supposedly belonging to the WhatsApp users' family or friends. Victims would realise they had been scammed after contacting or being contacted by their family/friends who claim not to have received any monies.

The Police would like to advise members of the public to adopt the following precautionary measures:
ADD – Security features to your WhatsApp account by enabling the 'Two-Step Verification feature. This can be done by opening WhatsApp and going to 'Settings' →'Account' → 'Two-step verification' → 'Enable'. Set a device code and be aware of who has physical access to your phone.


CHECK – That you are on WhatsApp Web's official website. Be wary of unusual requests received over WhatsApp, even if they were sent by your WhatsApp contacts.

Check your linked devices regularly. Go to WhatsApp settings > linked devices to review all devices linked to your account. To remove a linked device, tap the device > Log Out.

TELL – authorities, family, and friends about scams. Never share your WhatsApp account verification codes, personal information, banking details, and OTPs with anyone; report any fraudulent transactions to your bank immediately.
If you have any information relating to such crimes or if you are in doubt, please call the Police Hotline at 1800-255-0000, or submit it online at www.police.gov.sg/iwitness. All information will be kept strictly confidential. If you require urgent Police assistance, please dial '999'.

For more information on scams, members of the public can visit www.scamalert.sg or call the Anti-Scam Helpline at 1800-722-6688. Fighting scams is a community effort. Together, we can ACT Against Scams to safeguard our community!
Annex A

Examples of conversations between the scammer and the victim ▼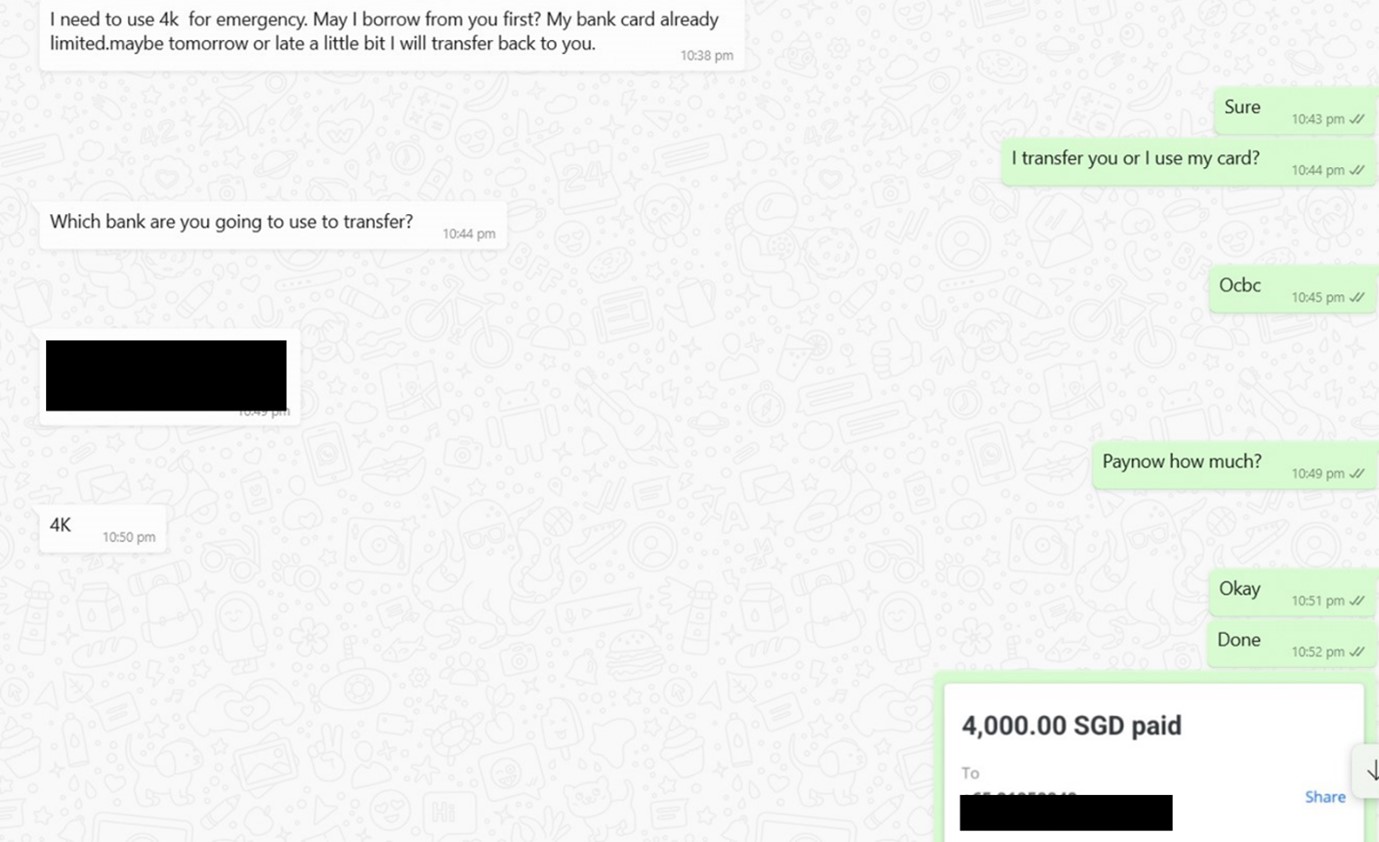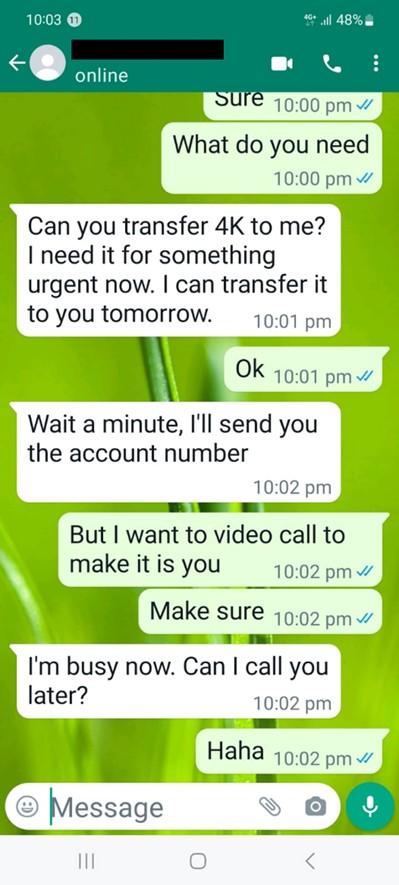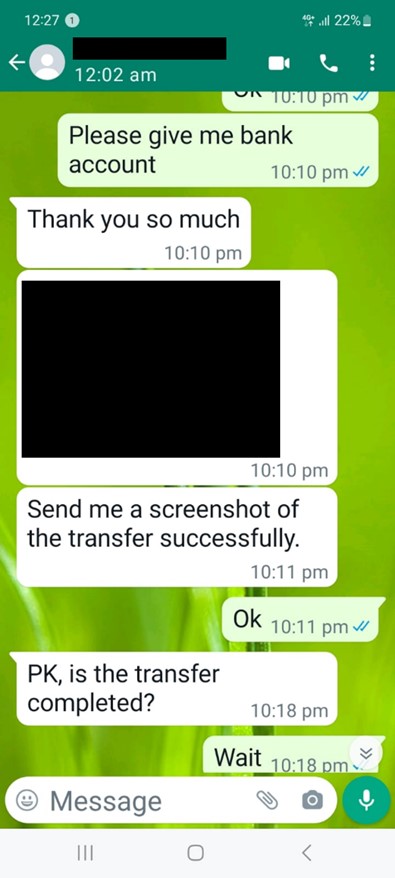 PUBLIC AFFAIRS DEPARTMENT
SINGAPORE POLICE FORCE
13 November 2023 @ 4:40 PM