The Commercial Affairs Department (CAD) of the Singapore Police Force, together with the Commercial Crime Investigation Department (CCID) of the Royal Malaysia Police (RMP), crippled a transnational job scam syndicate based in Johor, Malaysia.
Since May 2021, the Singapore Police Force saw a surge in reports from local victims of job scams. In such cases, the syndicate would post job advertisements offering quick cash on different social media platforms or chat applications. The job would require victims, who are mostly job seekers, to assist in improving the sales of online platforms by ordering goods. The victims would subsequently be instructed to pay for the goods by transferring funds to different bank accounts. In return, the victims were promised reimbursements of the sums they paid and between 5% and 12% of the commissions.
The scammers would purportedly first reimburse the victims and pay them the agreed commissions in order to convince them that it was a legitimate job. However, the scammers would then purportedly induce them to deposit increasingly larger sums of money to earn more commission. At this point, the scammer would purportedly promise commissions only after a certain number of tasks had been completed. Consequently, payments were allegedly delayed or withheld, and the victims would only realise they had fallen prey to a scam when they did not receive the promised reimbursements and commissions.
Following extensive joint collaboration and sharing of information between SPF and RMP, officers from CCID raided an apartment in Johor and arrested three Malaysian men aged between 21 and 27 years old on 26 August 2021. This scam syndicate is believed to be responsible for more than 188 cases of job scams reported in Singapore involving S$1,350,700. Preliminary investigations revealed that the group targeted Singaporean and Malaysian victims and laundered their criminal proceeds in Malaysia.
Officers from CAD also arrested six men and a woman, aged between 16 and 23, for their suspected involvement in these job scams. Preliminary investigations revealed that they had allegedly facilitated the syndicate's crimes by carrying out bank transfers, funds withdrawals, or relinquishing their bank accounts to the scam syndicates for monetary gains.
Director CAD, Mr David Chew said, "This unconscionable transnational crime syndicate had targeted unsuspecting victims in Singapore and Malaysia by enticing them with empty promises of highly paid jobs that allowed them to work from home. The Singapore Police Force will continue to collaborate closely with our Malaysian counterparts to detect and deter these transnational syndicates who use the anonymity of the internet to commit crimes. I would like to thank Director CCID, RMP Commissioner of Police, Dato' Mohd Kamarudin Md Din and their officers for their strong support and commitment in tackling transnational crime syndicates that target our citizens. While we continue this fight against scams, we cannot do this alone. Fighting crime is a community effort and members of the public must take steps to protect themselves and their loved ones from falling prey to scammers operating on social media offering jobs that seem too good to be true."
The Police would like to advise the members of public to follow these crime prevention measures:
E-Commerce platforms will never ask you to transfer money to third party accounts on the promise that they will return your money along with a commission. If it is too good to be true, it probably is. Do not accept dubious job offers that offer lucrative returns for minimal effort;


If you are randomly invited to a messaging application group chat that you suspect to be promoting a scam, report the group chat using the in-app function immediately to prevent others from falling prey to scams;


Always verify the authenticity of the job with the official E-Commerce platform's websites; and



Do not click on suspicious URLs or download applications from unknown sources.
When in doubt, you may also call the anti-scam helpline at 1800-722-6688 or visit www.scamalert.sg to seek scam-related advice. Join the 'Let's fight scams' campaign at www.scamalert.sg/fight by signing up as an advocate to receive up-to-date messages and share them with your family and friends. Fighting scams is a community effort. Together, we can help stop scams and prevent our loved ones from becoming the next scam victim.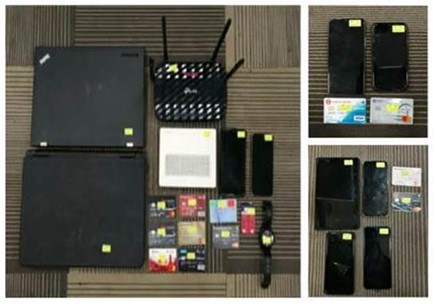 Exhibits seized during CCID's raid (Photos credit – CCID RMP)
PUBLIC AFFAIRS DEPARTMENT
SINGAPORE POLICE FORCE
28 August 2021 @ 11:55 AM