The Police would like to remind members of the public about a persistent trend observed in relation to the fake friend scam variant, which involves scammers contacting victims through text messages (e.g. via WhatsApp) or phone/WhatsApp calls, pretending to be someone they know, and thereafter asking for financial assistance. Since January 2023, at least 945 victims have fallen prey, with total losses amounting to at least $3.2 million.
In these cases, victims would receive text messages or phone calls from unknown numbers (with or without the "+65" prefix), identifying themselves as the victims' friend or acquaintance, and asking the victims to guess their identity. In response, victims would provide the name of a friend they believed the caller could be. The caller would then assume the identity of the said person, claim that he has a new contact number (e.g. claiming that he had lost his phone) and ask the victim to update his contact details.
A few days later, the caller would contact the victim, impersonate his friend, and ask for a loan claiming that he was unable to perform a banking transaction or is experiencing financial difficulties. Victims would be provided with a local bank account to transfer money to. Victims would only discover that they had been scammed after contacting their actual friends whom the scammers had impersonated, or when their money was not returned as promised.
The Police would like to advise members of the public to adopt the following precautionary measures:
ADD - ScamShield App and set security features (e.g., enable two-factor (2FA) or multifactor authentication for banks, social media, Singpass accounts; set transaction limits on internet banking transactions, including PayNow)


CHECK - for scam signs with official sources (e.g. visit www.scamalert.sg or call the Anti-Scam Helpline on 1800-722-6688). Verify whether the request is legitimate by checking with your family and friends through alternative means such as physical meet-ups, video calls or email other than using the new contact details on your phone.


TELL - authorities, family, and friends about scams. Beware of unusual requests from someone purporting to be someone you know via text messages or phone/WhatsApp calls. Report the number to WhatsApp to initiate in-app blocking.
If you have any information relating to such crimes or if you are in doubt, please call the Police Hotline at 1800-255-0000, or submit it online at www.police.gov.sg/iwitness. All information will be kept strictly confidential. If you require urgent Police assistance, please dial '999'.
For more information on scams, members of the public can visit www.scamalert.sg or call the Anti-Scam Helpline at 1800-722-6688. Join the 'Spot the Signs. Stop the Crimes' campaign at www.scamalert.sg/fight by signing up as an advocate to receive up-to-date messages and share them with your family and friends. Fighting scams is a community effort. Together, we can ACT Against Scams to safeguard our community!
Conversation between a scammer and victim on WhatsApp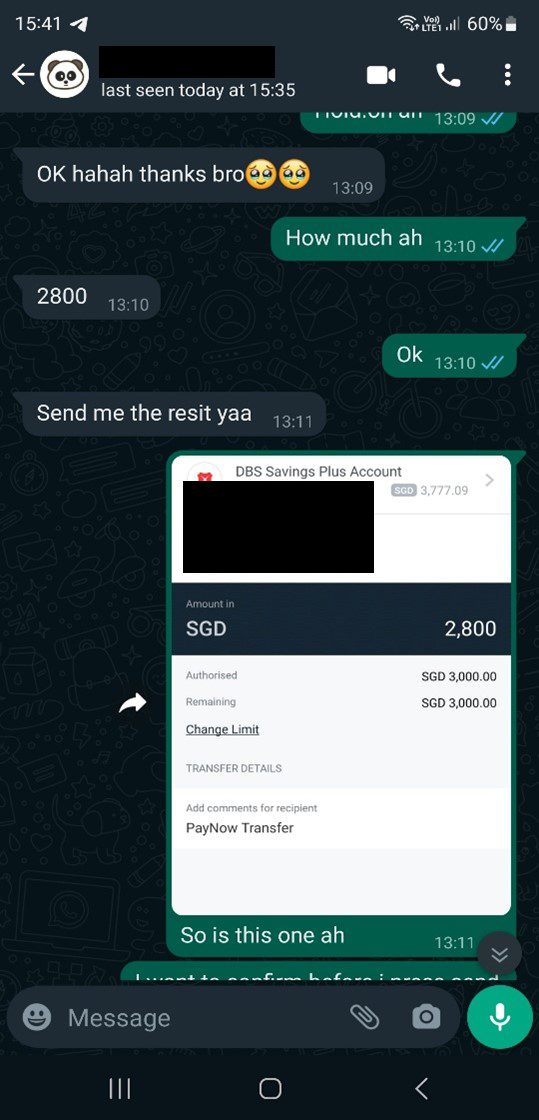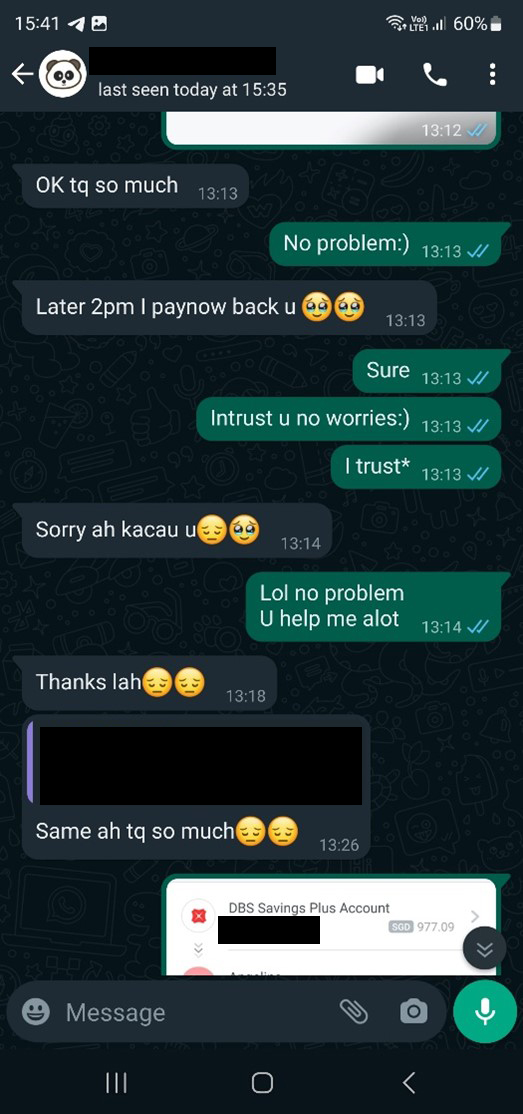 PUBLIC AFFAIRS DEPARTMENT
SINGAPORE POLICE FORCE
10 March 2023 @ 8:15 PM