By: Syam Roslan
(Photos: Public Affairs Department)
In recent years, scam cases have continued to rise as scammers find various ways to dupe unsuspecting victims out of their hard-earned money. In the latest Police News Release on ScamSituation between January and March 2020, at least S$41.3 million was lost to scammers. This is about S$9 million (or 27.9%) more compared to the same period last year. In this issue of Police Life, read on to find out the scam situation and why it is important that everyone stays informed and vigilant against scams.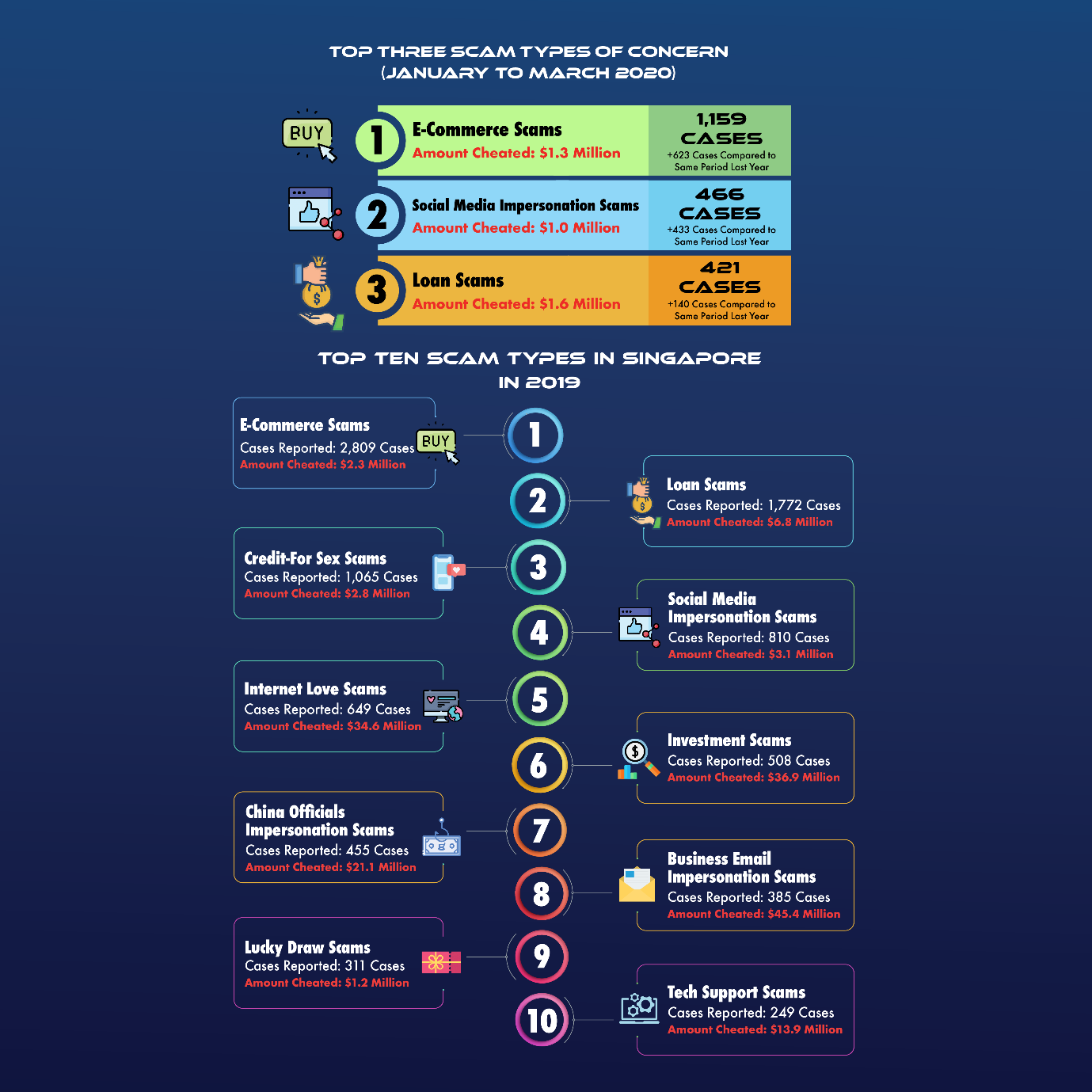 TOP THREE SCAMS
E-commerce scams, social media impersonation scams and loan scams were the top three scam types reported to the Police in the first three months of 2020.
E-Commerce Scams
The most common platforms for e-commerce scams in Singapore are digital platforms such as Carousell, Facebook, Instagram, Shopee and Lazada, where scammers typically tout low prices for their merchandise, which in turn attract unwitting online customers. To avoid being a victim of e-commerce scams, buy only from reputable platforms with customer protection policies or insist on paying only after the goods have been received or services have been rendered. Remember, if a deal is too good to be true, it probably is.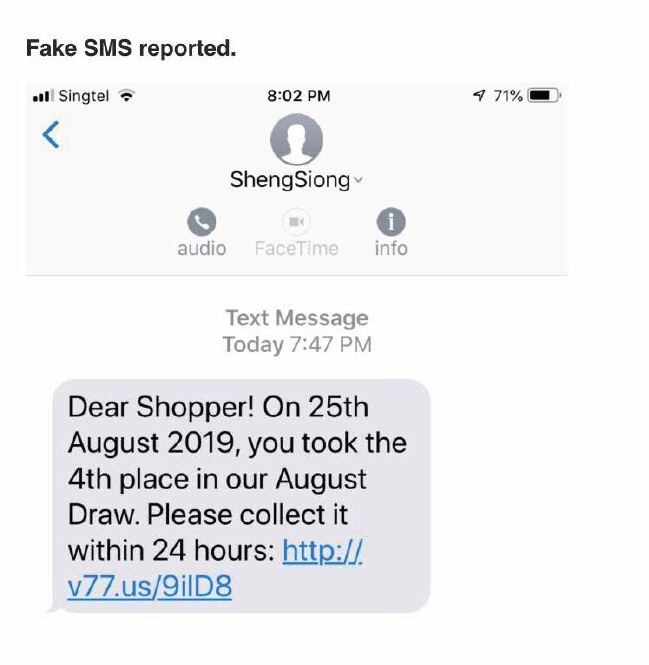 Fake SMS Contest
Social Media Impersonation Scams
Scammers would usually ask the victims for their personal details such as their mobile number, Internet banking account details and One-Time Password (OTP) on the pretext of helping them to sign up for fake contests or promotions allegedly organised by Lazada, Shopee and Qoo10. Victims would later discover that fraudulent transactions had been made from their bank accounts and mobile wallets without their consent. Never share your Internet banking account details and OTPs with anybody – legitimate contests or promotions will never ask for such details. Your OTP is like your ATM pin, do not reveal it to anyone.
Loan Scams
Members of the public would receive SMSes or WhatsApp messages offering loans and loan services. The scammers may claim to be staff from a licensed moneylender. Interested parties are instructed to transfer money as a deposit before the loan can be disbursed. After making the transfer, victims find that the scammers are no longer contactable. In another variant of loan scams, spoofed loan advertisement messages are purportedly sent by banks such as POSB, DBS, UOB, CIMB and OCBC. Banks and licensed moneylenders are not allowed to send out such loan advertisements.
Despite incessant efforts to push out anti-scam advisories, some continue to fall into these traps. To arrest this situation, tougher enforcement measures were rolled out in 2019.
POLICE EFFORTS TO FIGHT SCAMS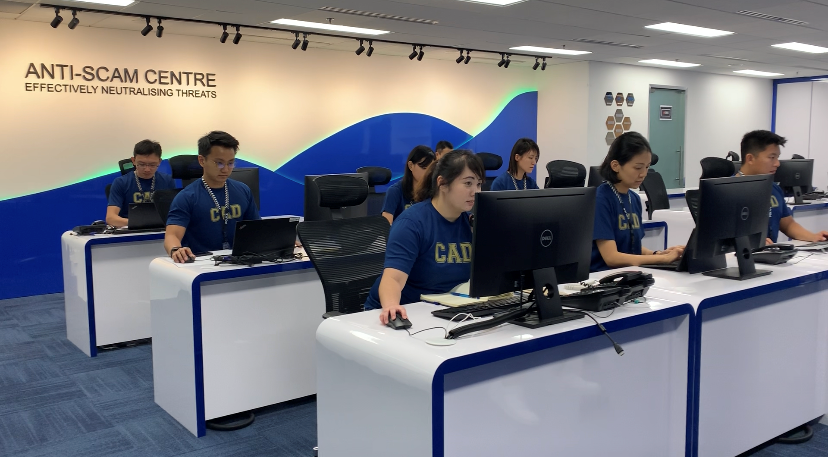 Disrupting Scammers' Operations through the Anti-Scam Centre
On 18 June 2019, the SPF set up the Anti-Scam Centre (ASC) under the Commercial Affairs Department (CAD). The ASC focusses on disrupting scammers' operations and mitigating victims' monetary losses through close collaboration with financial institutions, telecommunication companies and digital platform owners.
Since its formation, the ASC received more than 3,300 reports and was successful in freezing 2,600 bank accounts, and recovering approximately S$3.7 million of losses. The ASC enhanced its operations by working closely with banks to swiftly freeze accounts suspected to be involved in scammers' operations. The fund transfers involving such accounts would be impeded within a matter of days – a significant improvement in process, which used to take up to two weeks.
In addition to the three major local banks (DBS, UOB and OCBC), seven more banks have joined this initiative since November 2019, further enhancing the close collaboration between the SPF and financial institutions to disrupt scammers' operations. As scammers adopt the use of PayNow as a money transfer platform, the ASC also worked with the Association of Banks in Singapore to reduce the time taken for banks to provide PayNow transaction details to the Police from weeks to just a few days. Just this process alone helped to increase the chances of recovery of monies scammed from the victims.

Source: The Straits Times © Singapore Press Holdings Limited. Reprinted with permission.
Tougher Anti-Scam Enforcement Actions
To deter local scammers from carrying out their crimes in Singapore, the Police have continued to ramp up islandwide enforcement actions. In 2019, the SPF conducted 85 operations targeting local e-commerce scammers, resulting in the arrest of 112 scammers who were responsible for 1,223 e-commerce scam cases. In addition, there were 10 enforcement operations targeting money mules who handed over their local bank accounts to scammers or assisted scammers to conduct money transfers using their personal bank accounts. In 2019, 1,040 money mules involved in more than 2,100 scam cases were investigated.
Tackling Transnational Scam Cases
As a significant proportion of online crimes are committed remotely by foreign syndicates, the SPF continued to collaborate closely with foreign law enforcement counterparts to crack down on such syndicates targeting Singaporeans. In November 2019, the CAD worked with the Royal Malaysia Police, Hong Kong Police Force and the Macau Judiciary Police to jointly cripple a transnational Internet love scam syndicate based in Malaysia. Three Nigerian and 15 Malaysian scammers were arrested during the operations. The syndicate is believed to be involved in at least 139 cases of Internet love scams reported in Singapore, Malaysia, Hong Kong and Macau, involving losses of about S$5.8 million.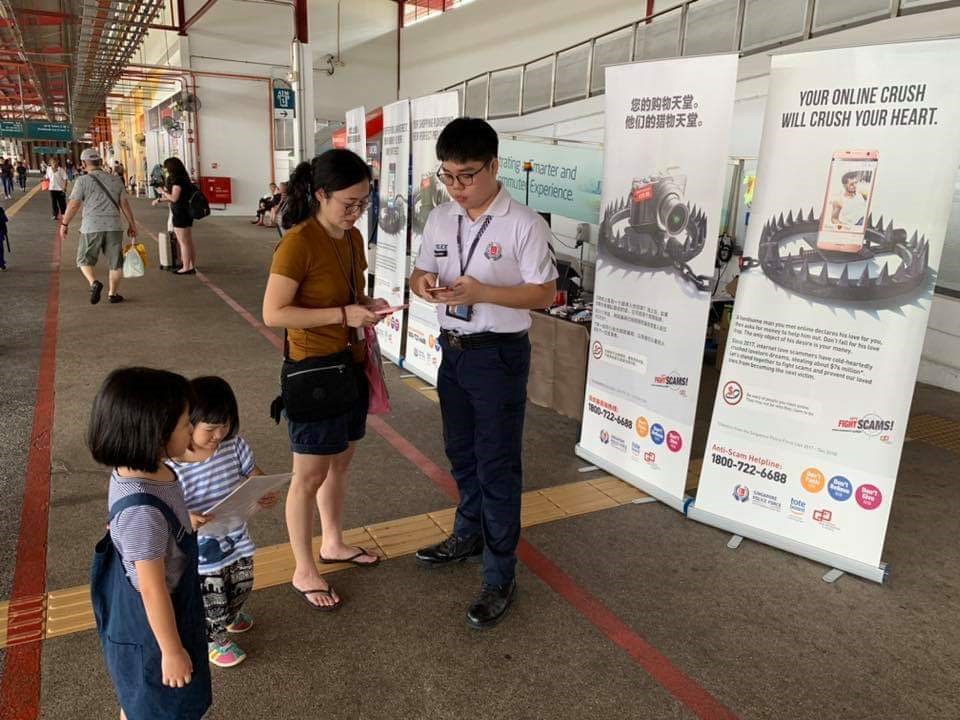 Public Education Efforts against Scams
Apart from enforcement, the Police have also continued to increase public education and engagement efforts with stakeholders, such as convenience stores, remittance agencies and banks, to raise awareness of scams. This included training frontline counter staff to spot signs of individuals who could be unknowingly falling victim to scams, and displaying crime advisories prominently at counters and automated teller machines.
Together with the National Crime Prevention Council, the Police have undertaken many scam prevention initiatives and organised many anti-scam related events to warn the public about scams, including the 'Let's Fight Scams' campaign for community and business operators. Community events such as roadshows, festive events and the Community Safety and Security Programmes were also leveraged as platforms to spread the awareness of scams and prevention advice.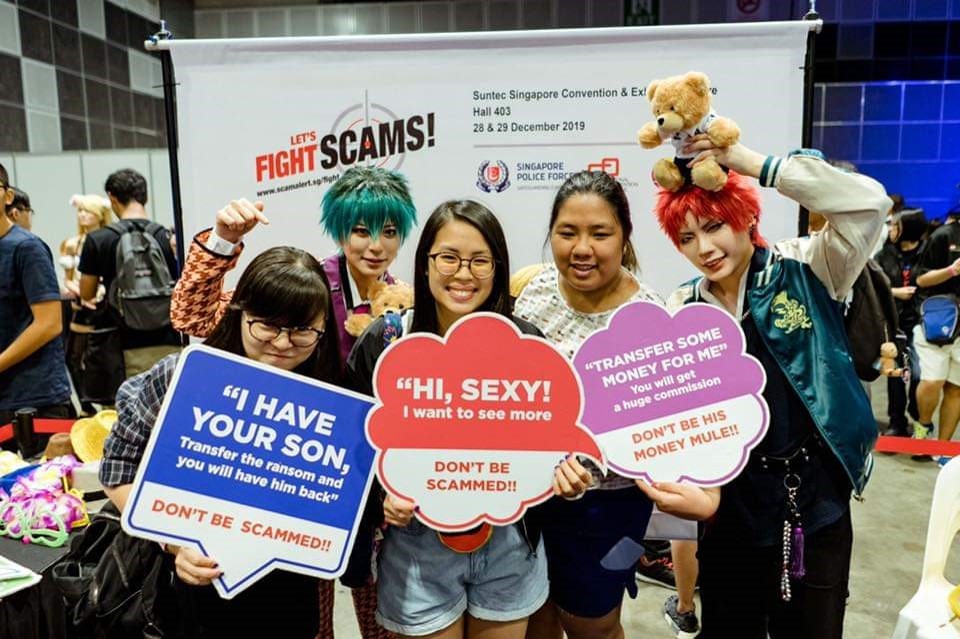 Fighting Crimes Together
Through these efforts, the SPF has shown that the fight against scams remains a priority. However, the public should also play their part in fighting scams. The majority of scams are perpetrated from overseas, and it is nearly impossible to recover monies once they are transferred out of Singapore. The Police urge the public to exercise caution when making any online transactions, and exercise due diligence to protect themselves from falling victim to scams. Members of the public should not divulge personal information, especially banking information, to others, including persons purporting to represent the Police or other law enforcement agencies.
To learn more about the various types of scams and how to avoid falling prey to it, please visit the website 'www.scamalert.sg'.
" While the Police will continue to educate the public on crime prevention measures they can take, members of the public also need to play their part. They should be aware of the latest scam tactics and always exercise vigilance to protect themselves, their friends and families from falling victim to scams. Together, we can fight scams more effectively. "

Mr David Chew

Director, Commercial Affairs Department

" Be wary of common scam tactics like unbelievably low prices, being asked to disclose your one-time passwords (OTP), being told to pay government fines or assist in investigations by transferring money. It is every individual's responsibility to prevent scams, and prevent their friends and loved ones from being scammed. Let's take active steps to protect ourselves and our loved ones against scams and be a scam-wise community."

Mr Gerald Singham

Chairman, National Crime Prevention Council
PUBLIC AFFAIRS DEPARTMENT
SINGAPORE POLICE FORCE
10 June 2020 @ 4:30 PM