The Police have arrested a man and woman, aged 21 and 20 respectively, for their suspected involvement in online sales of counterfeit goods.
On 20 March 2023, officers from the Criminal Investigation Department conducted an enforcement operation at multiple premises along River Valley and Ang Mo Kio Industrial Park, resulting in the arrests. During the operation, more than 1,100 pieces of purported trademark-infringing bottles of perfume with an estimated street value of more than $91,000 were seized. Police investigations are ongoing.
Under the Trade Marks Act 1998, the offence of possession of goods with falsely applied trademarks for the purpose of trade carries a fine up to $100,000, an imprisonment term of up to five years, or both.
The Police takes a serious view of intellectual property rights infringement and would like to remind the public that the distribution and sale of counterfeit goods are serious offences. The Police will not hesitate to take tough action against perpetrators who profit at the expense of legitimate businesses and consumers.
Photo of seized goods ▼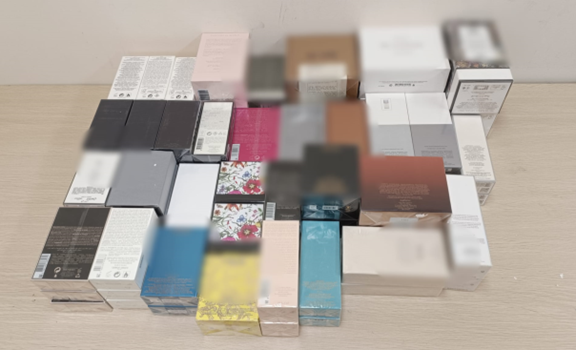 PUBLIC AFFAIRS DEPARTMENT
SINGAPORE POLICE FORCE
21 March 2023 @ 7:35 PM