The Council for Estate Agencies (CEA) and the Singapore Estate Agents Association (SEAA) have pledged their commitment to fight scams, in partnership with the Singapore Police Force (SPF) and the National Crime Prevention Council (NCPC). CEA and SEAA made this pledge during the SEAA's Key Executive Officers (KEOs) and Leaders Conference 2023, which was held on 14 November 2023 at the Lifelong Learning Institute.
The event was attended by Guest-of-Honour, Associate Professor Muhammad Faishal Ibrahim, Minister of State, Ministry of Home Affairs & Ministry of National Development. Close to 200 members from the real estate community attended the event. During the event, Superintendent of Police Michelle Foo, Head of the Anti-Scam Investigation Branch of the Anti-Scam Command, shared how the prevalence of scams could impact the property industry, which may affect public trust and confidence in property agents.
Since February 2022, rental scams involving impersonation of property agents have emerged in Singapore. In such cases, scammers would post fake property listings on various advertisement sites and online platforms (e.g., Facebook, Carousell, etc). Victims would initiate a conversation with the scammer through WhatsApp using the contact number listed on the fake listing. The scammer, impersonating as a registered property agent, would pressure the victims for early downpayment to secure the rental property before viewing. The scammers would then convince victims of their credentials as a registered property agent by sending pictures of their CEA registration number, business card and pictures/videos of virtual tours of the property to be leased. Between January and June 2023, at least 616 victims have fallen prey, with total losses amounting to at least $3.7 million.
The SPF and NCPC have been working closely with CEA on anti-scam initiatives. CEA has been actively sharing scam and crime prevention advisories through CEA's social media platforms and has also developed an anti-property rental scam webpage, supported by the Central Police Division, to educate the public on how to stay safe from such scams (https://www.cea.gov.sg/consumers/rental-scams).
The SPF, supported by CEA, has also developed an e-brochure (https://go.gov.sg/safeguarding-you-and-your-home) to share tips on how to safeguard homes against crime, and how to Add, Check, Tell (ACT) against scams. The brochure will be distributed across networks and communities via the real estate agency industry's stakeholders, further strengthening efforts to safeguard the industry and their clients.
The pledge of commitment signifies the strong intent of the real estate agency industry's stakeholders to fight scams, in partnership with the SPF and NCPC. The SPF and NCPC are pleased to have SEAA onboard to combat scams. SEAA will also reach out to its 6,500 real estate agent members and share important scam-related information with them. The SPF and NCPC will continue to work with CEA, SEAA and community partners to raise awareness and equip our community with the knowledge to ACT against scams effectively. Everyone can play a part in protecting themselves from scams by adopting the following steps:
ADD the ScamShield app and security features such as two-factor (2FA) or multi-factor authentication for your banking and social media accounts.


CHECK for scam signs and with official sources, such as checking if the property agent's phone number is legitimate and registered with CEA, and calling your property agent to verify his identity, especially if there are suspicious requests for money transfers.


TELL the authorities about your scam encounters and share with your family and friends the latest scam trends and signs, including SPF's weekly scam bulletin.
Pledge of commitment by CEA and SEAA to fight scams, in partnership with the SPF and NCPC ▼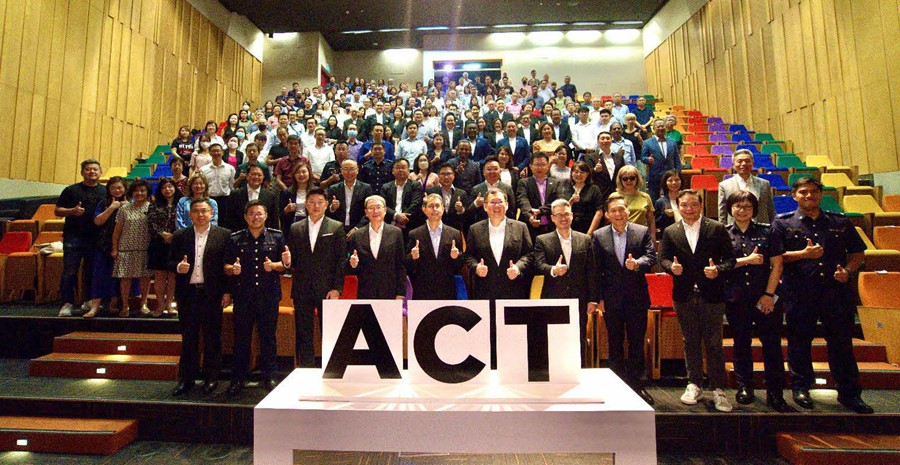 I Can ACT against Scams – Group photo with real estate agency industry stakeholders ▼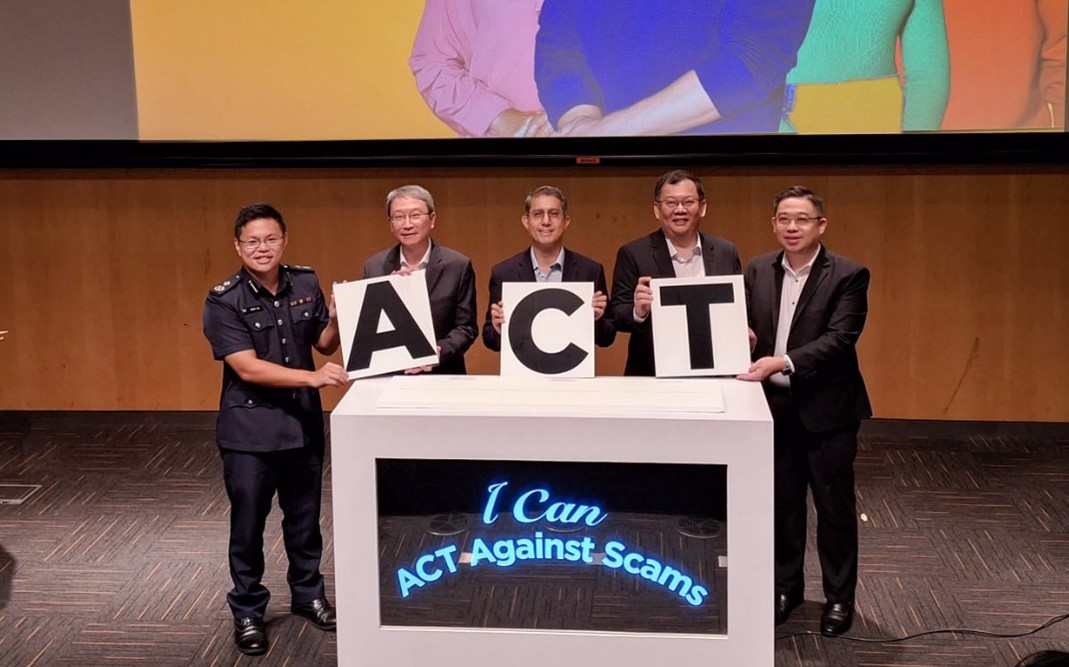 Tips to Safeguard Your Home e-brochure ▼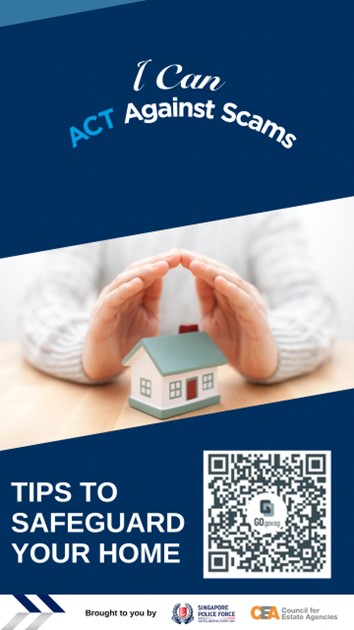 Anti-property rental scam webpage ▼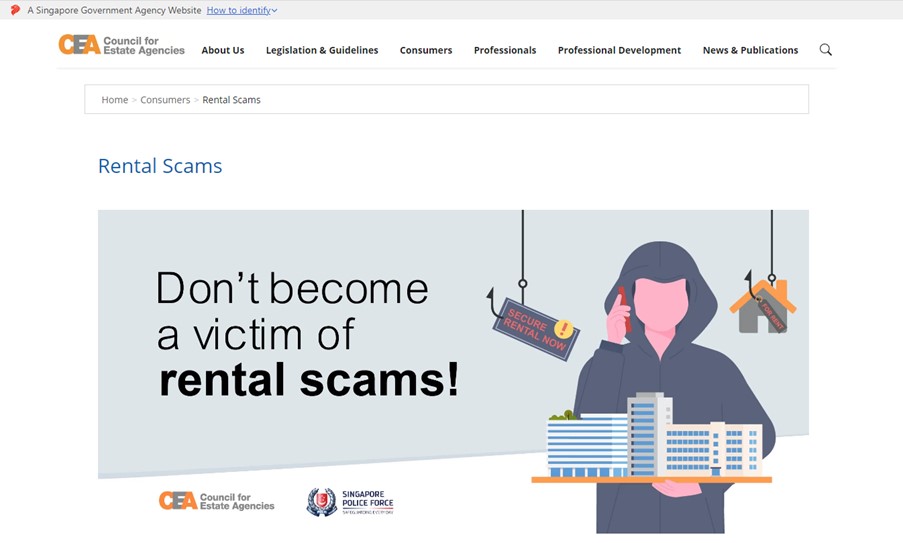 PUBLIC AFFAIRS DEPARTMENT
SINGAPORE POLICE FORCE
14 November 2023 @ 7:49 PM