The Singapore Police Force (SPF) and National Crime Prevention Council (NCPC) jointly organised the Delta League June 2022 Edition tournament this year from 28 May 2022 till 25 June 2022. Minister of State for Ministry of Home Affairs and Ministry of National Development, Associate Professor Muhammad Faishal Ibrahim (MOS Faishal), graced the Grand Finals as the Guest of Honour (GOH). The event was held on Saturday, 25 June 2022 at Nexus International School, and was also livestreamed on Delta League's official Facebook page and the Singapore's Cybersports & Online Gaming Association's (SCOGA) official TikTok page.
This edition marks the 22nd Edition of Delta League, which has been organised since June 2011. Delta League uses sports to engage youths and to keep them meaningfully occupied during the school holidays in June and December. With the easing of Safe Management Measures (SMM), the Delta League Programme brings back the popular football component to complement the increasingly popular e-gaming category to ensure sustained engagement with the diverse youth population.
For this edition, a total of 150 teams, consisting of more than 950 youths aged between 13 and 17 years old, pitted their wits and skills over either football or e-gaming. 50 teams participated in the football tournament under three different categories – Category 1: Boys 13-14yrs, Category 2: Boys 15-17yrs and Girls' Open Category. As for the e-gaming tournament, a total of 100 teams competed against one another in an Open Category (13-17yrs) in the Mobile Legends: Bang-Bang (MLBB) game. Both formats demand strong tactical abilities, planning, adaptation and teamwork from all the participants.
Besides their participation in the football and e-gaming competition, the youths were also involved in different fun-filled activities to enhance their crime prevention awareness and to inculcate a sense of social responsibility, teamwork and discipline. The Community Day and Youth Workshop was held at the Nexus International School on 28 May 2022. Four key issues were pre-identified to engage these young participants: Mental Wellness, Harms of Substance Abuse, Anti-Scam Awareness and Soccer Skills. During the workshop, sharing sessions were conducted with the youths on the strategies to cope with mental health issues, good cyber security practices, soccer tactics and the legal consequences of taking drugs. Participants also went out onto the streets with their Police mentors to share crime prevention pamphlets and tips with members of the public.
We look forward to engaging the youths and seeing new faces in the next edition of Delta League in December 2022.
Launch of New SPF Anti-Scam Games: 'Scam Me If You Can' and 'Scambat'
In conjunction with the Delta League Grand Finals, the Guest of Honour for the event, MOS Faishal, and Director Community Partnership Department of SPF, Assistant Commissioner of Police (AC) Shng Yunn Chinn, co-launched two of SPF's new anti-scam games – 'Scam Me If You Can' and 'ScamBat' – as part of SPF's novel approach to gamify our youth outreach and engagement.
Police are constantly exploring new ways to fight scams through public education. The two new games, 'Scam me If You Can' and 'ScamBat', aim to expand our touchpoints and effectively strengthen the links between SPF and the public, including younger members of the public, through activities that are informative and engaging.
'Scam me If You Can' is a five minute single-player game played on a touchscreen roving kiosk. Players will swipe to match tiles and gain points, while answering anti-scam quizzes to power up. Upon successfully completing the quizzes, players stand to win a mystery prize from the machine. SPF will be concurrently deploying two kiosks at two separate public locations with high footfall for a period of one month, before shifting to the next two locations. For a start, the two kiosks will be deployed at Singapore Management University (SMU) and Clementi Community Library @ Clementi Mall for the month of July 2022. For information on the deployment of the kiosks, or the locations of the kiosks in the subsequent months, members of public can look out for the updates in SPF's social media channels.
'ScamBat' was developed with the students from the Media, Arts & Design School of Singapore Polytechnic. It is a multi-player analogue card game which exposes players to the different types of scams. 'ScamBat' requires both luck and wit to win, and will help fight scams in a more interactive and interesting way, to raise awareness of various scam types and how they are perpetrated. Players will 'combat' the scammers with action cards in 'ScamBat'. The players' main objective is to earn the most points by the end of the game to be deemed the winner.
'ScamBat' will be distributed island-wide to all primary, secondary, tertiary schools, polytechnics and universities. A total of 10,500 game sets will be distributed to 385 schools by the end of June 2022. In addition, members of the public will also stand to get their hands on the 'ScamBat' set through the Neighbourhood Police Centres' (NPCs) upcoming physical outreach and engagement activities.
For the launch, MOS Faishal and AC Shng Yunn Chinn engaged in a 'Scam Me If You Can' game during the event, with their gameplay projected live on a large LED screen on stage. On completion of the game, MOS Faishal collected his mystery collateral which turned out to be a launch pad. Upon countdown, MOS Faishal and AC Shng initiated the launch of the game kiosk which was followed by a short 30 seconds video on the kiosk.
Thereafter, the public was informed of the ScamBat's synopsis and the launch of ScamBat was initiated when AC Shng presented the game to MOS Faishal. As part of the launch, every winner and award recipient of the Delta League June 2022 Edition was given a set of 'ScamBat' as well.
Delta League - Football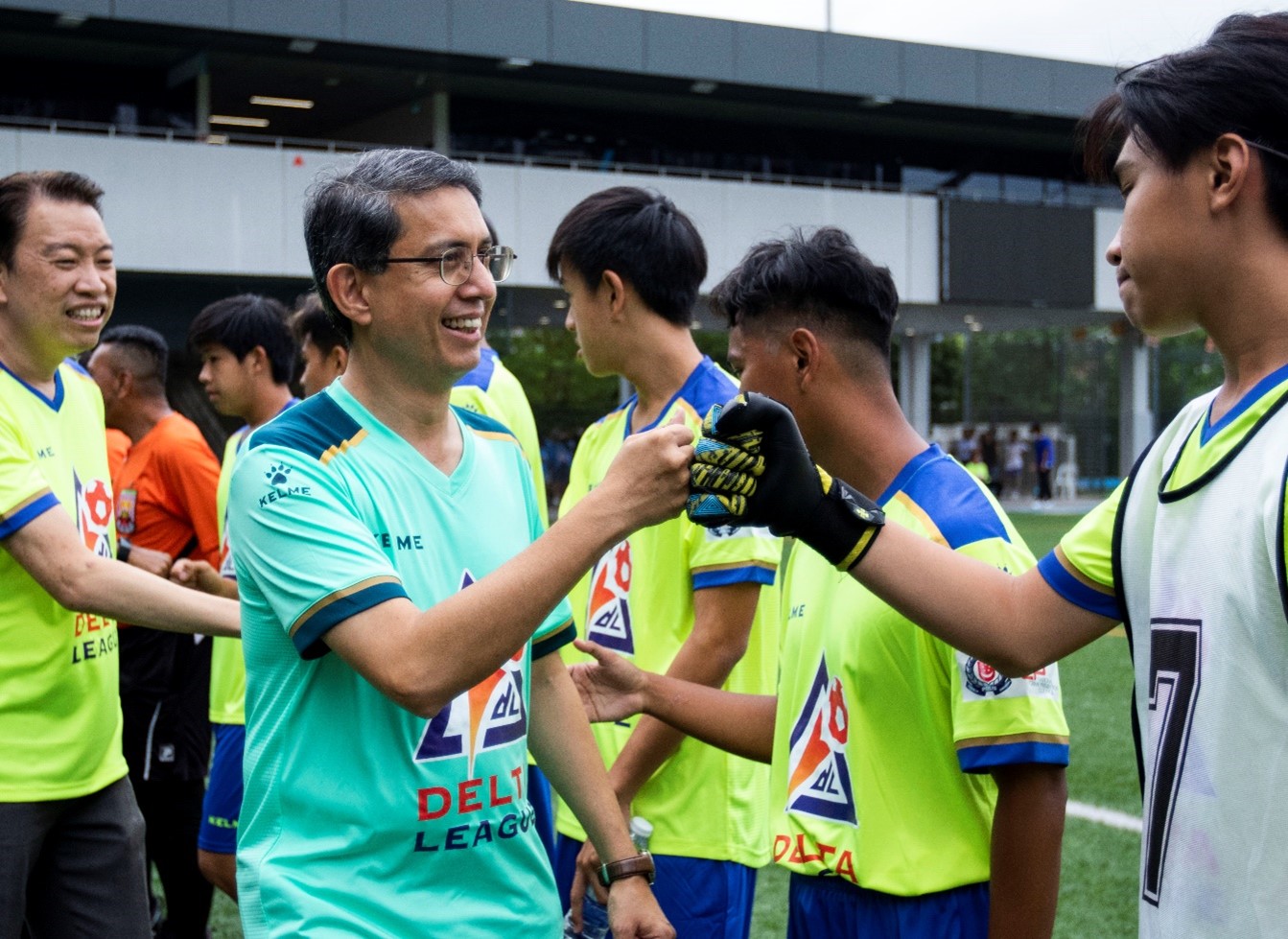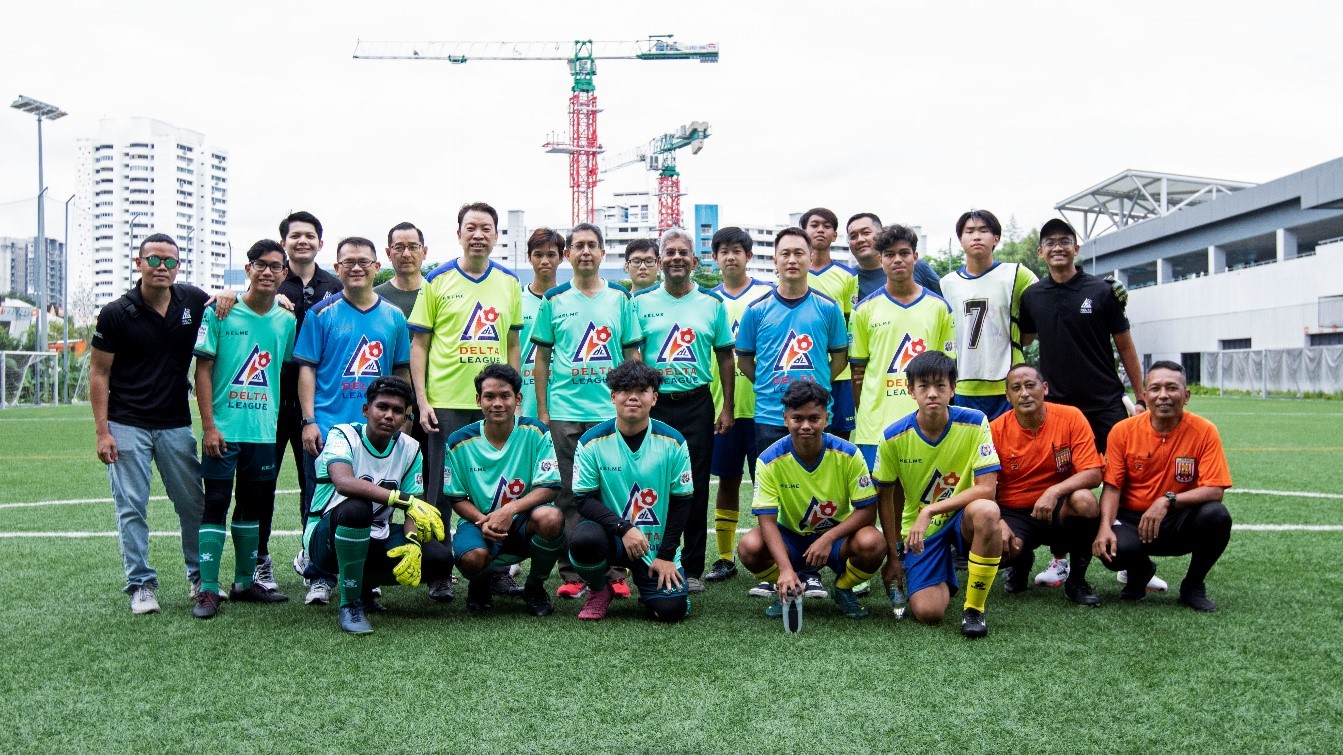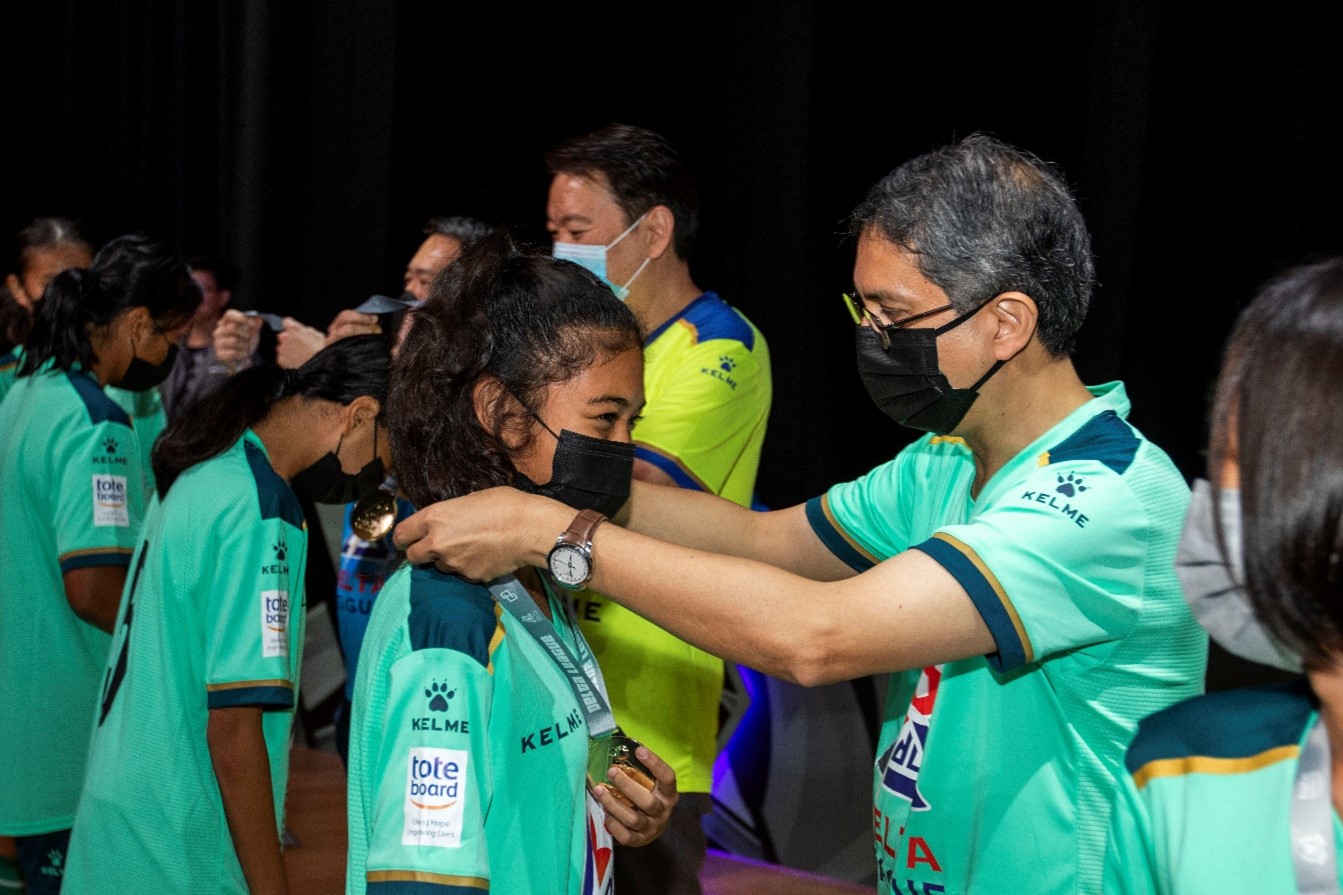 Delta League – E-Gaming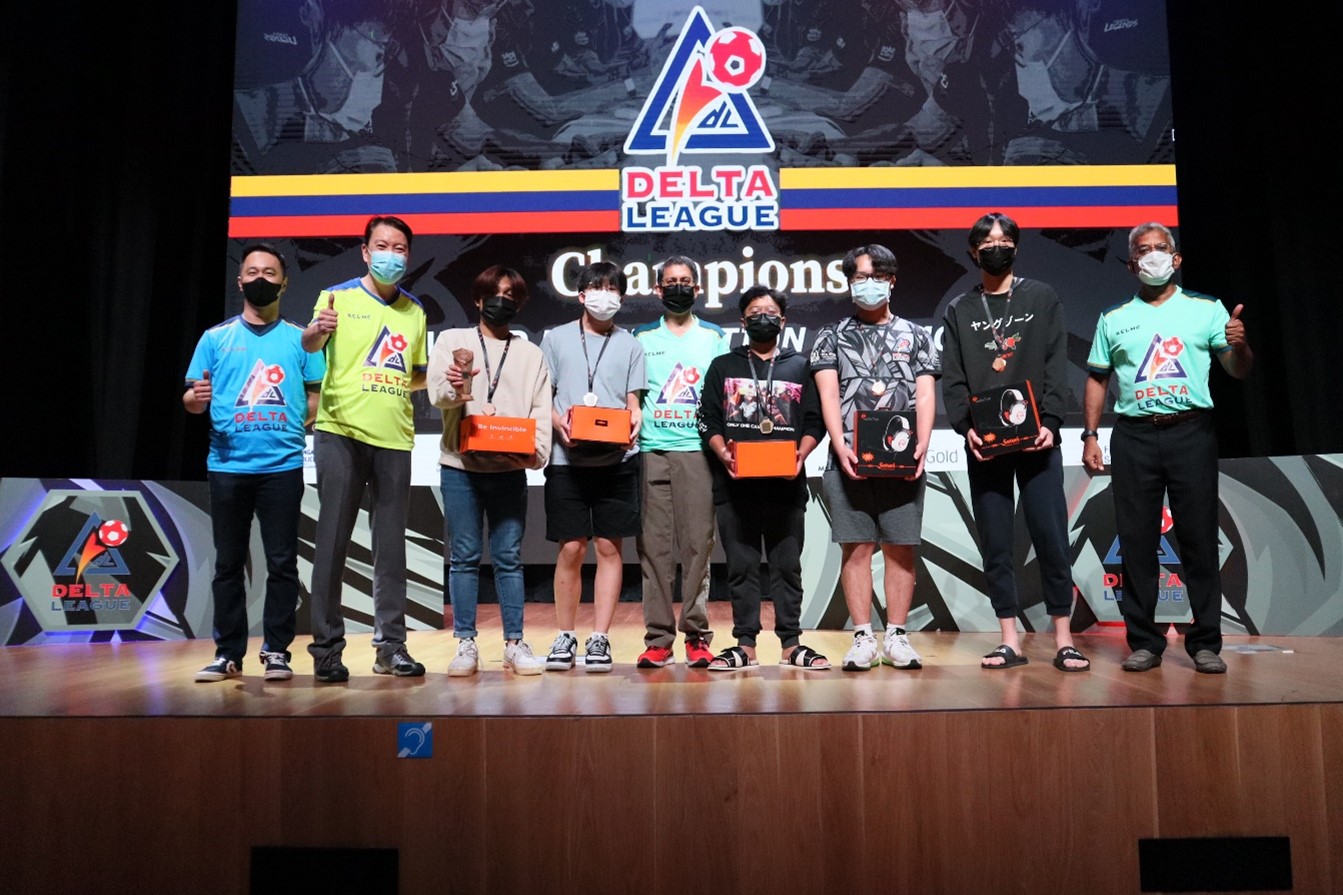 Launch of New SPF Anti-Scam Games: 'Scam Me If You Can' and 'ScamBat'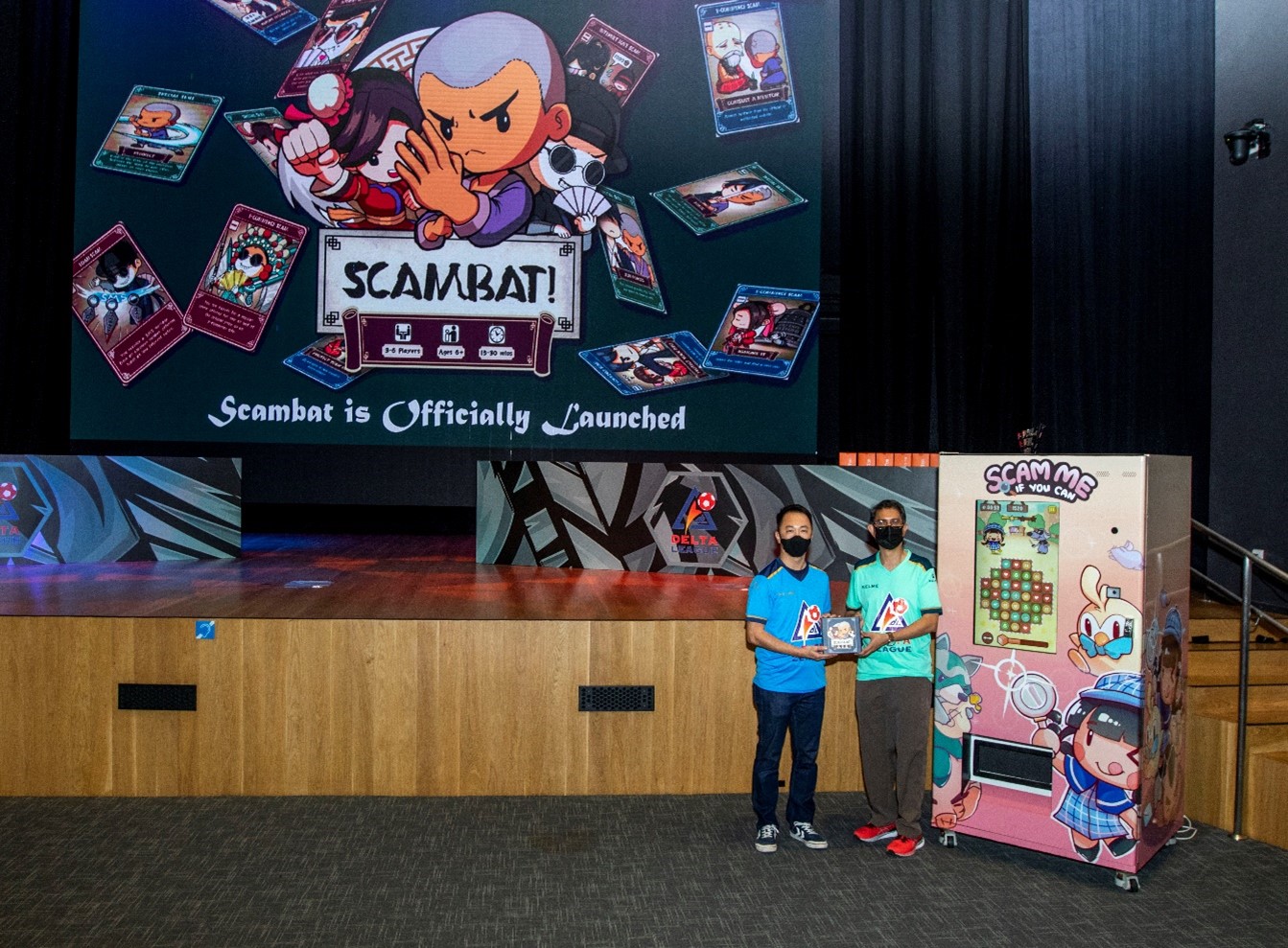 PUBLIC AFFAIRS DEPARTMENT
SINGAPORE POLICE FORCE
25 June 2022 @ 9:00 PM