The Commercial Affairs Department ("CAD") have received complaints relating to suspected "pump and dump" scams involving companies listed on the Hong Kong Stock Exchange. A "pump and dump" scam is a form of stock market manipulation where fraudsters artificially inflate the price of a share ("pumping"), before selling their own shares once the price goes up ("dumping"). The fraudsters "pump" up the share price using a variety of methods, including spreading favourable but fake news about the company or creating false impression of trading activity in order to induce victims to trade in the company's shares.
Victims were typically approached by scammers claiming to be from China or Hong Kong on social media platforms such as WeChat or LinkedIn. These scammers would then patiently work their way to gain the victims' trust by texting them frequently on the pretext of friendship or networking purposes. Once trust had been established, the scammers would share that they possessed insider information on certain companies listed on the Hong Kong Stock Exchange. They would then encourage victims to buy these shares on the promise of quick and guaranteed profits.
Soon after the victims had bought their shares, the share prices of these companies would plunge sharply and the victims incur huge financial losses. In one case, the share price fell by more than 85% just hours after a victim bought the shares and the victim suffered trading losses of more than S$200,000.
A graphical representation of the suspected pump and dump scam is provided below.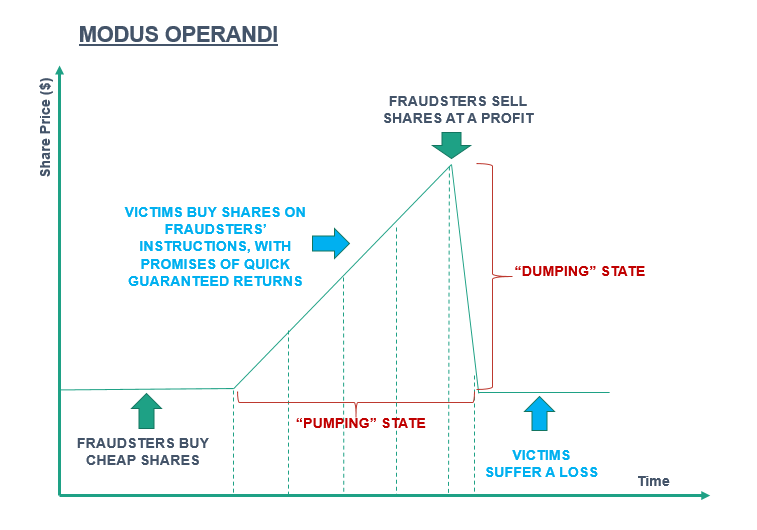 Members of the public are advised to keep in mind the following:
Be cautious when befriending strangers on social media platforms.

Be wary of stock tips provided by persons you have befriended online. Make sure you do your own due diligence on the companies/shares before investing.

Not all scams or frauds require you to transfer monies overseas. Do not be lulled into complacency just because you are trading in genuine stocks listed on reputable exchanges.

Investments which promise high returns usually come with high risks. There is no such thing as a guaranteed investment or trading strategy. Do not be tempted by greed or promises of quick guaranteed returns.

Invest responsibly and within your means.
To provide any information to such scams, please call the Police hotline at 1800-255-0000, or submit it online at www.police.gov.sg/iwitness.
PUBLIC AFFAIRS DEPARTMENT
SINGAPORE POLICE FORCE
04 May 2019 @ 9:10 AM